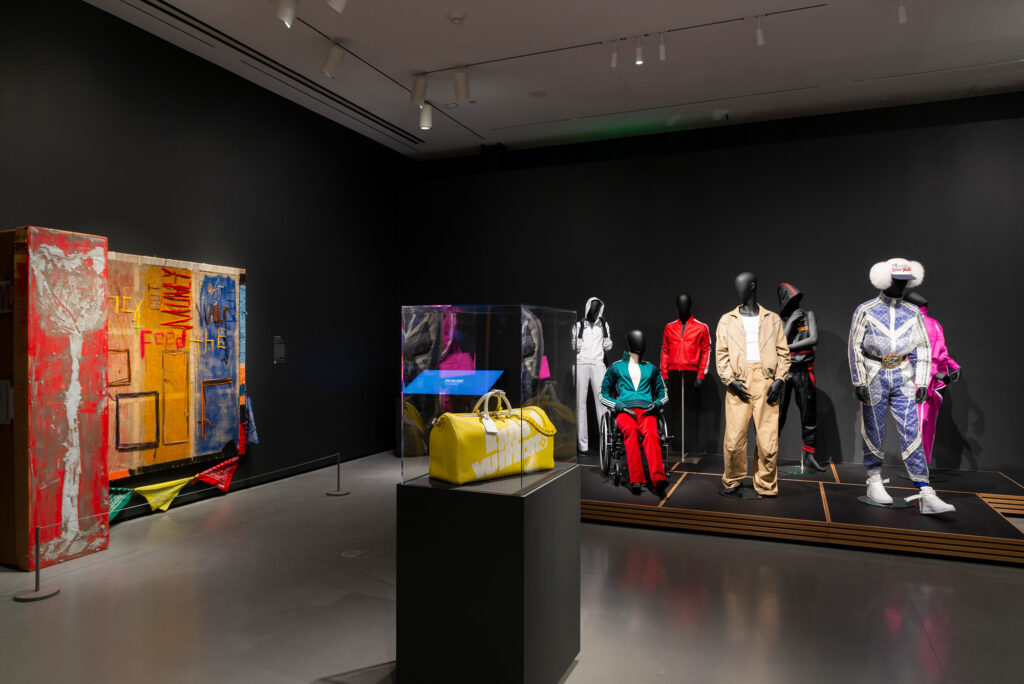 Listen closely and you will hear snippets of hip-hop greats, jazzy horns, ballroom house beats, and more… in our galleries. The BMA flips (and spins and remixes) the antiquated notion of silent museums by creating a hip-hop soundscape for The Culture: Hip Hop and Contemporary Art in the 21st Century.
Coinciding with the 50th anniversary of the birth of hip hop, The Culture captures the extraordinary influence hip hop has had on contemporary society. The exhibition features more than 90 works of art and fashion by some of today's most important and celebrated artists and iconic brands.
For the exhibition, Baltimore-based musicians-producers Abdu Ali and Wendel Patrick created a 45-minute soundscape that plays throughout the galleries. For it, they mixed and reinterpreted hip hop's greatest artists, influences, and allusions with ambient sounds from camera shutters clicking to vinyl scratching. These sonic cues relating to the exhibition's themes produce an aural vibe for the landmark exhibition.
Patrick, who also served on The Culture's advisory committee and contributed to The Culture catalog, believes that the score sharpens our senses and makes us take notice of the visual works' hip-hop roots. Ali, an electronic musician, writer, cultural worker, and multidisciplinary artist, credits music with adding to the show's intensity and making it more visceral: "When you walk through the exhibit, you not only hear it, but you feel it."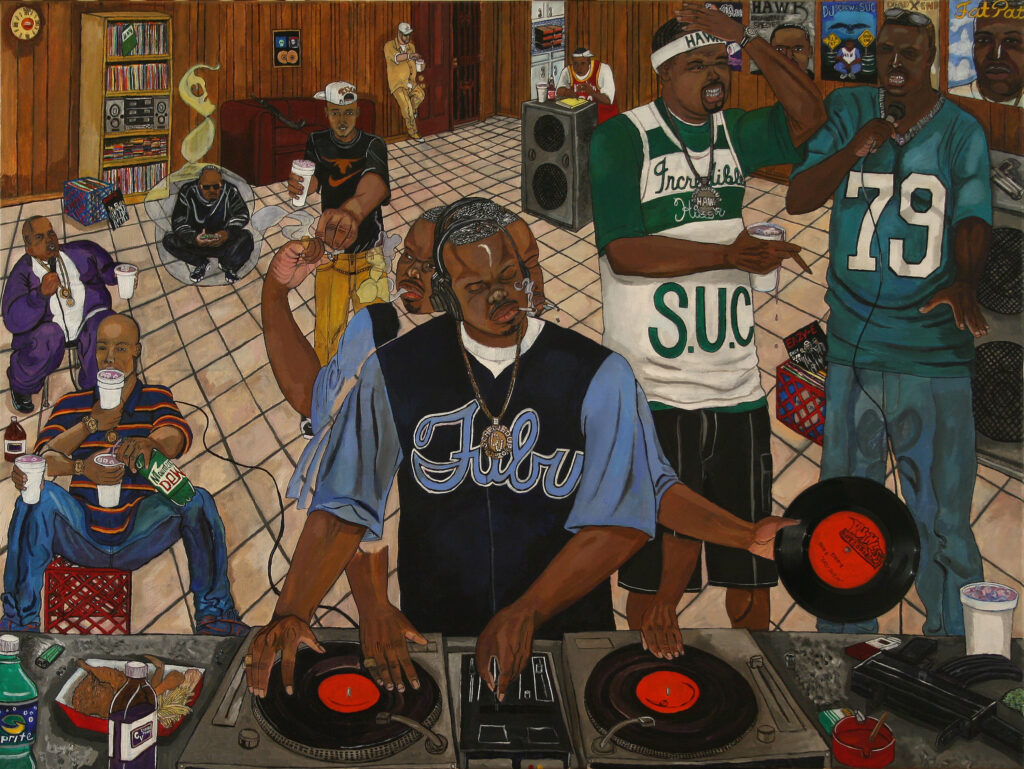 From Brand to Pose: Composing The Culture's Themes
When the two artists were commissioned for the project, they divided the work, embracing jazzlike improvisational variations to stray from literal depictions of the exhibition's six themes: Language, Brand, Adornment, Tribute, Ascension, and Pose.
Patrick tackled the themes Brand, Tribute, and Ascension, splicing in audio allusions to MC Lyte, Run DMC, Lords of the Underground, and many more. When composing the theme for Brand, Patrick turned to the Notorious B.I.G.'s notorious name-dropping of haute couture layered with LL Cool J, A$AP Rocky, and others who call attention to designer labels.
While incorporating hip-hop luminaries like Missy Elliot, Common, and Nas into their compositions for Language, Adornment, and Pose, Ali also invited a diversity of artists and sounds such as Big Latto and Megan Thee Stallion, 20th-century poet Gwendolyn Brooks, dub pioneer Lee "Scratch" Perry, and Baltimore house music.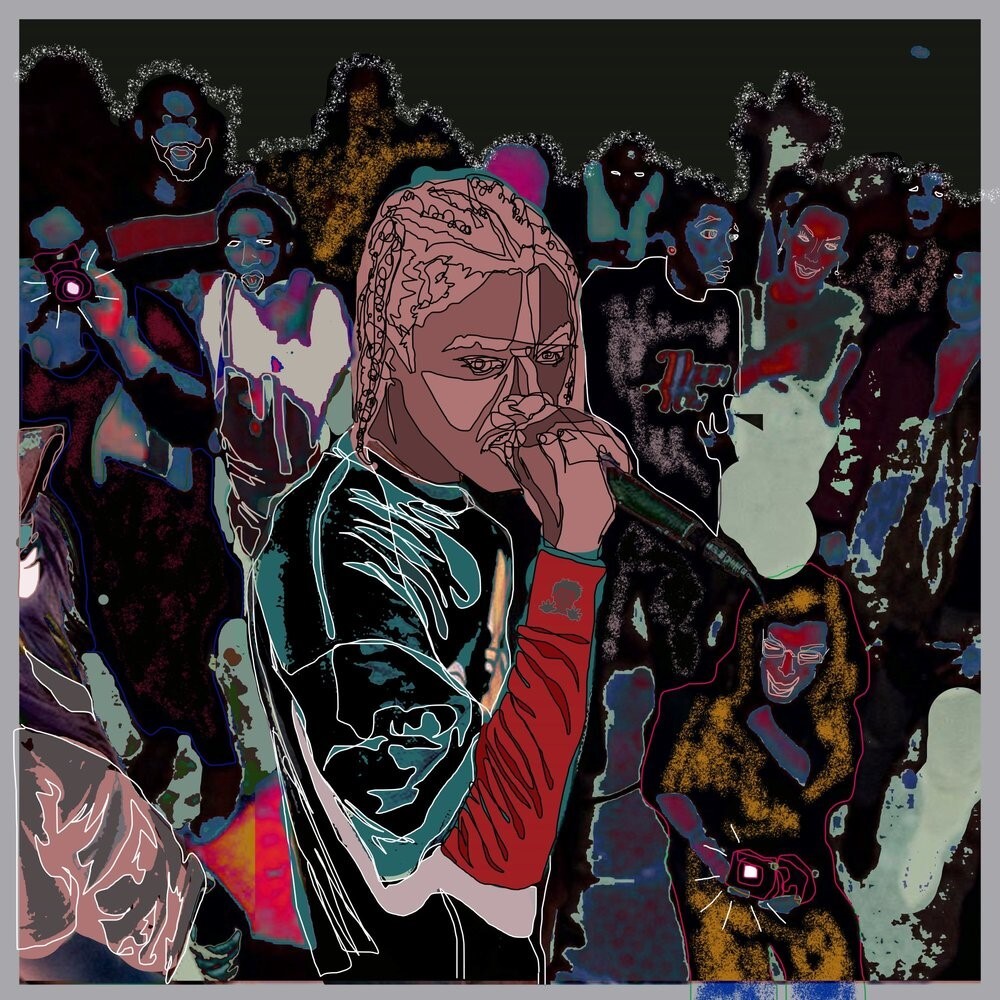 An Aural Homage to the Past, Present, and Future of Hip Hop
In addition to splitting the tracks into six themes, there is a temporal divide in their work, too, Ali shared. Patrick pays more homage to hip hop's history and the present nuances of hip hop; Ali tends to capture hip hop's present but also looks ahead to hip hop's futures, too.
"The music draws on music from the past," said Patrick, a professor, composer, producer, and pianist who also teaches the first hip-hop music production course in a major music conservatory at the Peabody Music Conservatory. "Sampling is a big part of that past. I wanted to pay tribute not only to the music, but also to this particular form of music creation to shine a light on some elements of the original samples that people may be familiar with."
Patrick deconstructs and rearranges familiar samples into new works. He also interweaves a lot of horns and snare drums into his compositions, recalling hip hop's musical ancestors in jazz and blues recordings. He reconstructs samples–playing every instrument–to create new versions of familiar songs, such as an instrumental version of Bone Thugs-N-Harmony's "Tha Crossroads" for the Tribute theme.
"It's important to look forward in life, but the present and the future are built on something, and I think it's important to represent and respect that," Patrick shares about his historically inflected approach.
"And for me," Ali counters, "I took the approach to beacon not only where we are now, but also where we may be heading in the future of rap and hip hop."
When composing the theme for Pose, Ali drew upon diverse sonic influences–including ballroom culture and voguing, but also Afrofuturism, an aesthetic that connects the African diaspora with futuristic technologies and sci-fi designs: "The track sounds like music you may hear on another planet–spacey and celestial."
They find that message of optimism, of looking to the future, in many works that are not otherwise Afrofuturistic.
"When you think about not only the sound of hip hop, but the lyrics too, there's often a message to the listener to look into the future, to think about what their lives can be," Ali said. "Even in a classic like Nas and Lauryn Hill's 'If I Ruled the World,' we hear that motivation and encouragement in the word 'if.' Imagine that."
---
The Culture: Hip Hop and Contemporary Art in the 21st Century is on view now through July 16, 2023. To reserve tickets, visit artbma.org/theculture.
Co-organized by the Baltimore Museum of Art (BMA) and Saint Louis Art Museum (SLAM), the exhibition is co-curated by Asma Naeem, the BMA's Dorothy Wagner Wallis Director; Gamynne Guillotte, the BMA's Chief Education Officer; Hannah Klemm, SLAM's Associate Curator of Modern and Contemporary Art; and Andréa Purnell, SLAM's Audience Development Manager.
The Culture is further supported by an advisory committee comprising experts and artists across a wide range of disciplines, including Martha Diaz, Founder and President of the Hip-Hop Education Center; Wendel Patrick, professor at the Peabody Music Conservatory at Johns Hopkins University; Tef Poe, rapper and activist; Hélio Menezes, anthropologist and curator of Afro-Atlantic Histories; and Timothy Anne Burnside, public historian and Museum Specialist in Curatorial Affairs at the National Museum of African American History and Culture.
This exhibition is generously supported by the Henry Luce Foundation, The Andy Warhol Foundation for the Visual Arts, and the National Endowment for the Arts. Additional support is provided by The Alvin and Fanny B. Thalheimer Exhibition Endowment Fund, the Victor J. Schenk Trust, Patricia Lasher and Richard Jacobs, Lorayne and Jim Thornton, and Clair Zamoiski Segal.
Beats, rhymes, culture and finances for this exhibition are generously provided by hip hop ambassadors "DJ Fly Guy" Flynn & Nupur Parekh Flynn, inventor of BAGCEIT®