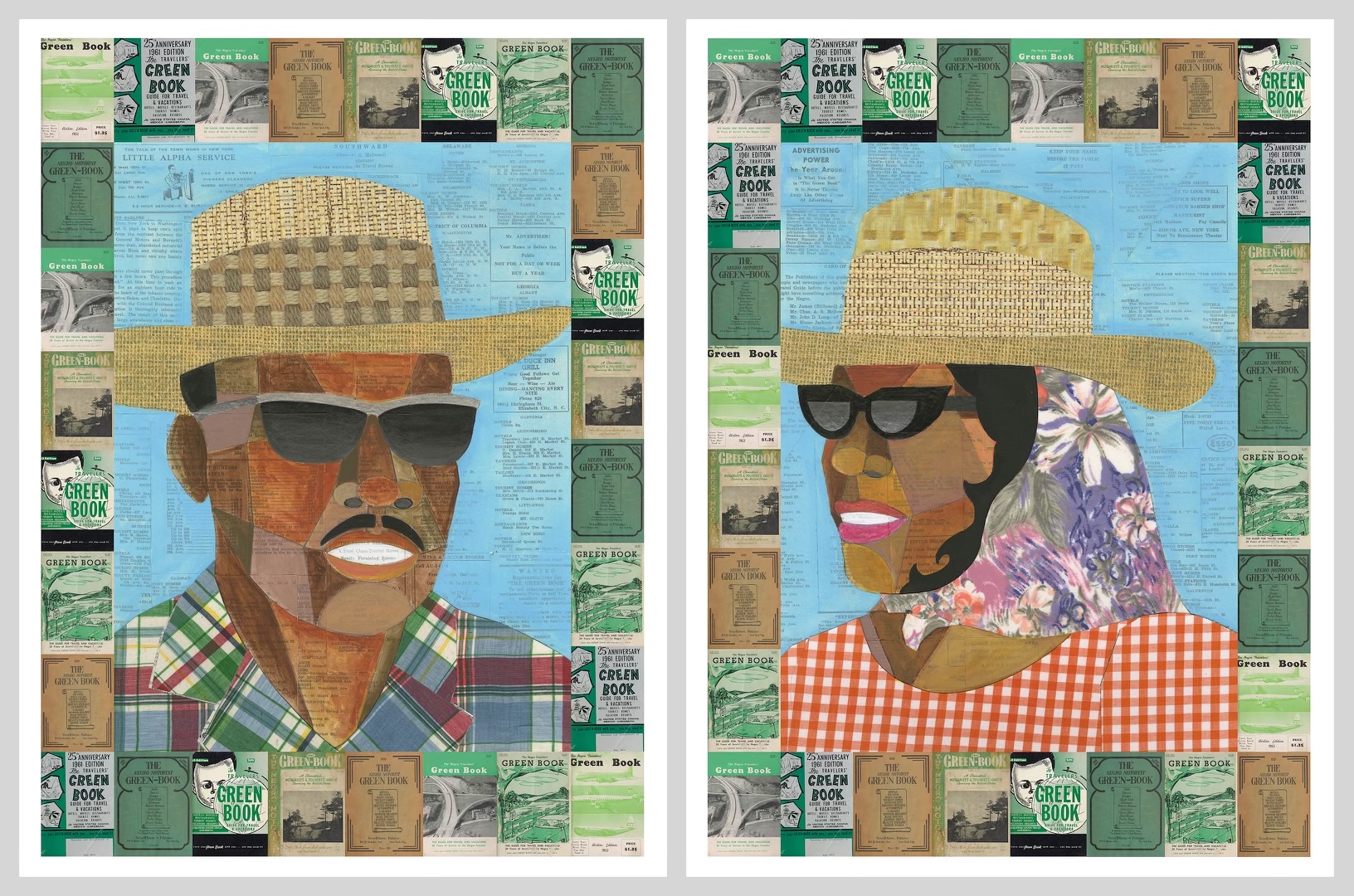 On Sunday, June 25, the BMA's newly-appointed Dorothy Wagner Wallis Director Asma Naeem and BMA Board Chair James D. Thornton will host A Midsummer Night's Gala, an art benefit supporting the BMA and a group of extraordinary artists connected to the Baltimore region.
This special event will give guests an opportunity to meet artists including Derrick Adams, Kyle Yearwood, Murjoni Merriweather, Jamaal Peterman, Jabari Jefferson, McKinley Wallace III, Jerrell Gibbs, and Tawny Chatmon, and bid on their original artworks in a silent auction. All auction proceeds will directly support The Last Resort Artist Retreat (TLRAR), a residency in Baltimore's historic Waverly neighborhood founded by the city's own Derrick Adams.
To preview the evening, Asma Naeem joined TLRAR's executive director Thomas James to talk about the gala's mission, the artworks up for grabs, and what to wear to fit the theme of summertime chic.
Watch the conversation and read the complete transcript below. Learn more about A Midsummer Night's Gala at artbma.org/auction.
Asma Naeem: Hi everybody, this is Asma Naeem. I'm the Dorothy Wagner Wallis director here at the Baltimore Museum of Art. How are you, Thomas?
Thomas James: I'm very well. I'm very well. How are you?
AN: I'm good. I'm good. Thomas, introduce yourself and tell us all about The Last Resort Artist Retreat.
TJ: Yes, thank you for asking. So, my name is Thomas James. I'm the executive director of The Last Resort Artist Retreat where I am broadcasting from at the moment. So The Last Resort Artist Retreat is an artist residency envisioned and founded by Derrick Adams here in Baltimore City. And we are a space that, we specialize in bringing in Black creatives from all across the country all around the world for non-obligatory four-week stays here in Baltimore. While they're on site, they're able to participate in alternative therapies such as yoga meditation, mindfulness, acupuncture, and then also we're gonna be bringing folks that are other arts professionals from the arts ecosystem to come and stay for long weekends and other short stays, to be able to interact with the residents as a way to be able to broaden and enhance their practice in a very casual, non-transactional manner.
AN: That's amazing. It sounds amazing. And I have to say, I've been there for those of you who haven't been there, it's up in Waverly. It's an absolutely glorious space. So many folks are talking about it and not just here in Baltimore but up in New York, elsewhere throughout the country. So congratulations to you and to Derrick. So why don't we talk a little bit more about how we're partnering, which I'm so excited about. I can't believe this is finally happening. Why don't I start and then you can jump in, Thomas. So everybody out there, please come and celebrate with us on June 25th from 5:00 to 8:00 p.m. at the Baltimore Museum of Art in our Sculpture Gardens, which are so beautiful. And it's called A Midsummer Night's Gala. And tickets and sponsorships are available beginning at $250, and it's going to be just this amazing chilled out evening that will also be filled with amazing artists from the Baltimore region and just a way to support both the BMA and The Last Resort Artist Retreat.
TJ: Yes and so, you know, part of the evening, in addition to the the wonderful cocktails that are gonna be served by the Maryland Mobile Bar and the food that's gonna be served by H3irloom Food Group we are gonna be having an auction that is coming in collaboration with The Last Resort Artist Retreat's collaboration with Art+Culture Projects. And so we are going to be auctioning off a portion of a print series that we've done. So that print series includes our founder Derrick Adams as well as Washington DC based mixed media collage artist Jabari Jefferson, Jamaal Peterman, who's from this region, but is now in New York. And he's in Brooklyn, New York. His work, we're gonna have Kyle Yearwood who's a filmmaker here and an animator in Baltimore Murjoni Merriweather, a sculptor here in Baltimore who is also in the the hip hop show at the BMA, as well as McKinley Wallace III, who's a MICA graduate. And so each of these artists, they have created either a print series or NFTs with Art+Culture Projects. And we're gonna be auctioning that work during the event. And there's gonna be some sneak peeks, there's gonna be a couple more artists that are added to that list. I can't announce them yet but they're gonna be a couple of really amazing artists that are gonna be added to that list.
AN: Wonderful, wonderful. And for those of you who wanna take a look at the details of the evening, as well as get ready to getting our thinking about looking at the catalog for the silent auction you can go to artbma.org/auction right down there. And I will say that I'm super excited to see the works and to be bidding on some of these incredible prints. Thomas, you know this is such an important partnership for us. I know that you have some incredibly important values and a really singular mission and I just wanted you to talk about that for a moment.
TJ: Yeah, yeah. I think that this is such an amazing partnership because both of our organizations have such a focus on amplifying Baltimore as a city, the artists that are here in Baltimore and within the region, as well as bringing world-class art and cultural production to Baltimore. You know, for us, it's important to work with institutions such as the BMA because what we would love to be able to provide is somewhat of a pipeline for the artists that we love and care about and who are friends of the space, who will be residents of the space and really have them really provide a platform. And hopefully they'll have the ability to be connected with organizations and leaders such as the BMA, as well as other organizations here in Baltimore and within the region because that is… We find it extremely important and a way to really boost the city of Baltimore's really global footprint by being able to have this level of support and these artists coming through our space and being able to connect with these institutions.
AN: Oh, Thomas, those were such beautiful words. And I have to say, The Last Resort Artist Retreat makes me feel so welcome. And I know that, that welcoming atmospheric extends to everybody who steps foot. And yeah. the mission alignment is just absolutely just cosmic. I would say that I'm from Baltimore, Derrick's from Baltimore. We believe in the creativity that is so in everywhere in this magical city. We want to continue to lift those voices and give them all the support and the platform they need. I hear at the Baltimore Museum of Art along with my colleagues, believe that that is one of our central missions moving forward in this next chapter. And creativity needs to be nurtured and it needs to have space to grow. And what you are doing is something that just is so needed. And I can't thank you enough for what you're doing. Thomas, what are you thinking about what you're gonna wear?
TJ: That's a great question. So, I mean, I'm really happy that the attire is summer chic because, you know, summertime is very hard to pick outfits because of the heat or okay should I wear this one? But I might actually buy something from one of my favorite Baltimore vintage shops or something to come through on that Sunday. So I'm actually really excited about whatever, whatever the fashion choice will end up being. What about you?
AN: No, it's such a good point. Thank you for mentioning the dress code. The dress code is summer chic, so be your creative fly self. However you want to present yourself, just feel free. And I will say I love the idea of supporting local, that sounds like an excellent plan. So for those of you who are very interested please remember to go to artbma.org/auction to take a look at the details. And again, this gala is A Midsummer Night's Gala. It's already being snapped up by so many of you. So tickets are moving quickly. They start at $250 and the details of the evening can be found on our website and 5:00 to 8:00 PM so then you can have kind of like an after party afterwards if you want. So please join us. And Thomas, thank you so much for all that you are all that you can need to do. Your incredible spirit is permeating so many people's lives and helping us here at the BMA. So thank you.
TJ: Thank you all so much.
---
A Midsummer Night's Gala takes place in the BMA Sculpture Gardens on Sunday, June 25 at 5 p.m. Tickets and sponsorships are available beginning at $250 and provide essential support to the BMA and our mission to create a museum that welcomes our community and uplifts the work of artists.