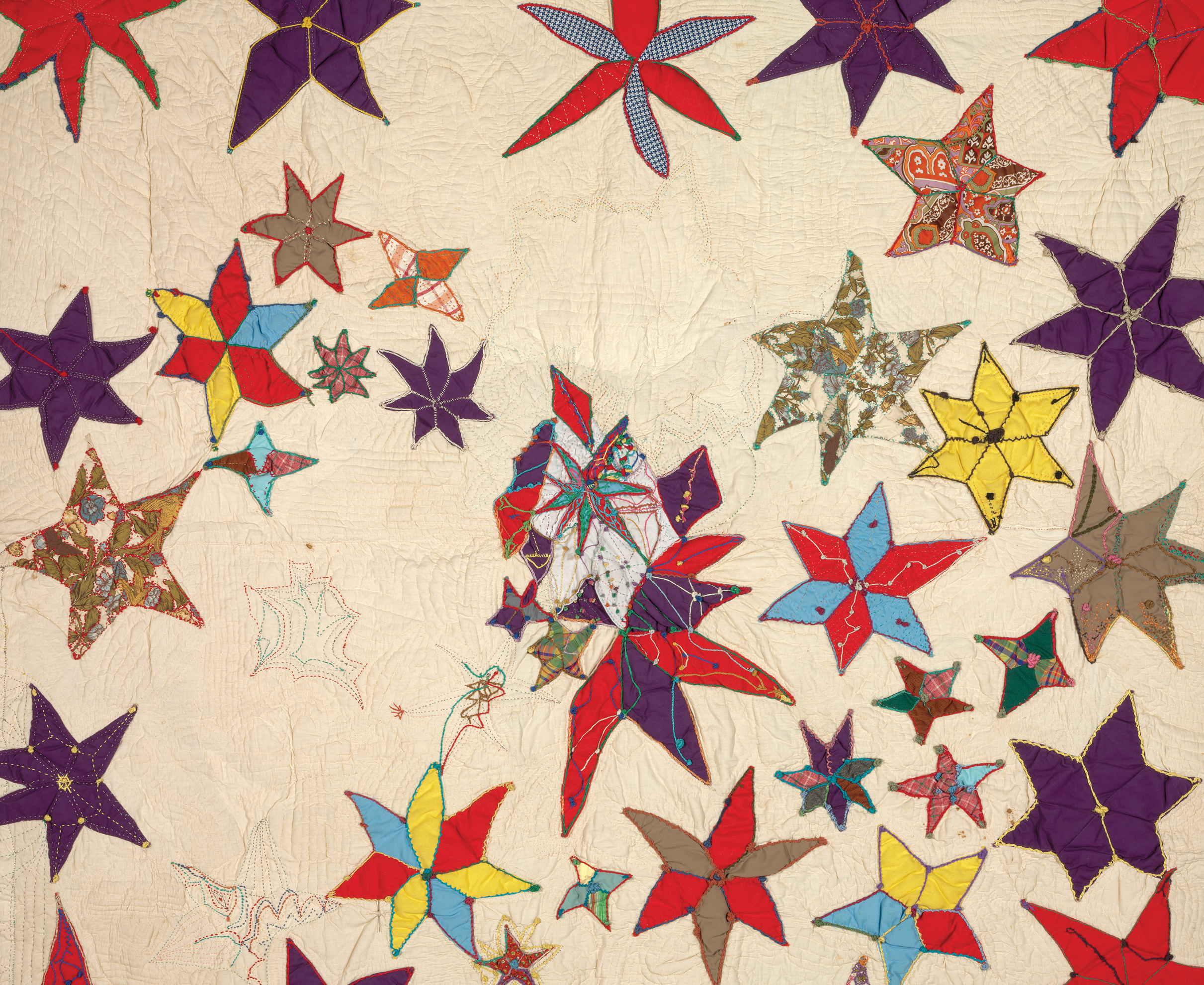 "Here I have a story about the Emancipation of people in needle and thread and fabric," Joyce J. Scott has said about Plantation, a quilt that her mother created.
Plantation depicts two perspectives—one of a starry night sky, and the other of the fields below—collapsed together into a single composition. The constellation of stars overlays complex embroidery that depicts the topography of the plantation. And between this mapping of stars and landscape lies, according to Joyce J. Scott, an escape plan for enslaved people.
The idea that quilts helped people escape their enslavement or navigate the Underground Railroad is still contested among a number of historians. However, Joyce J. Scott remembers her mother and relatives explaining how rows of stitches represented rows of crops and breaks in the road represented escape routes off of the plantation. That's what her mother was taught, Joyce said. Plantation reflects this idea of a secret map.
Throughout all the history and all the other techniques and all the stories she imbues, I'd defy another to do that…and not go, 'Oh, wow.

Joyce J. Scott on her mother's work
Elizabeth Talford Scott was the granddaughter of enslaved people, and her parents lived as sharecroppers. Sharecropping's exploitative economics forced African American families working in the rural South after the Civil War to be resourceful and frugal. In Elizabeth Talford Scott's family, this meant quilting, knitting, and making what they could not purchase. Elizabeth began quilting at the age of 9, though her regular practice lapsed as she moved to Baltimore, married, and entered the workforce, and raised her daughter Joyce.
It was when Joyce J. Scott went to Mexico for her MFA in 1971 that Elizabeth Talford Scott took up quilting again. Plantation is one of the early quilts that Elizabeth made as she transitioned into a regular artistic practice.
According to art historian Leslie King-Hammond's read of the quilt in a 1998 essay, the positioning of the stars on the quilt "approximate their position in the sky on a clear evening—as they would be viewed by women who sat on the porch sewing and piecing after an arduous day of work."
The quilt speaks to history, and it is also a personal work. It recalls Elizabeth Talford Scott's childhood home. In her own words, "these stars back home were very precious to me. They lit our way home at night. They lighted up the porch. They even seemed to … warm us." It also describes the evolving bond between mother and a child coming of age: "That's the mother of the stars in the center … the dipper of the sky … the cradle. All the stars go there first. Babies. They shoot and then they go out. There's a shooting star that didn't get away far. See his tail?"
The celestial references, the secret mapping, and the history all coalesce into a work that is conceptually sophisticated, and visually gorgeous. Joyce says it best, reflecting on her mother's work: "Throughout all the history and all the other techniques and all the stories she imbues, I'd defy another to do that…and not go, 'Oh, wow.'"
---
Plantation is on view in Hitching Their Dreams to Untamed Stars: Joyce J. Scott & Elizabeth Talford Scott from May 15, 2019 – December 1, 2019 in the Berman Textile Gallery.