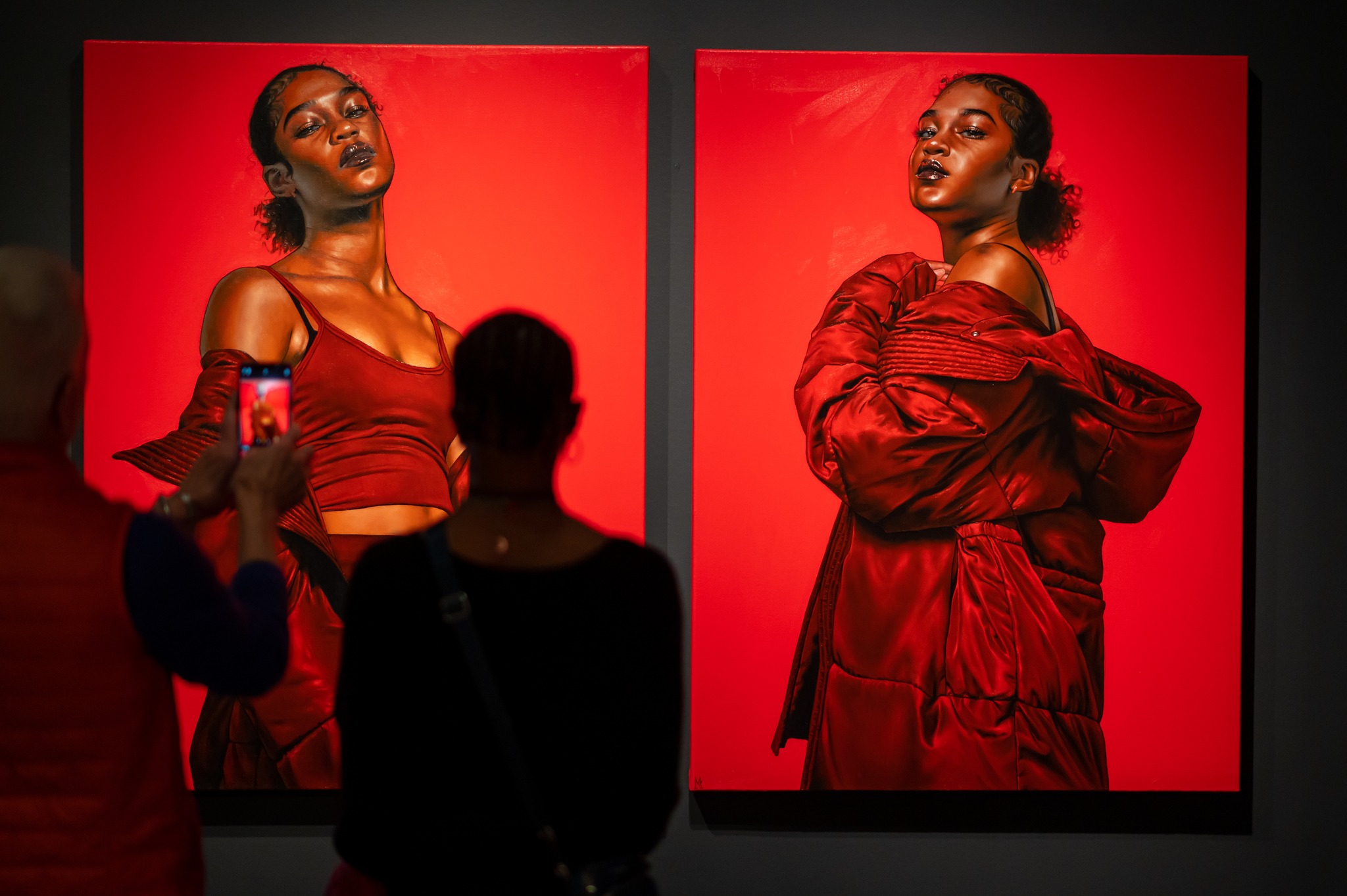 Since its emergence in the 1970s, hip hop has grown into a global phenomenon, driving innovations in music, fashion, technology, and visual and performing arts. Coinciding with the 50th anniversary of the birth of hip hop, The Culture: Hip Hop and Contemporary Art in the 21st Century captures hip hop's extraordinary influence through more than 90 works of art and fashion by established and emerging artists, design houses, streetwear icons, and musicians. The exhibition catalog features New York-based writer and curator Ebony L. Haynes' phenomenal format-breaking foreword, All Eyes on Me, published below.
Haynes is a senior director and curator at 52 Walker, a David Zwirner gallery. She previously held positions as visiting curator and critic at Yale School of Art in the Painting and Printmaking program, and director at Martos Gallery and Shoot The Lobster NY & LA. Haynes sits on the boards of Artists Space, the New Art Dealers Alliance, and Cassandra Press. She also runs an online program that offers free professional practice classes to Black students worldwide.


ALL EYES ON ME
1 It's About The Money In This Rap Shit
2 Money, Power, Respect, You'll Be Eatin' Right
3 Money's Growin' Like Grass With The Mass Appeal
4 Turns Out I'm Rich, I'm Rich, I'm Rich
5 I Can Tell You How To Get The Money But You Just Gotta Listen To Me
6 When It Rains, It Pours
7 Don't Brag About The Things You Ain't Got
8 Not Meant To Cry And Die Alone In These Mansions
9 Never Do What They Do
10 Niggas Only Grind 'Cuz We Have To
11 It Wasn't Your Car That Had Me All In Love With You
12 You Wanna Know How To Rhyme, You Better Learn How To Add
13 My Mama Told Me To Save That Money . . . When I'm Jumpin' Off The Tightrope
14 I'm 900 And 99 Thou Short Of A Mill
15 I Just Wanna Be, I Just Wanna Be Successful
16 We Commence To Astro-Travellin' . . . I'm Labeled As A Bad Character
17 But Most Of All We At War With Ourselves
18 In My Kingdom, With My Timbs On
19 It Was A Clear Black Night, A Clear White Moon
20 Hold Hands By The Louvre, Eiffel Tower In The Evening
21 I Got A Whole New Game Plan
22 Spaceships Don't Come Equipped With Rearview Mirrors
23 No Catching Up, He's In A Whole 'Nother Zone
24 I Know What It's Like When The Ceiling Gone
25 I Know What You're Thinkin', Yeah Me Too
26 Like Sounds Of Blackness When I Practice What I Preach, It Don't Lie
27 You Either With Me Or Against Me, Or You In My Way
28 Baby Don't Pray For Me, Pray For The Weak
29 I'm An Overachiever, So How About I Start A Team Of Leaders
30 Never Front On A Clique That You Can't Evaluate
31 There's No Ifs, No Ands, Not Buts, Or Suppose
32 It's So Simple Unlike A Riddle. It's As Easy As Counting 1-2-3
33 With Each Letter It Becomes Visibly Better, Cause My Foundation Built A Nation Of Rappers
34 Sometimes I Test Myself To See If I Still Got It
35 I Got Enough Flavor To Make A Grapefruit Sweet
36 Now, Who Be Writin' Rhymes All Night
37 You Better Keep My Music Bangin' Til It Disconnect
38 When They Pumpin' In The Jeeps, It's Gonna Rock Right
39 Never Put Me In Your Box If Your Shit Eats Tapes
40 You'll Shut Me Down With The Push Of Your Button?
41 My Peoples Are You With Me Where You At?
42 Don't You Compare Me Cause There Ain't Nobody Near Me
43 Stronger Than Pride, Stronger Than Teflon
44 Keep Comin' Up With Funky Ass Shit Like Every Single Day
45 I Dedicate This To You For Believing In Me
46 You Never Thought That Hip Hop Would Take It This Far
47 To All The Bigwigs And Labels Sellin' You Fables
48 Do It For The Culture, They Gon' Bite Like Vultures
49 Just Remember All Caps When You Spell The Man Name
---
Notes
1. 2Pac, "All Eyez on Me," track 24 on All Eyez on Me, Death Row and Interscope Records, 1996
2. The Lox, "Money, Power & Respect," track 5 on Money, Power & Respect, Bad Boy Records and Arista, 1998
3. Gang Starr, "Mass Appeal," track 11 on Hard to Earn, Chrysalis and EMI Records, 1994
4. Cardi B, "Bodak Yellow," track 4 on Invasion of Privacy, Atlantic Records, 2018
5. Young Thug, "RiRi," track 5 on Jeff rey, 300 Entertainment and Atlantic Records, 2016
6. Pop Smoke, "Dior," track 1 on Meet the Woo, Victor Victor Worldwide and Republic Records, 2019
7. Salt 'N' Pepa, "My Mic Sounds Nice," track 9 on Hot, Cool, & Vicious, Next Plateau Records, 1986
8. Jay-Z, "4:44," track 5 on 4:44, Roc Nation, 2017
9. The Roots, "What They Do," track 41 on Illadelph Half-life, DGC and Geff en Records, 1996
10. Lil' Kim, "Lighters Up," track 3 on The Naked Truth, Atlantic Records and Queen Bee Entertainment, 2005
11. Missy Elliot, "Hit 'Em wit da Hee," track 2 on Supa Dupa Fly, The Goldmind and Elektra Records, 1998
12. Mos Def, "Mathematics," track 16 on Black on Both Sides, Rawkus and Priority Records, 1999
13. A$AP Mob, "Yamborghini High," track 1 on Cozy Tapes Vol. 1: Friends, A$AP Worldwide, Polo Grounds Music, and RCA Records, 2016
14. M.O.P., "Ante Up (Robbin-Hoodz Theory)," track 4 on Warriorz, Loud Records and Relativity Records, 2000
15. Drake, "Successful," track 3 on So Far Gone, October's Very Own, 2009
16 .Quasimoto, "Bad Character," track 2 on The Unseen, Stones Throw Records, 2000
17. Kanye West, "Jesus Walks," track 7 on The College Dropout, Roc-A-Fella Records and Def Jam Recordings, 2004
18. Nicki Minaj, "Chun-Li," track 10 on Queen, Young Money Entertainment, Cash Money Records, and Republic Records, 2018
19. Warren G, "Regulate," track 1 on Regulate . . . G Funk Era, Violator Records and Def Jam Recordings, 1994
20. Westside Gunn, "French Toast," track 5 on Pray for Paris, Griselda Records and Empire, 2020
21. Cam'ron, "Hey Ma," track 8 on Come Home with Me, Roc-A-Fella Records, Diplomat Records, and Def Jam Recordings, 2002
22. UGK, "Int'l Players Anthem," track 2 on Underground Kingz, Jive Records, 2007
23. Clipse, on The Neptunes, "Hot Damn," track 15 on The Neptunes Present . . . Clones, Star Trak and Arista, 2003
24. 2 Chainz, "Watch Out," single, Def Jam Recordings, 2015
25. Clipse, "Mr. Me Too," track 3 on Hell Hath No Fury, Star Trak, Re-Up, and Jive Records, 2006
26. OutKast, "ATLiens," track 3 on ATLiens, Artista Records and La Face Records, 1996
27. Gucci Mane, "1st Day Out tha Feds," track 11 on Everybody Looking, GUWOP Enterprises, RBC Records, and Atlantic Records, 2016
28. A$AP Ferg, "Work," track 9 on Lords Never Worry, ASAP Worldwide, Polo Grounds Music, and RCA Records, 2012
29. Tyler, the Creator, "Yonkers," track 2 on Goblin, XL Recordings, 2011
30. Slum Village, "Get Dis Money," track 11 on Fan-Tas-Tic, Vol. 2, Barak Records, 2009
31. Roxanne Shante, "Roxanne's Revenge," single, Pop Art Records, 1984
32. MC Lyte, "Paper Thin," track 6 on Lyte as a Rock, First Priority and Atlantic Records, 1988
33. Kool Moe Dee, "I Go to Work," track 3 on Knowledge Is King, Zomba Recording, 1989
34. Mobb Deep, "Front Lines (Hell on Earth)," track 11 on Hell on Earth, Loud and RCA Records, 1996
35. Queen Latifah, "Fly Girl," track 7 on Nature of a Sista', Tommy Boy Records, 1991
36. Rah Digga, "Tight," track 3 on Dirty Harriet, Flipmode and Elektra Records, 2000
37. Busta Rhymes, "Woo Hah!! Got You All in Check," track 5 on The Coming, Elektra Records, 1996
38. Bahamadia, "UKNOWHOWWEDU," track 7 on Kollage, Chrysalis Records, 1996
39. Nas, "N.Y. State of Mind," track 2 on Illmatic, Columbia Records, 1994
40. Beastie Boys, "Sabotage," track 6 on Ill Communication, Capitol Records and Grand Royal Records, 1994
41. Method Man on Wu-Tang, "Da Mystery of Chessboxin'," track 6 on Enter the Wu-Tang (36 Chambers), Loud Records, 1993
42. Lil Wayne, "A Milli," track 3 on Tha Carter III, Cash Money Records, Universal Motown, and Young Money Entertainment, 2008
43. Q-Tip on A Tribe Called Quest, "Electric Relaxation," track 8 on Midnight Marauders, Jive Records, 1993
44. Snoop Dogg, "Gin and Juice," track 3 on Doggystyle, Death Row Records and Interscope Records, 1993
45. Pete Rock & CL Smooth, "They Reminisce Over You (T.R.O.Y.)," track 10 on Mecca and the Soul Brother, Elektra Records, 1992
46. The Notorious B.I.G, "Juicy," track 10 on Ready to Die, Bad Boy Records and Arista, 1994
47. Handsome Boy Modeling School, "Magnetizing," track 2 on So . . . How's Your Girl?, Tommy Boy Records, 1999
48. Migos, "T-Shirt," track 2 on Culture, Quality Control Music and YRN Tha Label, 2017
49. MF Doom, on Madvillain, "All Caps," track 20 on Madvillainy, Stones Throw Records, 2004