As much of a textile as it is a painted canvas or a work on paper, barkcloth—made from the inner bark of trees—confounds Western notions of art.
By not fitting neatly into the artistic genres taught in predominantly Euro-American institutions, bark cloth prompts us to question and challenge the structures that shape our surroundings, said Dr. Kevin Tervala, interim Chief Curator. "The complicated nature of bark cloth allows you to understand there's more to the world than the systems we choose to use. These structures that define our world, or at least our artistic professions, can be re-invented and re-thought."

The Matter of Bark Cloth, on view through October 1, 2023, focuses on the material's unique nature through nineteen patterned artworks made of bark cloth from across Africa and Oceania in the 18th to 20th centuries. The exhibition reflects the BMA's efforts to "foreground questions around materiality and cultural connection," Tervala said. "It explores how Euro-American institutions like museums have erased and marginalized histories of collision, interaction, and trade from the local to the global scales."
The degree to which you prepare bark cloth informs the possibilities for how you use it, Tervala said. Often a communal preparation and patterning process, bark cloth is first stripped from the trunks of paper mulberry and ficus trees. It is then softened by successive rounds of beating, soaking, and drying, then shaped and dyed. Bark cloth is supple yet sturdy, and can absorb pigments and paint for it to be used in an array of artistic projects. While it has practical uses such as clothing, blankets, and room dividers, it also serves purely decorative functions, such as hanging in homes and palaces to beautify them. Bark cloth's use across time has made it an important material expression of cultural heritage, allowing people from a range of cultures to connect to their past.
The Matter of Bark Cloth is drawn almost entirely from the BMA's African and Oceanic art collection. On a cloudy Friday in late April, as the installation team was preparing the final touches ahead of the show's opening, Tervala shared two favorites from the collection.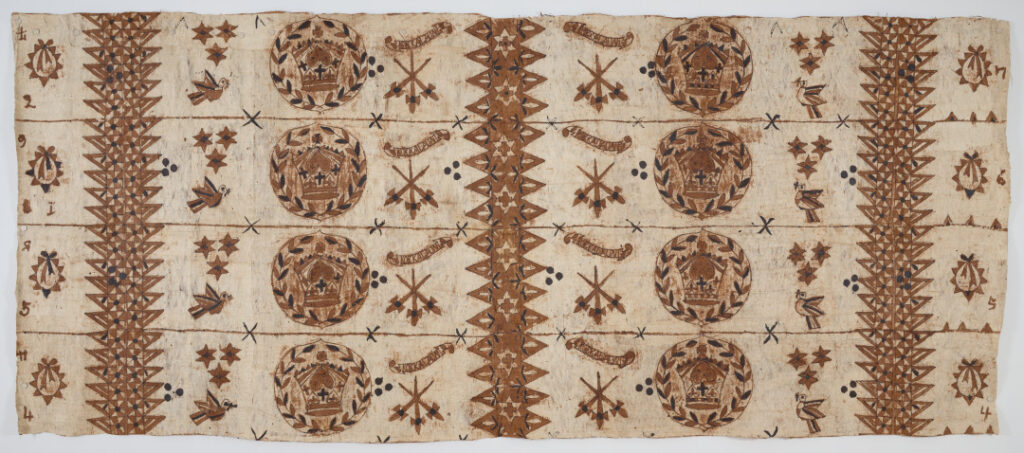 While Tervala says that the sheer size of many artworks makes bark cloth hard to collect and display, it is also what makes bark cloth so powerful. Look closely at Bark Cloth (Ngatu) Fragment, made by Unidentified Tongan Artists, and you'll notice there are numbers detailing the piece's perimeter. Already at an impressive size of approximately 14'8" x 6'2", Tervala emphasizes that "we're only seeing what was likely part of a much larger piece." Such artworks prompt viewers to ruminate on the many hands required to create something so vast.
Besides the way in which the artwork demands the visitor's eye to scale the wall, Tervala also points out the intricate patterning of crowns, stars, and swords. Paying homage to the last indigenous monarchy in the Pacific to survive colonization, these references captivated Tervala for how they again challenge us to understand cultural norms, such as our learned associations with heraldry, beyond a Euro-American focus.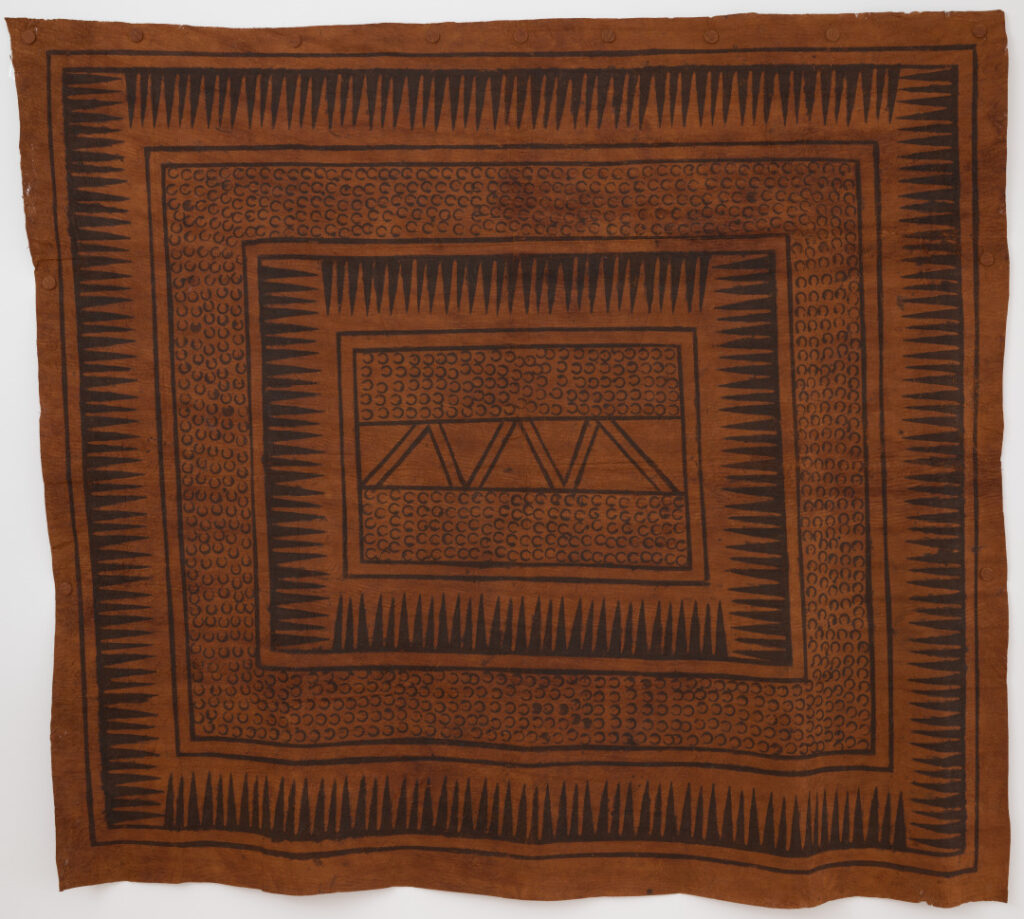 From the BMA's African bark cloth collection, Tervala chooses as his favorite the larger of two artworks from Uganda, Patterned Bark Cloth (Olubugo Olutone) by Unidentified Baganda Artists. With a rich nutty color, a closer inspection reveals a soft and supple texture. "This is where you look at the work and ponder, 'How did it use to be bark?'" Tervala says as he points to the textile-like surface. He also mentions this piece was likely created during a period when Ugandan bark cloth was reserved exclusively for the royal court, but the medium became increasingly democratized and traded across Uganda's vibrant artistic economies and communities over time.
Though we may never know the individuals who participated in the deep collective labor required to create these artworks, bark cloth is very much alive—it's an art form that not only exists but continues to be vital to the communities that produce it.
---
The Matter of Bark Cloth is on view through October 1, 2023.