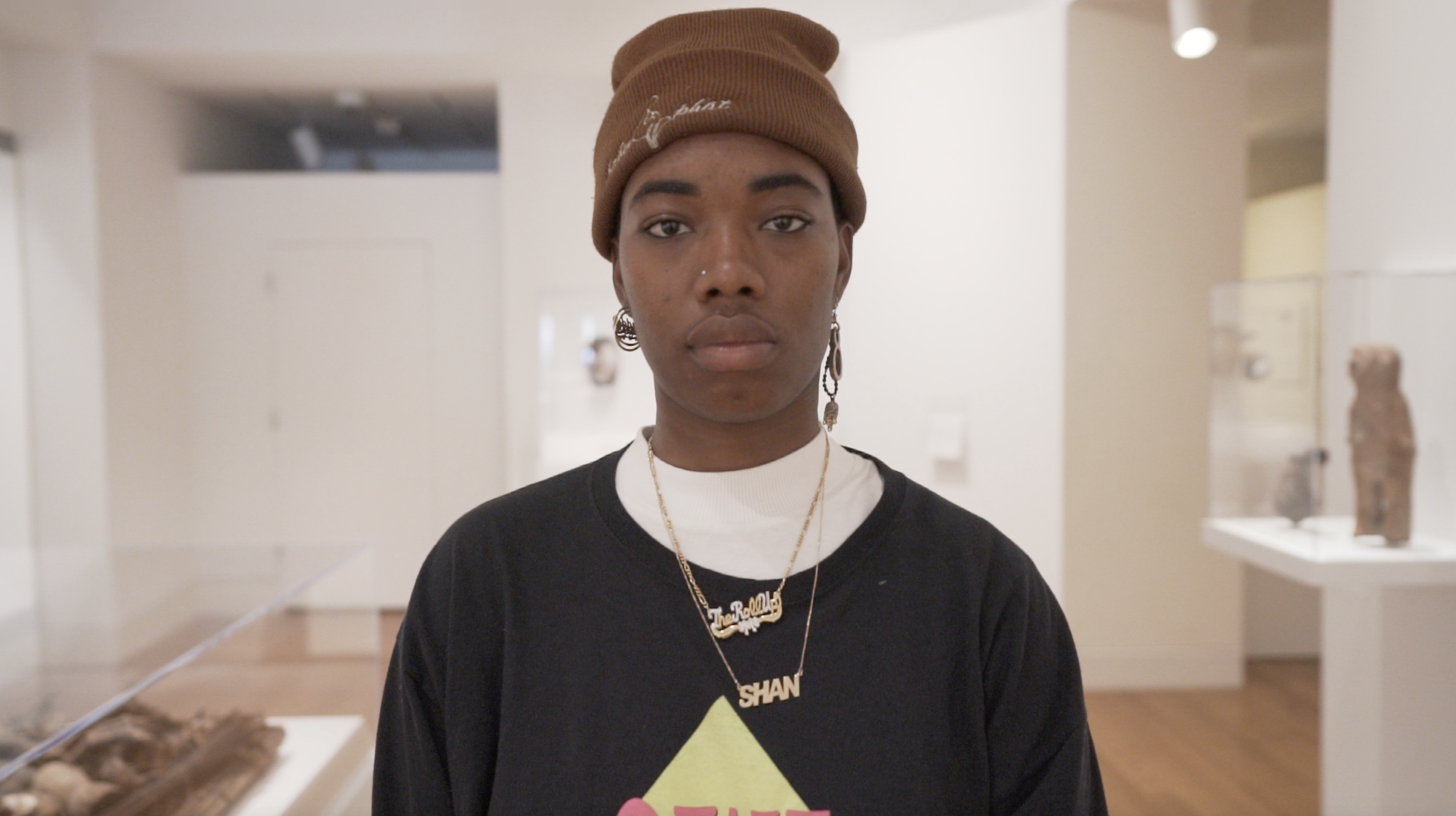 Which works of art at the BMA draw you in?
For the latest installment in our series Drawn To, we posed this question to SHAN Wallace. Watch the award-winning photographer, educator, and freedom fighter from East Baltimore discuss her spiritual and artistic connections to the masks, sculptures, and textiles on view in Subverting Beauty: African Anti-Aesthetics.
On Wallace's work, The New York Times Style Magazine wrote, it "draws its force from its insistence on the beauty and significance of everyday life among communities that have not historically been recorded with such careful attention."
Transcript
I'm SHAN Wallace.
I'm a photographer.
I document and archive of the lives and experiences of black people specifically in Baltimore. I use materials to do installation work. And I also use my own photographs to play around with black scenes and black figures in collage and photo montages. So, my initial response of walking in Subverting Beauty, the masks and of course the sculptures really called me because they tell a story of just ancestral tradition. It spoke to my spirit. It spoke to my spirituality and how I use my art to pay homage to ancestors. A lot of the beings are different sizes. They have different emotions in their faces. They have different designs, which is very similar to the figures in my collage work.
I play with size. I play with aesthetics sometimes I put a huge emphasis on it. I stretch it out or sometimes I make them really small where you have to take a double or triple look. And so, it's very interesting to see how these pieces here are very similar to my work and also very inspiring too. My message as an artist is to always focus on and assert black people's lives and experiences and identities. And so, as a photographer, I'm constantly documenting and archiving our everyday lives. What we wear, our aesthetics, from gold teeth to rings, to our sneakers, to how we mourn, to our traditions. Subverting Beauty reminded me that black is beautiful but also as an artist that I need to keep working hard to make sure that I show that black is beautiful, and that beauty is beyond what the eye can penetrate. That beauty is what we make it out to be.