To the BMA's Dave Eassa, few sounds are as familiar as skateboard wheels hitting the pavement and gliding over concrete. This, in concert with excited shouting and hollering, was the soundtrack to the five weeks he spent in Amman, Jordan this year. For the month of July and into August, he taught skateboarding and sculpture to local and refugee youth as an artist-in-residence with Al Raseef 153, the arts programming branch of the organization, 7Hills based in Jordan.
After watching the country's first skatepark sit empty for nearly two years, Mohammed Zakaria and Kas Wauters founded 7Hills in 2016 with a mission to unite local and refugee youth through skateboarding.
"As an artist and lifelong skateboarder of Arabic descent, this opportunity in Jordan was a life-changing experience for me," Eassa said. "This was a time when I was immersed in Arabic culture with my communities— artists and skateboarders. This trip was the convergence of everything I care about and everything I'm curious about."
See moments from Eassa's time with 7Hills below.
---
Arrival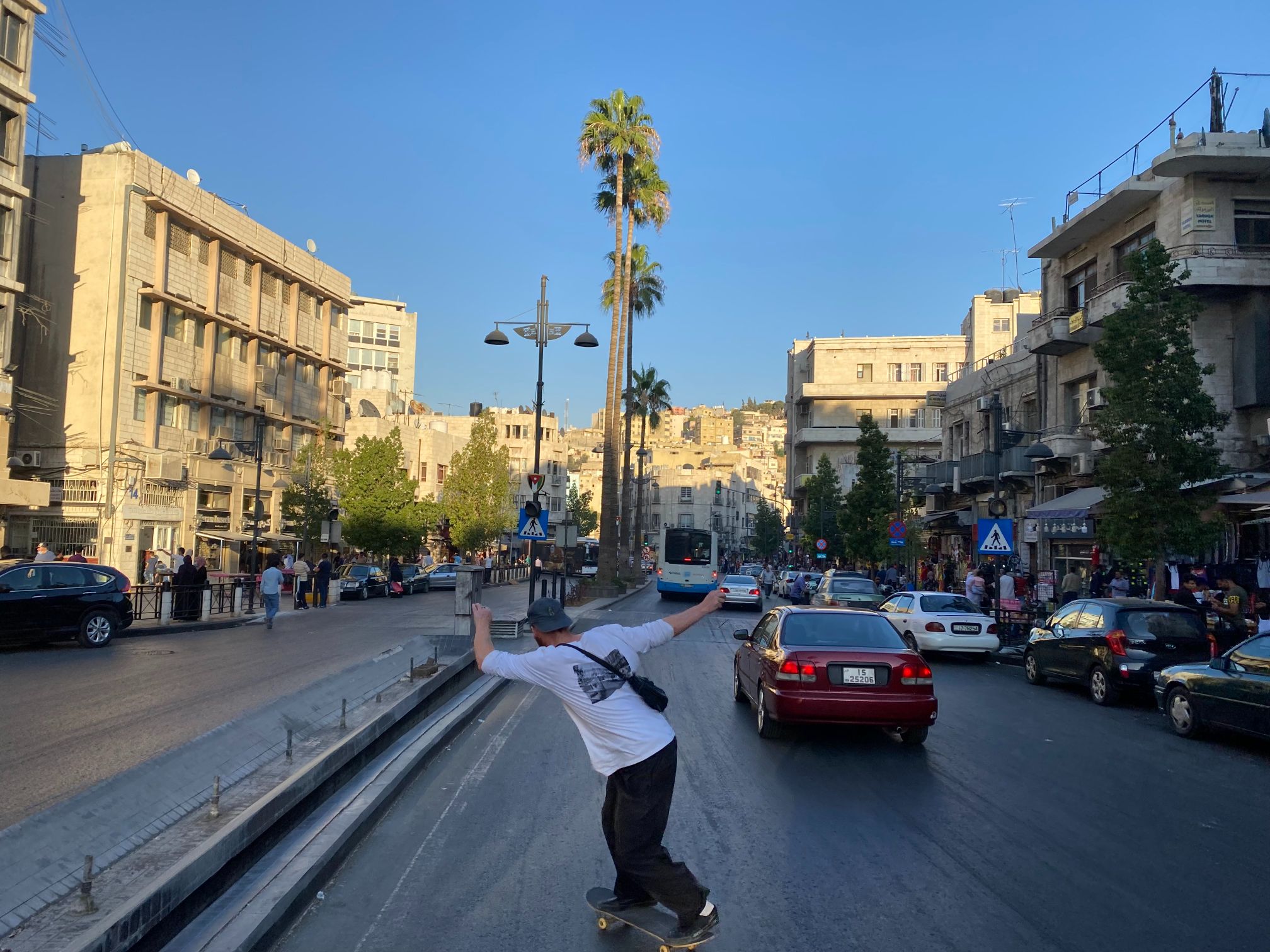 I landed in Amman around 5 pm on a Tuesday and took a taxi to the apartment I was renting with 7Hills co-Founder/Program Director Kas Wauters. Once there, I immediately dropped my bags, bombed the hill to downtown, and got up close and personal with Jordan weaving in and out of traffic on the way to the 7Hills skatepark.
7 Hills Park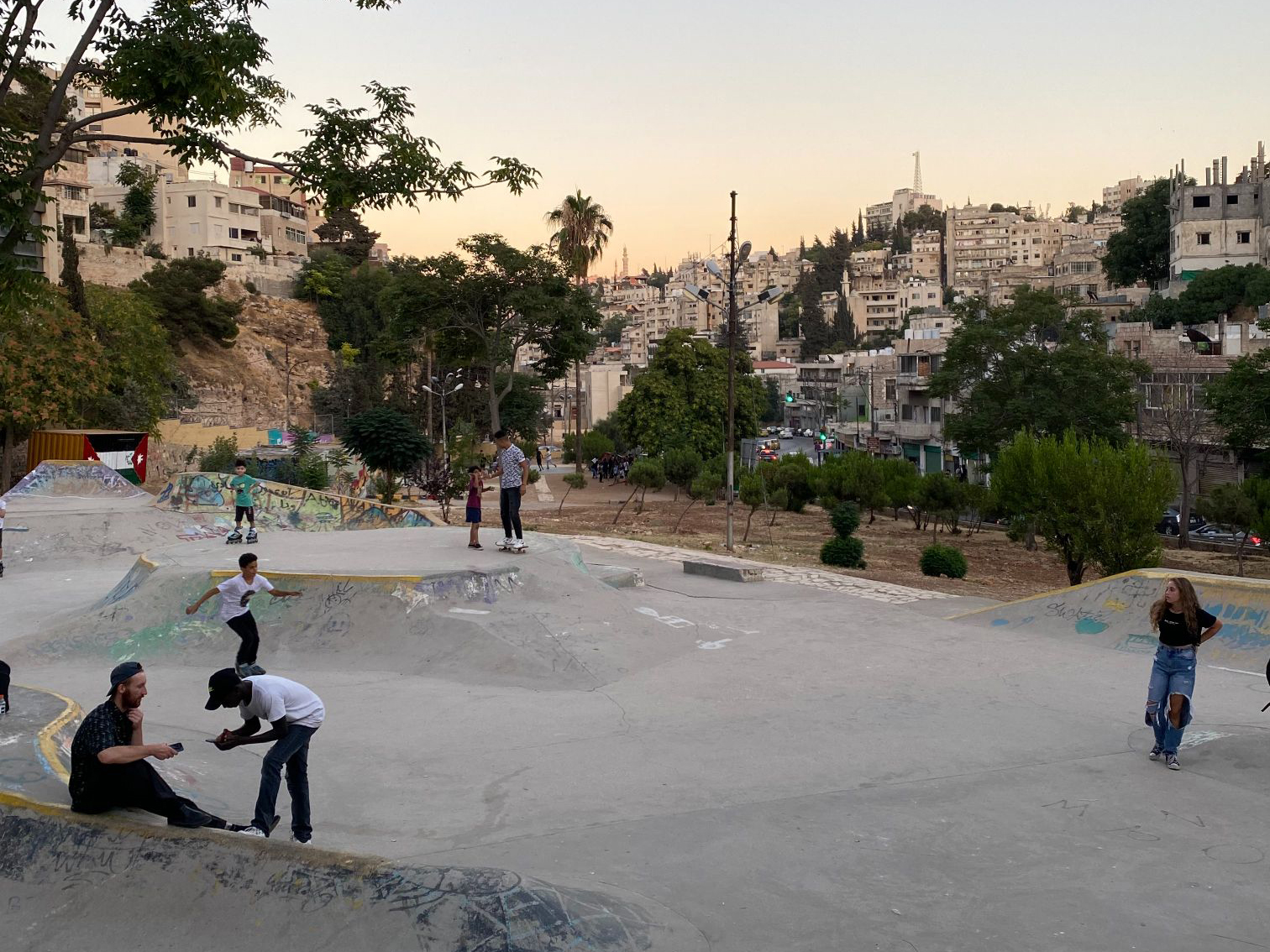 As the sun was setting, Kas and I got to the park to meet the team as well as the many young people who congregate here daily, whether programming is happening or not. The skatepark is located right off Prince Mohammad Street, the downtown artery that cuts through Jabal Amman and Jabal Weibdeh, two neighborhoods and hills that make up the seven hills Amman is built on. The local youth were excited to meet an American, and show me how they were skating. Naji, a young refugee teenager from Sudan, was perplexed that I only spoke one language and quickly took my Instagram contact so we could meet and he could teach me Arabic.
Girls Skate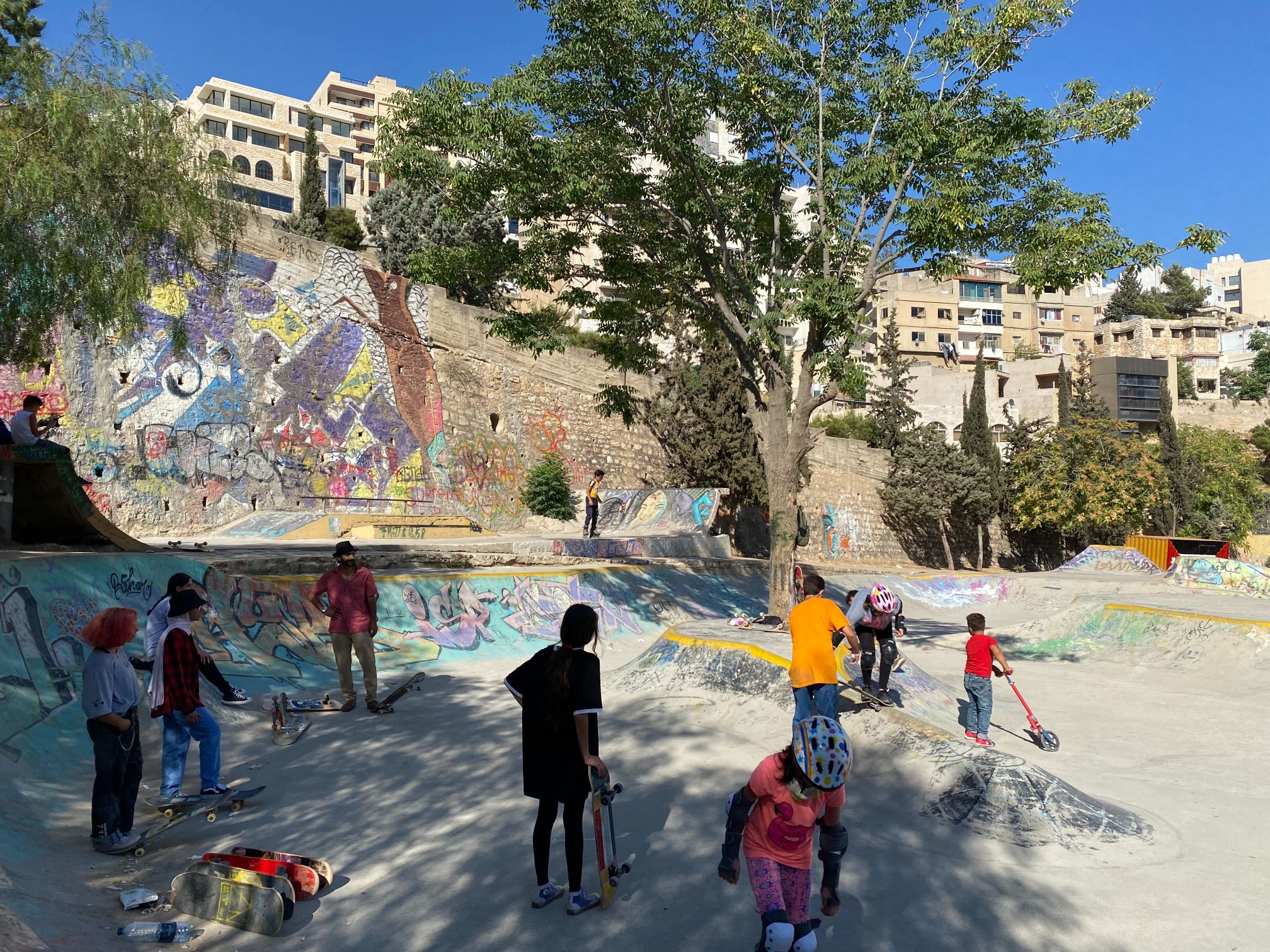 In the U.S., there is an incredible growing skate scene of women, non-binary, and queer folks that are challenging the long-perceived notion of skateboarding being a boys club. In the younger and developing skate scenes in the Middle East, leaders like Skateistan, 7Hills, and SkatePal have founded their organizations and often their skate scenes, with the goal to achieve an equal gender balance in their programming. One of the weekly classes held at the skatepark is an all-girls session, where youth leaders, male and female, are teaching skills to young girls. Skateboarding is the common denominator that connects us regardless of age, gender, socioeconomic status, or even a language barrier.
Skateboarding makes the world go round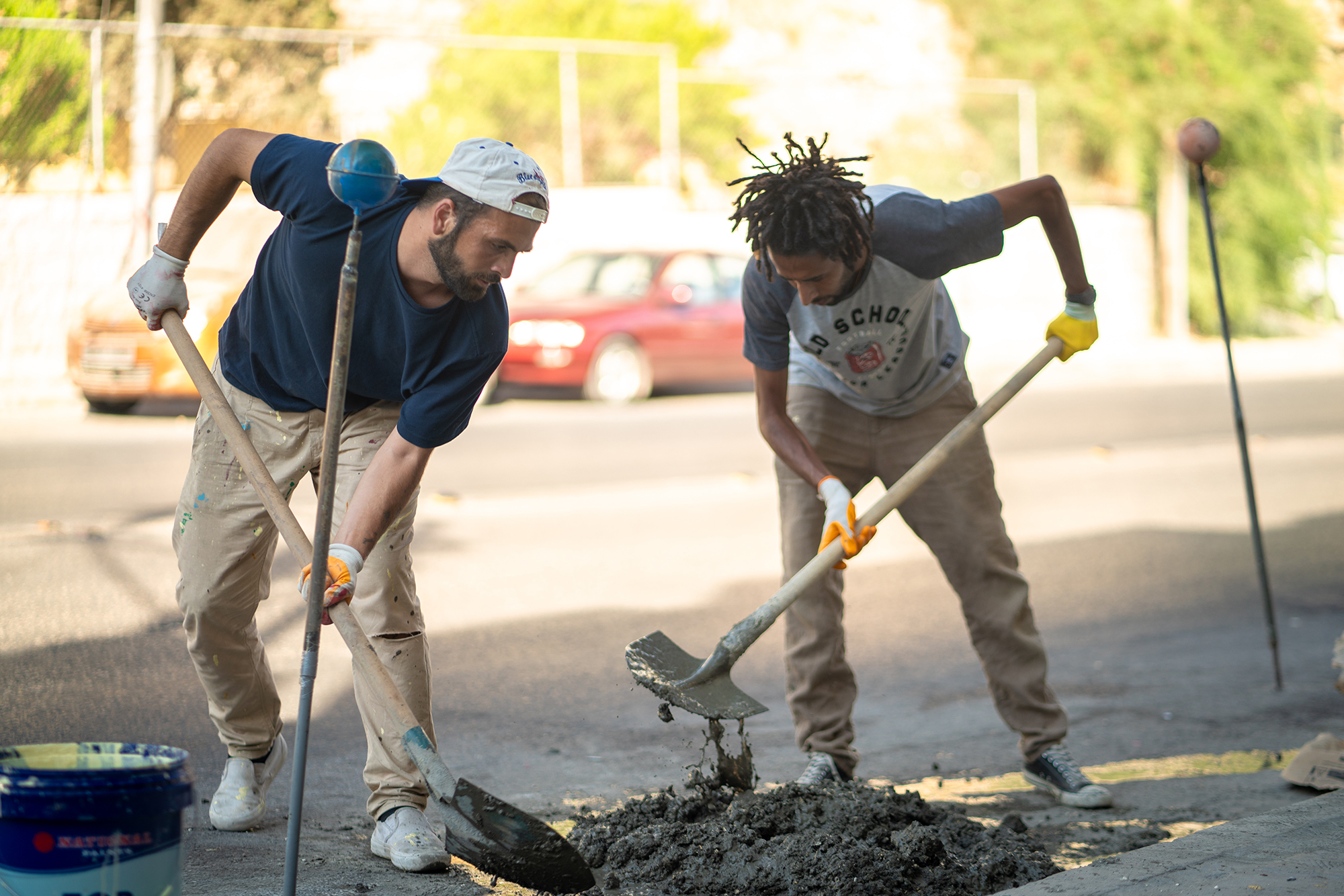 At Al Raseef 153, we started with sculpture workshops, teaching youth how to cast concrete to create pieces that were designed to be skated. This is my friend Majed Abu Dayyhe, Al Raseef 153's program manager, who showed me all that Amman had to offer while making every idea we had possible. An artist and woodworker who was born and raised in Amman, Majed has spent the last decade supporting youth and the growing street art scene in Amman.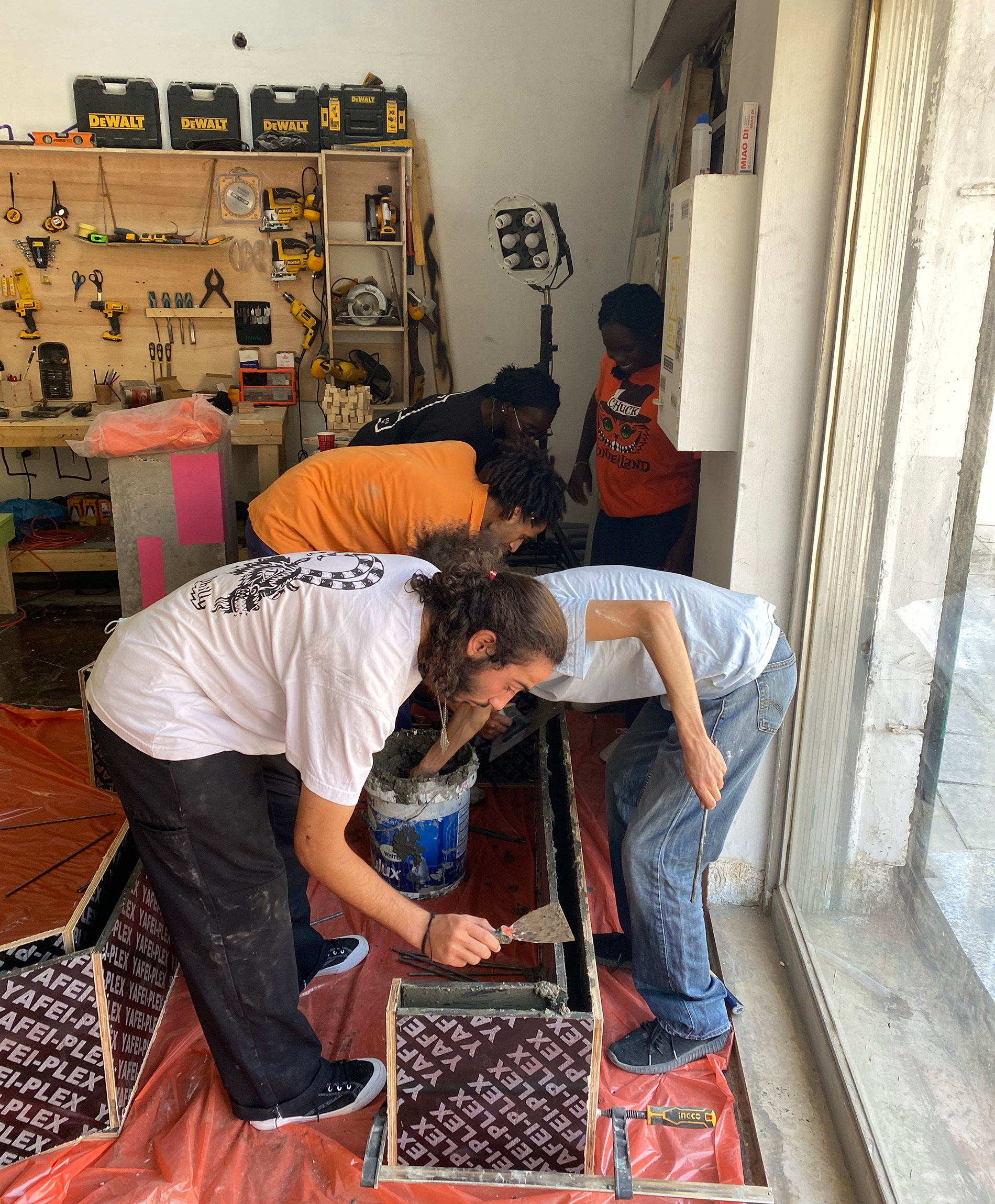 Inside of Al-Raseef 153, we began to fill the molds to create pieces meant to skateboard on. These were built with the intention of blending in with the existing environment.
Familial Tie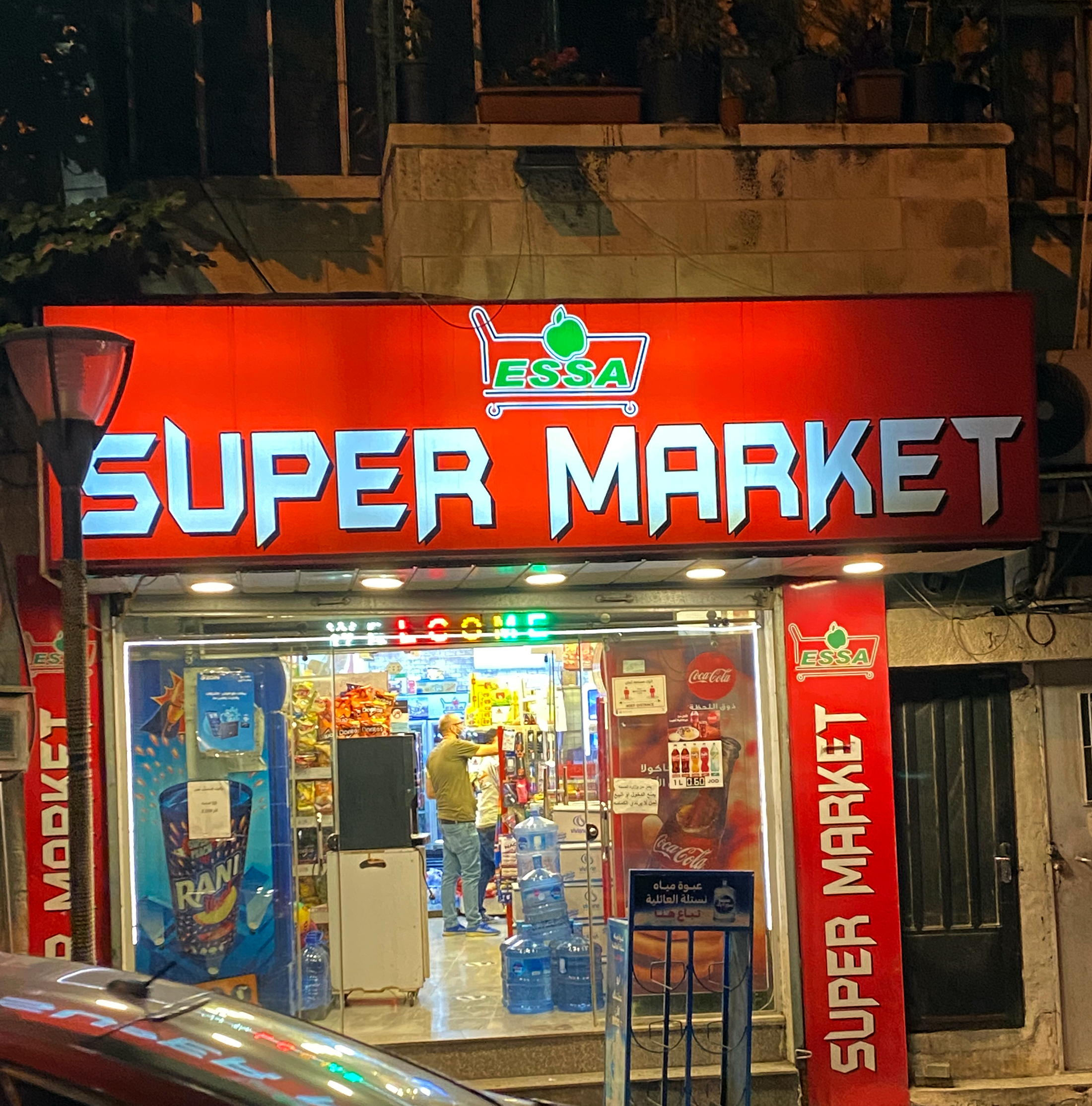 Just down the street from my apartment in Jabal Amman, was the Essa Super Market. Our family name has been spelled as Issa and Essa. Upon arrival to New York, my GREAT GRANDFATHER?, Beshara Nicholas Eassa, told the immigration clerk "Issa." In 1906, Beshara was 16 years old and escaping enlistment in the Ottoman Empire's army and could not have told them how to properly spell Issa in English even if he wanted to, and so it became Eassa. The first Eassas settled in Brooklyn and Syracuse, NY and for decades ran a grocery store in Syracuse. In Arabic, Issa translates to Jesus Christ.
Building in Beirut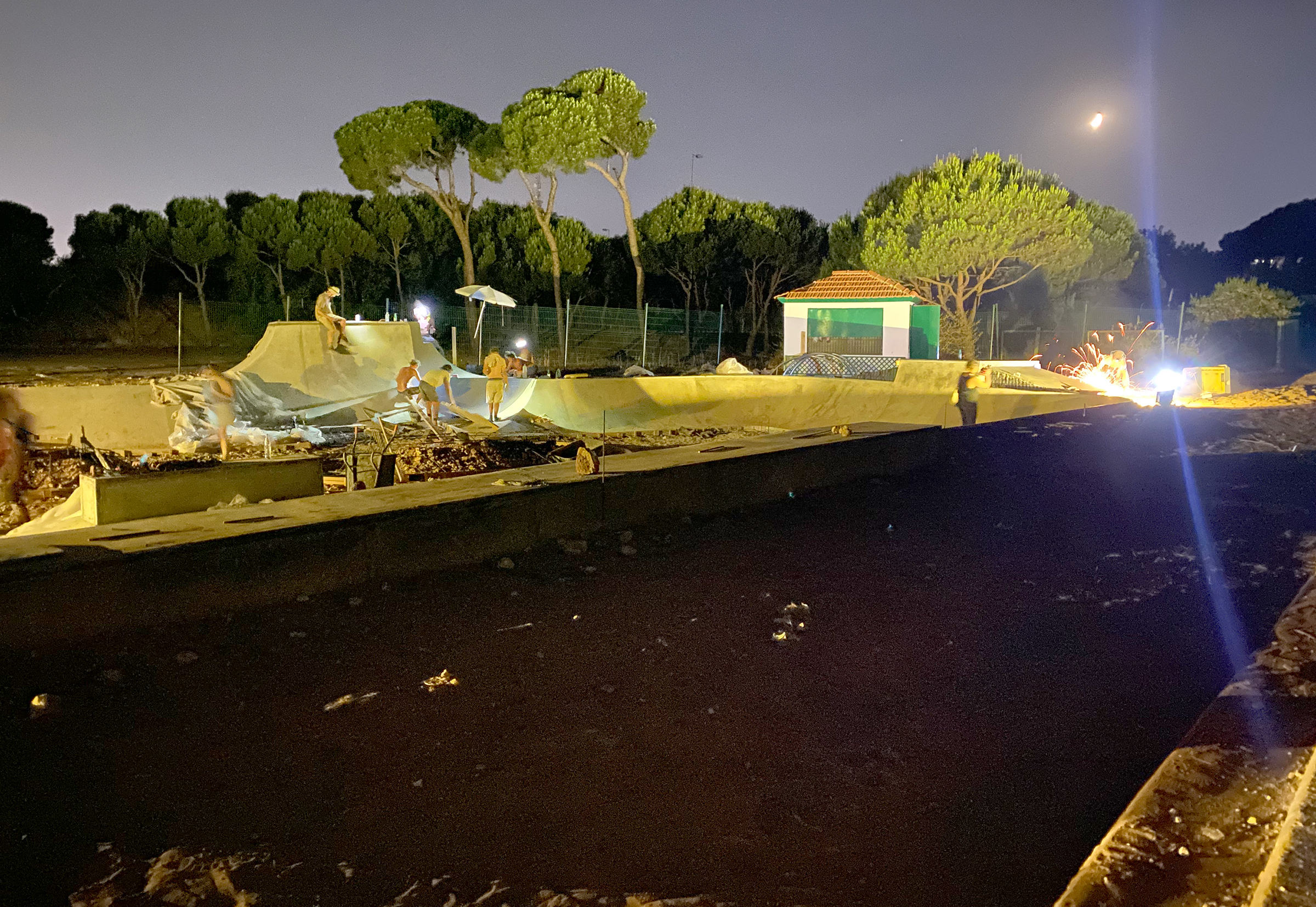 During the Eid al-Adha, an Islamic holiday, most Jordanians would be not working and spending time celebrating with family, and as such 7Hills programming was not happening that week. Mohammad Zakaria, an artist, skateboarder, and founder of 7Hills, was heading to Beirut, to work with Make Life Skate Life, an organization that was building Lebanon's first public skatepark with a volunteer crew of local and international skateboarders. We reached out to see if they needed more hands, and I was on a plane, headed to Beirut to help with the construction for eight days. I got there very late and made my way to the hostel where all volunteers were being put up. There, I met two German volunteers who were on their way home. They welcomed me and I tagged along with them as they went to the construction site one last time to say goodbye to the crew still at the site working late into the night.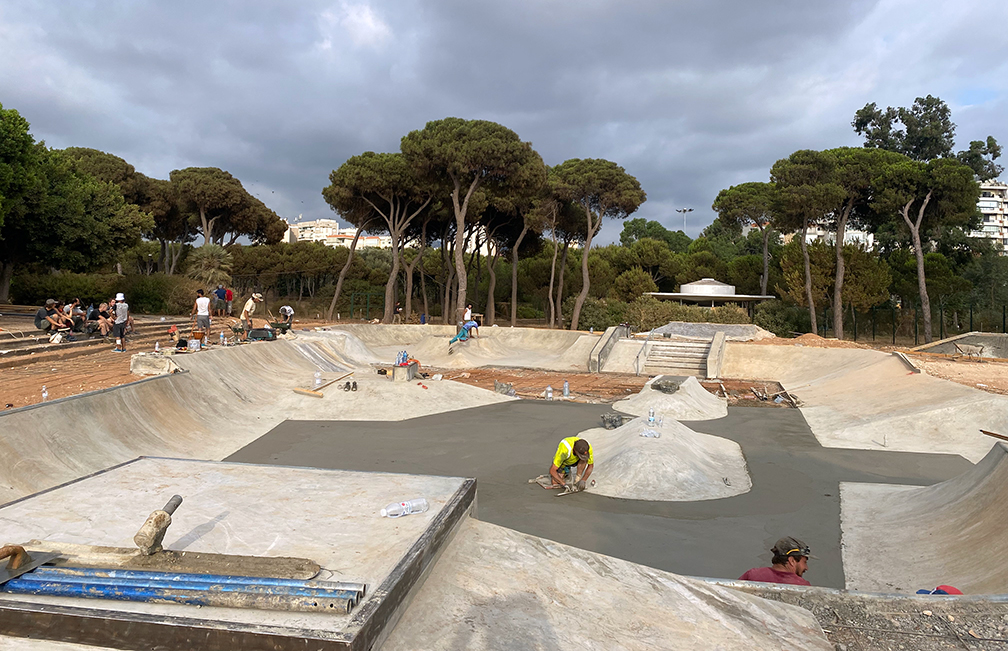 The thing about working with concrete, is once it is mixed together and the truck arrives, you have to work it until it's over. There is no coming back to it, unless you want to chip it out and start all again. The park was built in sections, with the pro builders leading the DIY'ers, and often times we would be working on 2-3 obstacles at once, pouring up to 20 cubic yards of concrete at a time.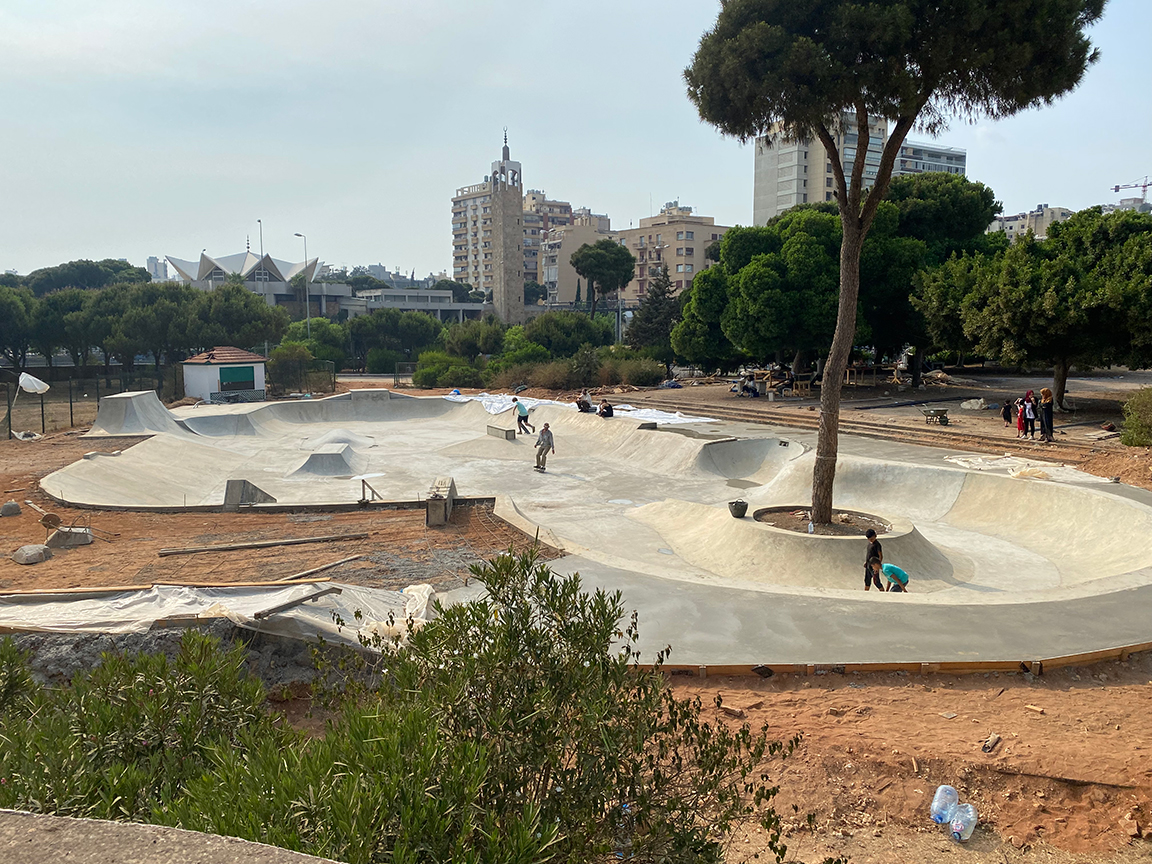 As incredible as it was, working with concrete in the brutal Lebanese July heat all day and into the night, is not easy on one's body. The day of my flight was the first day that the entire flat bottom was poured, essentially the first day we could skate the whole park. I got to skate for about 30 minutes before having to leave Beirut and fly back to Amman. I was reluctant to leave with work left to be done but knew a wave of volunteers from Colombia were arriving to help.
Back in Amman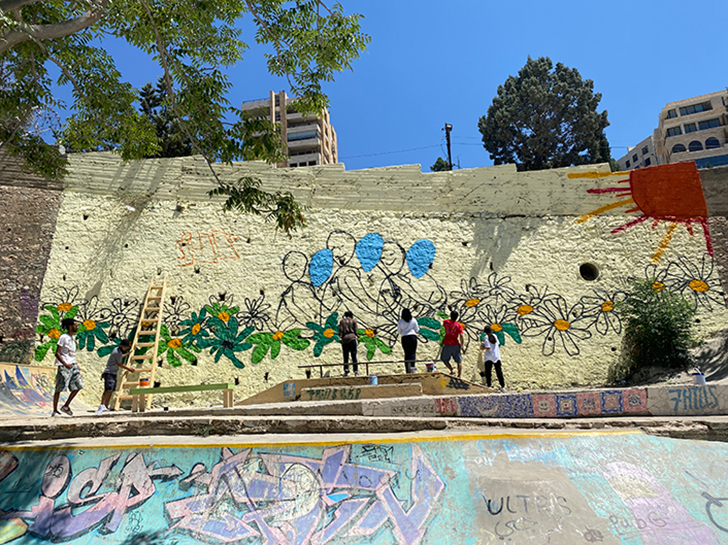 The next morning back in Amman we got right to it and started work on a mural after priming and laying out the design. Many of the 7Hills youth leaders helped in the early stages, as well as Majed, who connected us to local artists, Siner and Chaf, two street artists primarily working with graffiti and calligraphy.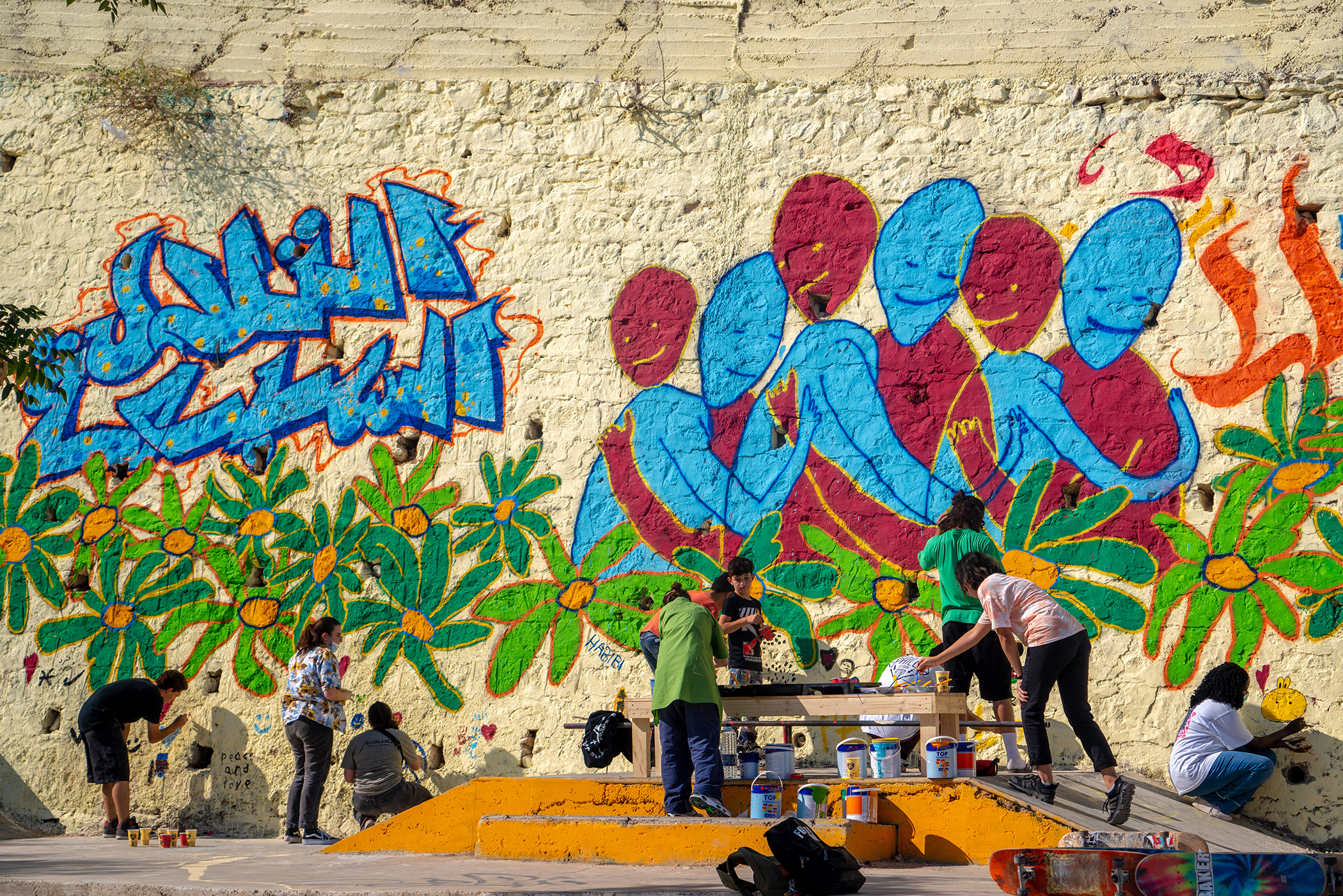 Siner painted the Arabic lettering "7 Hills".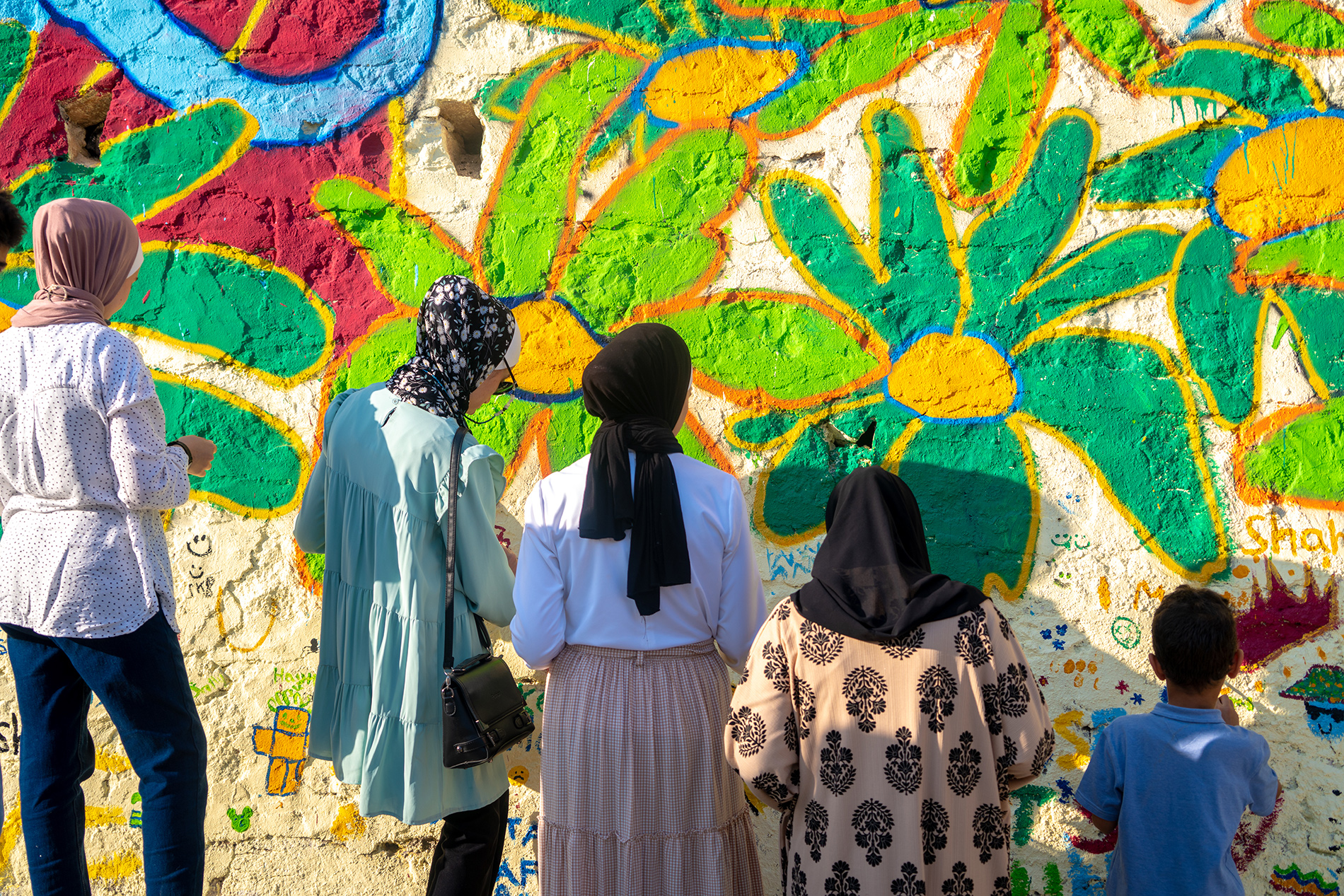 For the first part of the mural, we held a big community skate day where we invited youth and families to make their mark on the wall, painting whatever they wanted. "Habibi", "Love Yourz," and similar statements filled the wall, alongside cartoonish and funny figures and characters. The skatepark is everyone's and we wanted everyone to have a hand in making it.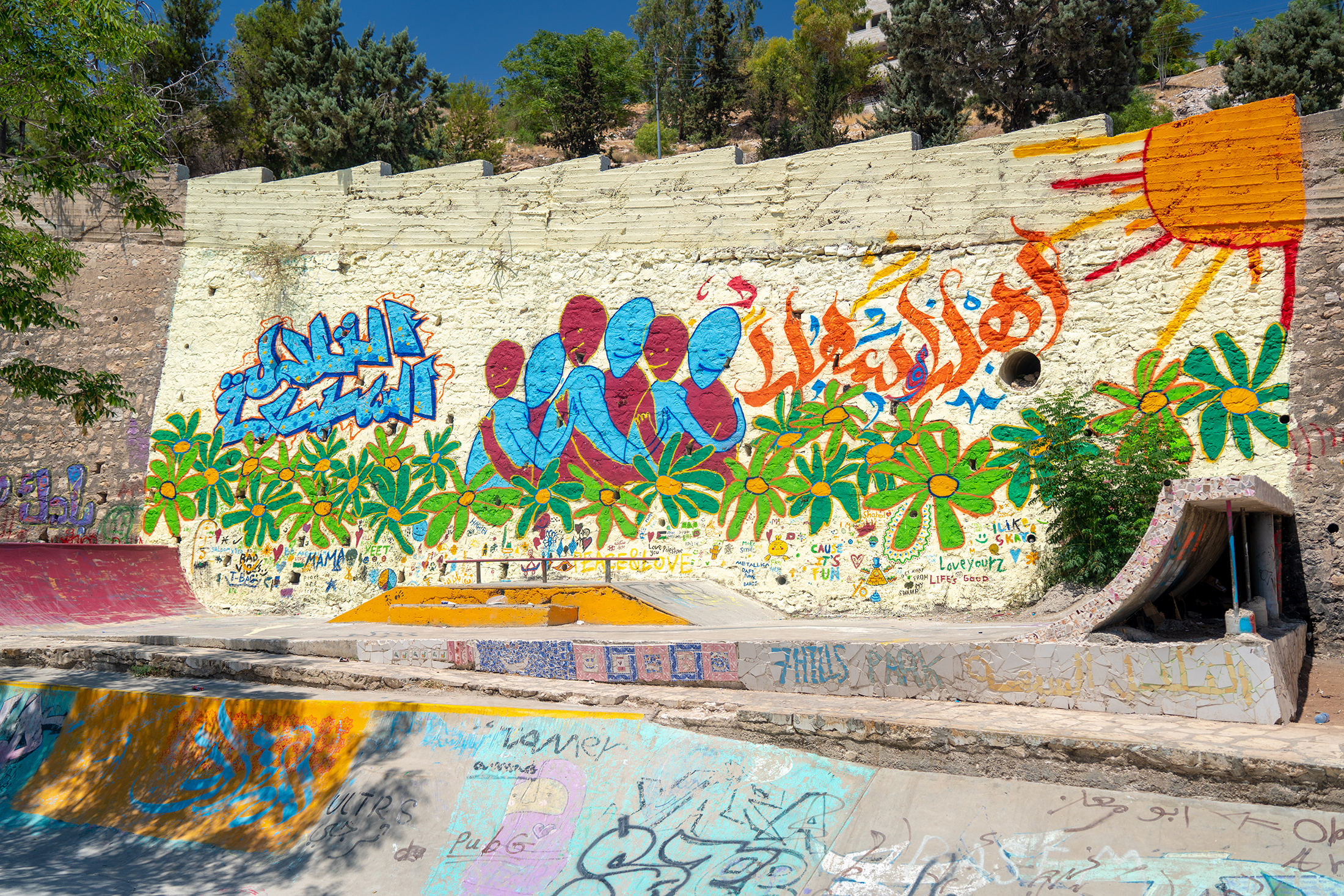 The finished product. 7Hills on the left in the blue graffiti by Siner, "Ahlan wa Sahlan" in the orange calligraphic script by Chaf, and paintings by everyone. Ahlan wa Sahlan translates to Welcome, a reminder that this is for everyone.
Skateistan
In addition to our work in Amman, I got to accompany the Skate Leaders to Irbid, a city near the Syrian border, where through a partnership with Skateistan's Skate and Create program, skate and art classes were being held weekly at a partner refugee camp. Skateboards and art supplies made for an afternoon of fun.
My trip ended with a see you later and not a goodbye. I was blessed to be accepted into the 7Hills family and I'll be maintaining that relationship from afar. We are working on a line of hand-printed 7Hills merchandise for a spring fundraiser, as well as thinking through some longer-term initiatives. Though I'll be advocating and assisting from the U.S., 7Hills will be in my future for the long haul and I will be returning to Jordan when the stars align again.

---
The BMA's Director of Public Engagement Dave Eassa is a visual artist and cultural worker who investigates relationships, social structures, and memories through painting, sculpture, and in the community.