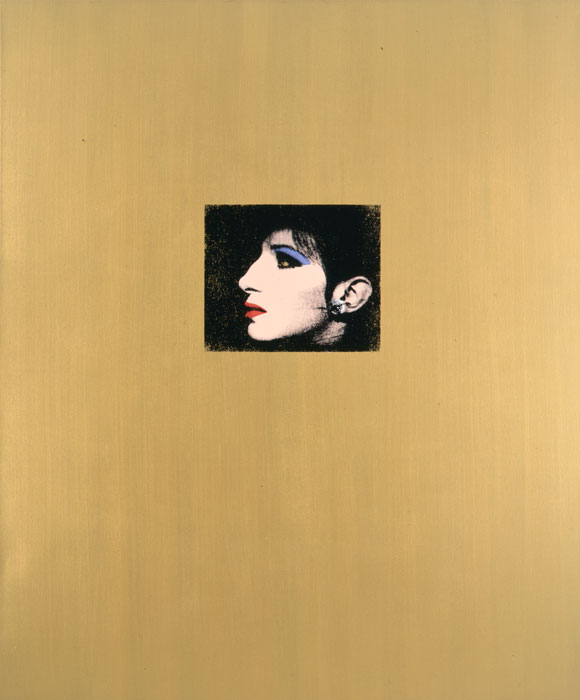 "You paint the whole background, you screen it lightly once. You paint in what needs to be painted in, and then you screen it again. Just like Andy did it." 1
In 1992, Deborah Kass ran a glossy film still through the only large Xerox machine in New York's East Village. She had found the photo in a Hollywood memorabilia shop on 14th Street: a bootleg image of Barbra Streisand as Fanny Brice in the 1968 hit Funny Girl, snapped from TV by some enterprising fan who had captured Streisand perfectly in profile. As Kass photocopied the image repeatedly, creating a grid, she realized she was having a conversation about one of her favorite stars with one of her favorite artists: "I set it up, nine of them, three over three, and it just looked like an Andy Warhol. I mean, it just happened." 2 From there, "it was just a hop, skip and a jump to, 'I have to learn how to silkscreen.'" 3
Silkscreen she did, producing a dozen canvases over a single weekend. Kass was now well on her way with The Jewish Jackie Series, with which she launched her exclusive "partnership" with Warhol. Kass had gotten started in this direction in 1991 with the Warhol entry in her Art History series. Beauty standards, gender roles, fantasies of heterosexual desire, stereotypes of Jewish identity are all deconstructed and cross-referenced in Kass's painting, where she pairs Warhol's 1961 pull from a plastic surgeon's ad with the glass slipper moment of Disney's Cinderella (1950). From there, Kass says, "the work went from being about my absence from the painting canon and beyond to becoming about imagining my presence, which my series The Jewish Jackies certainly did." 4
Kass knew she was onto something with the silkscreen. Her experiments with Barbra played out in multiple—red, blue, white, and before long, gold. Kass recast Warhol's Gold Marilyn Monroe in her Gold Barbras, advancing her vision of Streisand as a person thoroughly in charge of her own cultural iconicity, in contrast to Warhol's portrayal of Monroe: "There is no way to perceive Barbra as any kind of victim, which is so much a part of her appeal and cultural significance. She understood her difference as glamorous and powerful. And her self-regard as a woman and as a Jew was positively radical! And inspiring. That's why those of us who felt 'different' adored her." 5
Each about 4-feet tall, the Gold Barbras debuted at the Simon Watson Gallery. A few months later, Kass made more and scaled the works up for her solo at José Freire's gallery, Fiction/Nonfiction. Baltimore residents Michael and Ilene Salcman saw the show with their children and purchased one of the four new 6-foot Gold Barbras for their collection. They have now made a generous gift of this extraordinary work of art to the BMA to propel the 2020 Vision initiative. This is the first painting by Kass to enter the Museum's collection. It joins the artist's 1998 screenprint on paper, Parisian, Gertrude Stein, gift of Susan B. Katzenberg in 2013, as well as the BMA's holdings by Andy Warhol, forever transforming the stories the BMA collection can tell.
---
Through its 2020 Vision initiative and commitment to purchase only works by female-identifying artists in 2020, the BMA has begun confronting deficits in its collecting practices. See a complete list of purchases and gifts of art made in the first half of 2020 at artbma.org/2020.
1.–3. Deborah Kass. Conversation with Cecilia Wichmann, March 13, 2020.
4. Deborah Kass. Interview with Marla Prather, Regarding Warhol: Sixty Artists, Fifty Years, 180. New York, NY: Metropolitan Museum of Art and Yale University Press, 2012.
5. Deborah Kass. Interview with Marla Prather, Regarding Warhol, 182.