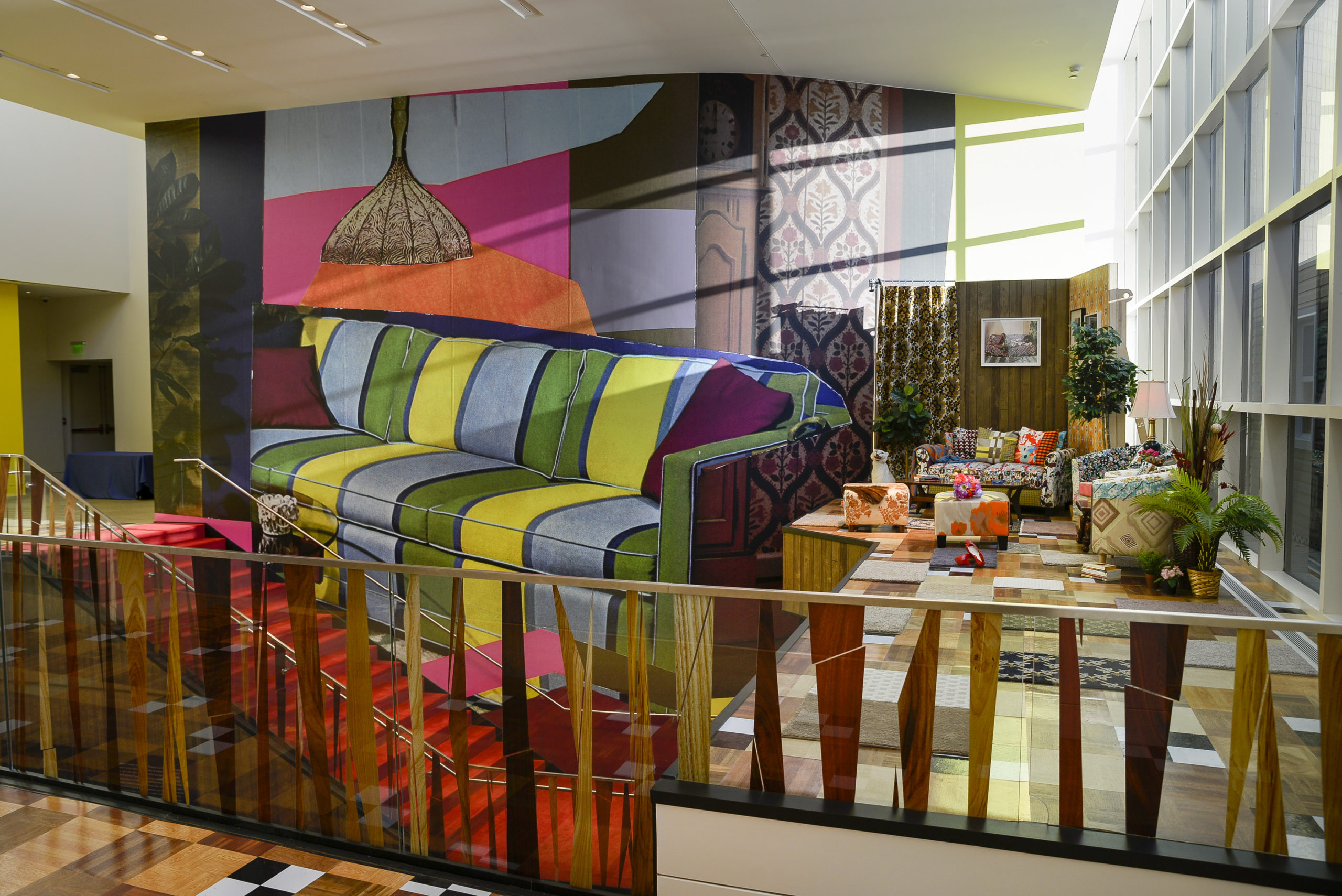 The artist discusses her hopes for how Baltimore receives her work and what it feels like to go first
You can hear in Mickalene Thomas' voice her affection for Baltimore and enthusiasm for this moment in BMA history when she speaks by phone from her Brooklyn studio about her immersive two-story installation now on view at the Museum. The work, A Moment's Pleasure, is the inaugural Robert E. Meyerhoff and Rheda Becker Biennial Commission, and it puts Baltimore in the elite circle of Thomas' past subjects, which include Oprah Winfrey, Condoleezza Rice, and former First Lady Michelle Obama.
Thomas has reimagined the Museum's East Lobby as a living room plucked right out of a photo album from the 1970s. As visitors enter the building through a façade mimicking three classic Baltimore rowhouses, they're invited into Thomas' interpretation of a black family's home of that era. The installation extends onto an enclosed terrace where visitors can lounge and view works from artists with ties to Baltimore selected by Thomas. A Moment's Pleasure will host a rotating series of events, such as film screenings, artist talks, performances, workshops, book clubs, and self-care seminars.
I want people to feel that the BMA is their place no matter who they are. I want them to have a sense of ownership. This Museum is their
museum.

Mickalene Thomas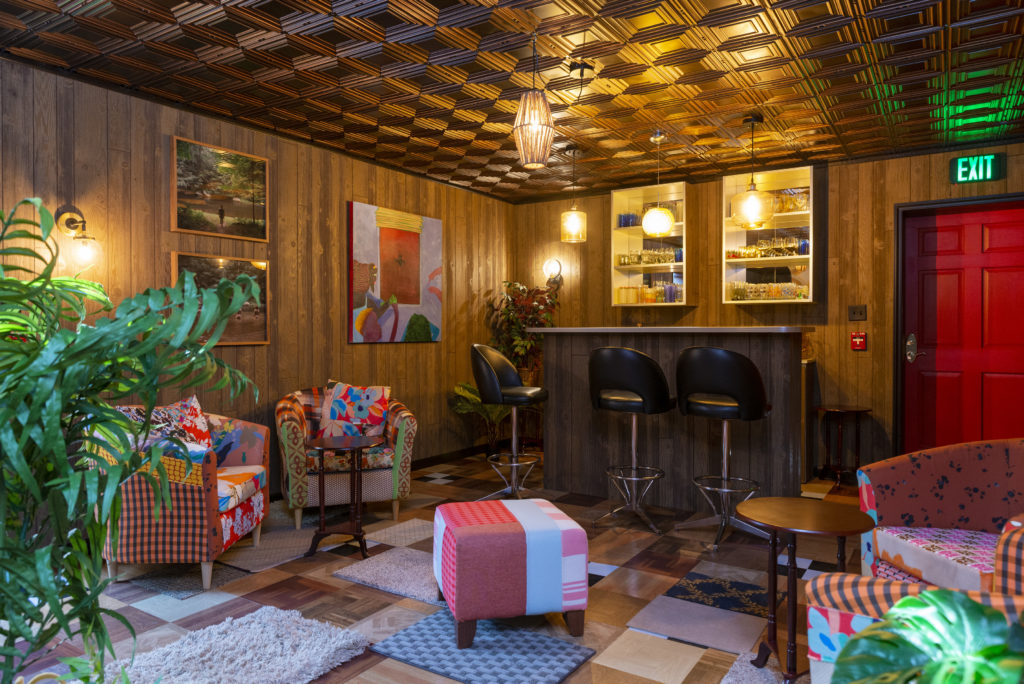 Excerpted from a June 2019 phone interview with the artist in her Brooklyn studio
BMA: What do you want visitors to take away from the installation?
MT: We're breaking down the walls of elitism and creating a conversation where people from many walks of life are intersecting under one roof. And it doesn't matter what part of Baltimore they're from. They are there for one moment's pleasure—being at the BMA at that one particular time. Museums should be a place where you can have an immersive experience no matter where you're from. I want people to feel that the BMA is their place no matter who they are. I want them to have a sense of ownership. This Museum is their museum. I hope the work triggers warm and comforting memories of someone or someplace … and imparts a familiarity of space and time. 'This reminds me of my auntie's house.' I hope it allows people to settle into a safe space to share.

BMA: What does it mean to you to be the inaugural artist for this commission? And not just the first, but the first as a black woman?
MT: Going first you take all the risk and I've been jumping off the diving board for years, so I know how it really feels. I'll land on my feet. I'm like a cat. I've been a first for most of my life in many ways. This isn't the first time in my life as a first or first black woman. Being first is something I can hold up and lead with and show what I can do. With all the fear and anxiety, I take that and put it in the work. But there are many before me, too. I understand that there's a whole foundation behind me standing tall and strong. I'm proud of that.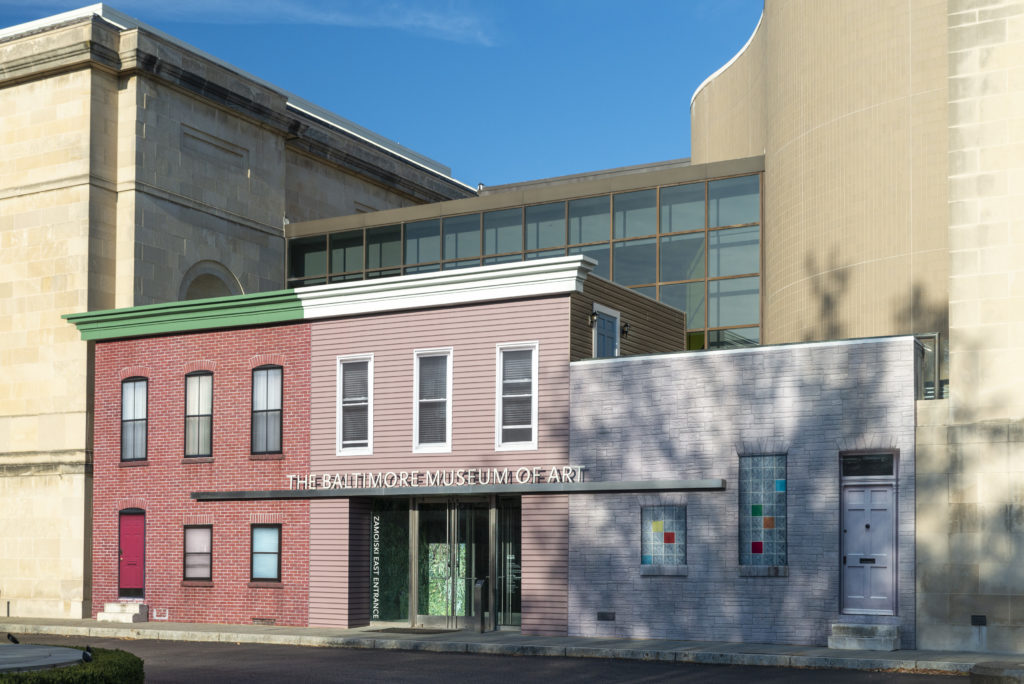 BMA: What appealed most to you about this opportunity?
MT: First off was being selected by Robert Meyerhoff and Rheda Becker and being the first recipient. Secondly was the opportunity to exhibit at the BMA and be presented in this particular platform. To have this presentation of work within the community of Baltimore for the first time was exciting for me. I feel like it is really a great moment for me to work with the team of people at the BMA, who have a great vision and are doing great things in Baltimore. I want to be a part of that shift and growth. I want to foster and continue to build on the discourse with the community. I can help do that. And you know, when the Museum talks about wanting to open their doors
to all demographics of people, what does that mean? This exhibition is putting that to the test. How do you do that? And how do you take responsibility for those people inside? Do you have the activities? Consistency? What is going to keep them there? Where are they represented? Being a part of that is what's most important to me.
---
Mickalene Thomas: A Moment's Pleasure is on view now through May 2021.