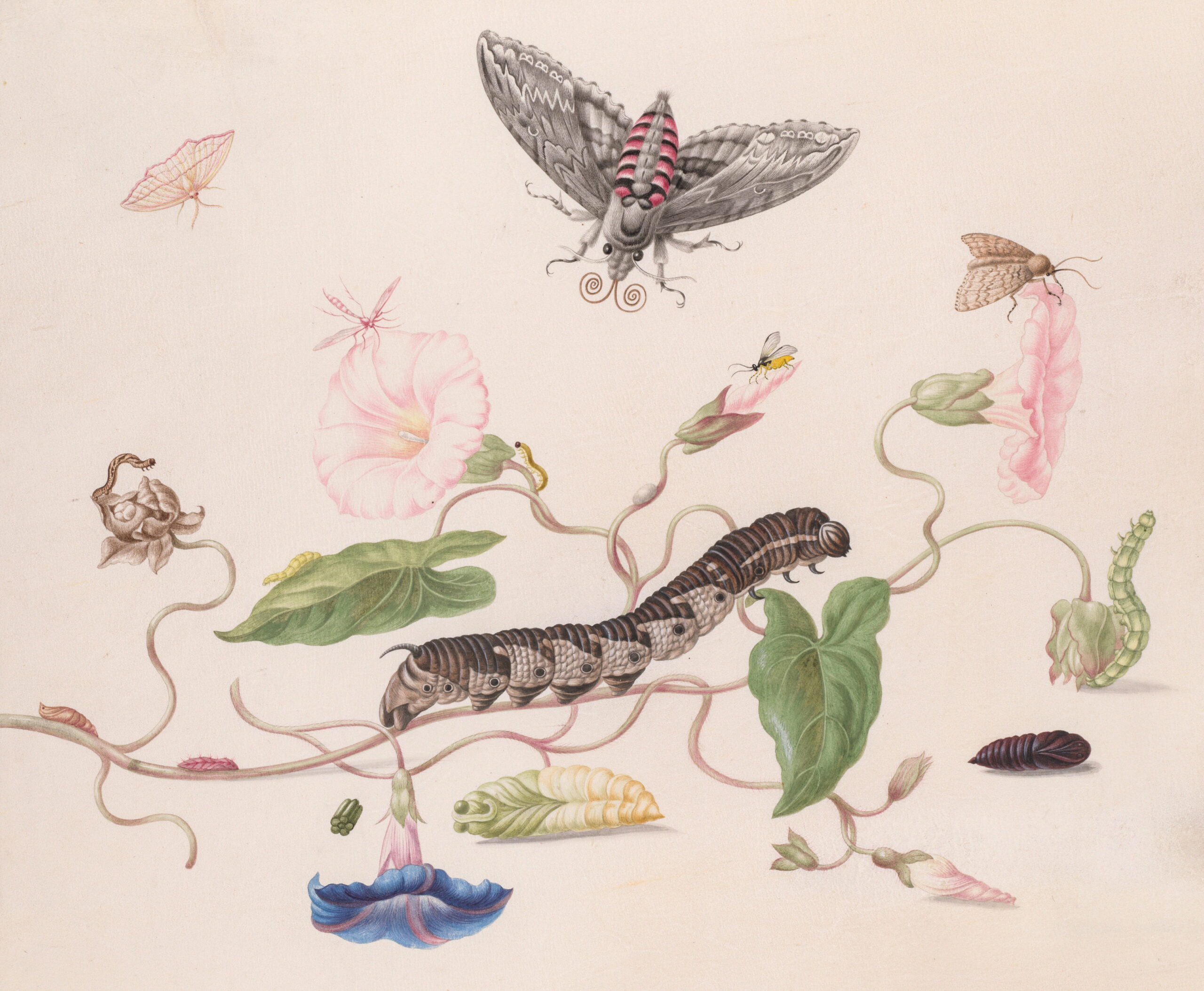 For centuries, art historians have accepted the characterization of European women artists from the pre modern era as rare and comparatively less talented than their male counterparts. This assumption is now being turned on its head with a groundbreaking exhibition that presents a more accurate and expansive presentation of women's creative accomplishments.
A team of women curators led by Andaleeb Badiee Banta, Senior Curator and Department Head of Prints, Drawings & Photographs at the Baltimore Museum of Art, and Alexa Greist, Curator & R. Fraser Elliott Chair of Prints and Drawings at the Art Gallery of Ontario, spent four years researching collections throughout the United States, Canada, and Europe, studying an astonishing number of works by women artists. "By expanding our focus beyond painting, we were able to include extraordinary works by less recognized women who worked collaboratively or in domestic settings—resulting in a much more inclusive view of European women artists and makers," said Banta.
Preview six of the more than 200 works featured in Making Her Mark below and visit artbma.org/mhm for tickets.
---
Sarah Biffin | Self-Portrait, 1842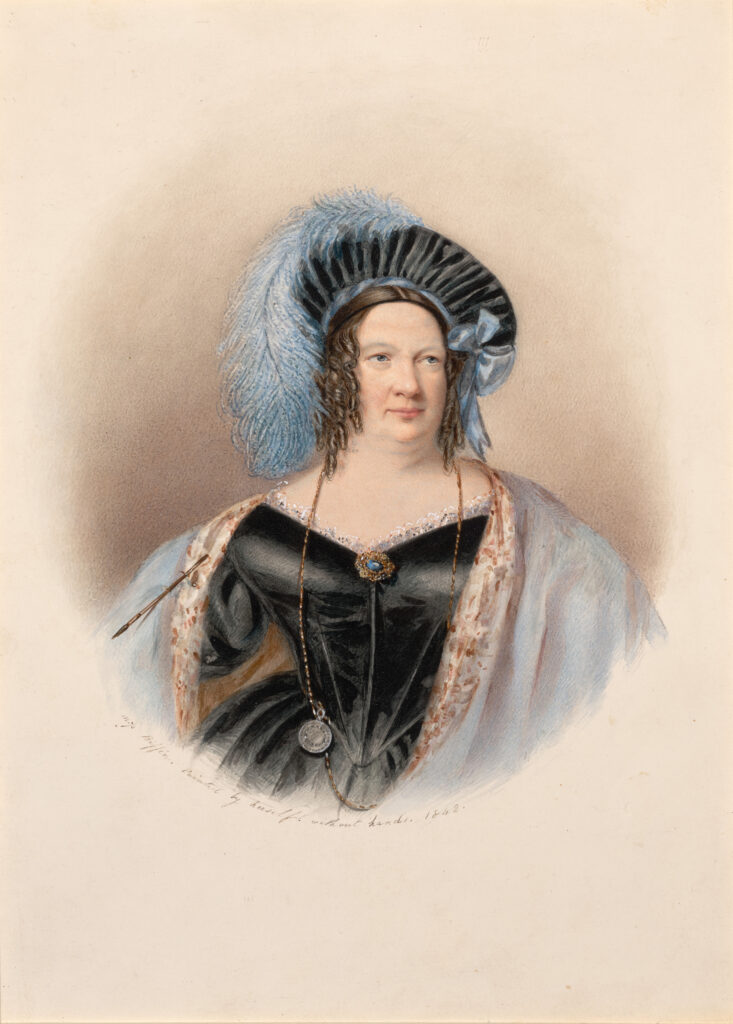 Sarah Biffin (British, 1784–1850) was born with phocomelia, or as described on her baptism record, "born without arms and legs." She taught herself to use her mouth to write, sew, and paint professionally, and achieved significant fame as a miniaturist in her lifetime. In this self-portrait, she presents herself as past generations of professional male artists had—wearing fine clothes, displaying an awarded medal—and with her miniaturist's brush pinned to her cloak. Biffin took portrait commissions across England, strategically promoting her talents and her physical condition on circulated posters and flyers, presenting herself not only as an accomplished artist but an adept businesswoman.
Artemisia Gentileschi | Judith and Her Maidservant with the Head of Holofernes, c. 1623–1625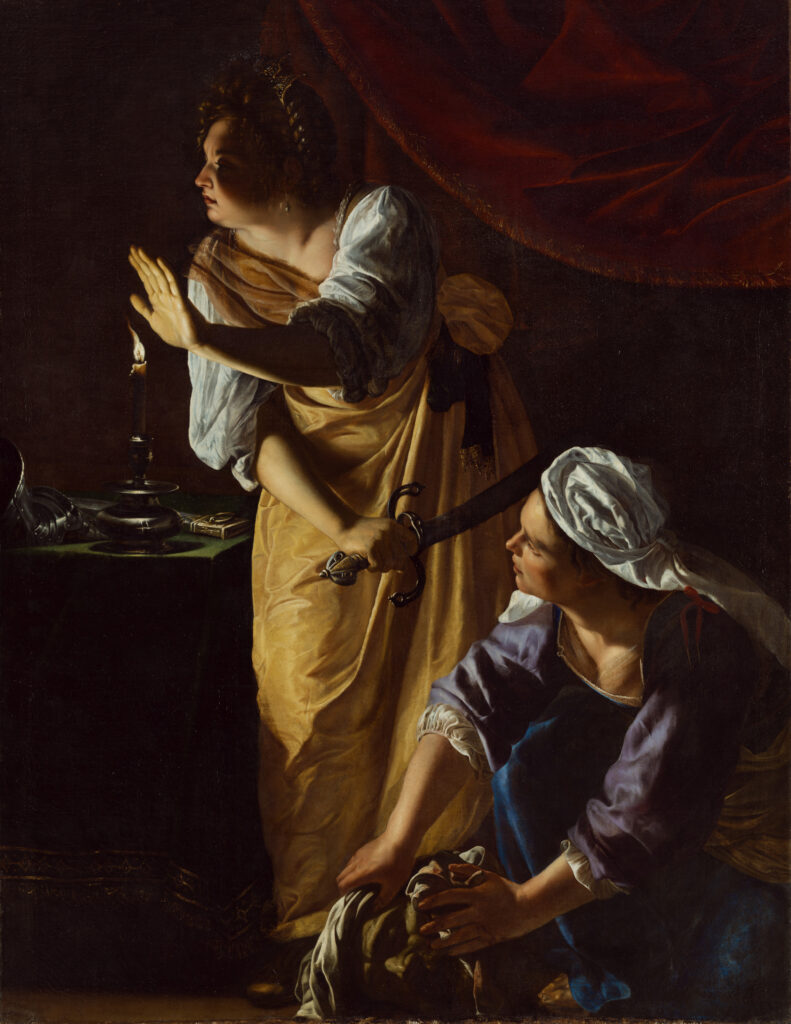 One of the most famous female painters of the 17th century, Artemisia Gentileschi (Italian, 1593–after 1654) was known for her ability to convey intense drama through use of shadow, color, and light, earning her commissions from major patrons in Italy and England. This talent is on display in her portrayal of the popular biblical story of the Jewish heroine Judith beheading Holofernes, an Assyrian general. Gentileschi highlights the tense moment when Judith and her maidservant attempt to escape with the decapitated head in a sack. Deep shadows cast by a single candle's flame obscure the violent beheading committed by the fashionably dressed heroine.
Luisa Roldán | The Education of the Virgin, 1680s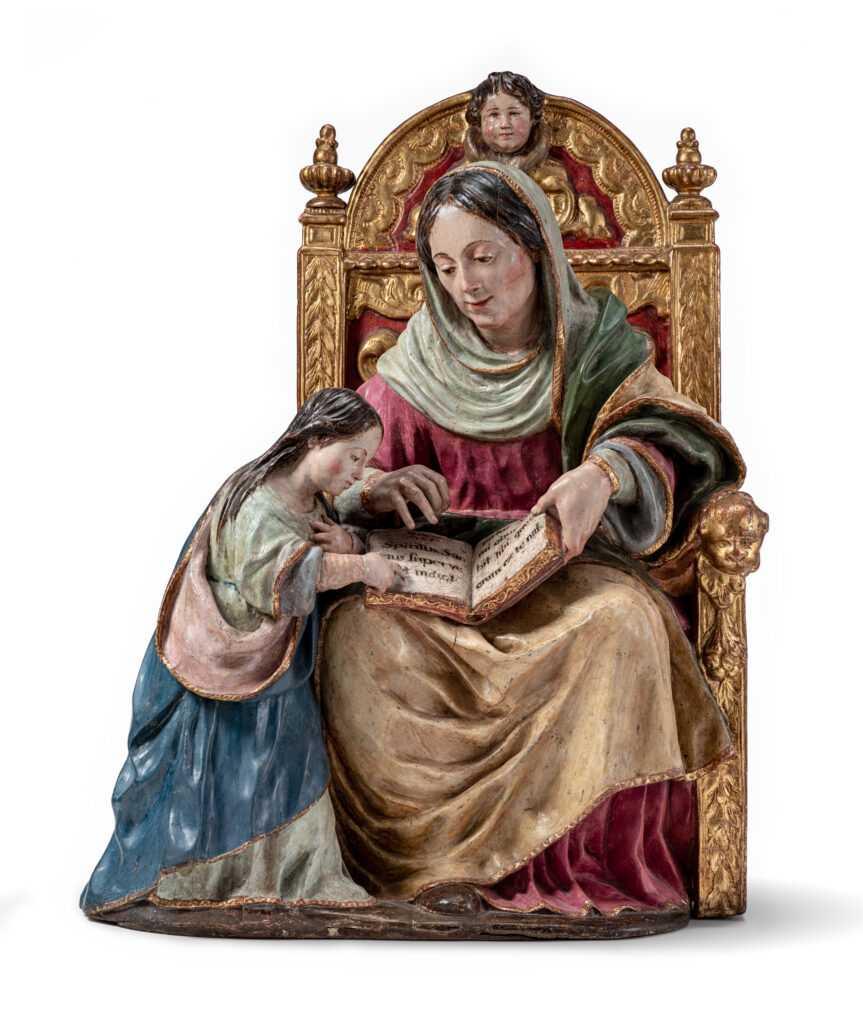 Luisa Roldán (Spanish, 1652–1706) was one of the most famous and accomplished women artists from Spain. She was the first woman to hold the position of court sculptor in Madrid and the first woman given the title of Academician, at the time of her death, from the prestigious Accademia di San Luca in Rome, Italy. Roldán created work for public settings and processions as well as private devotional works. For this sculpture, she depicts the biblical figure Anne teaching her daughter Mary to read. The act of teaching and learning between women would have been deeply familiar during this period when mothers were responsible for educating their children.
Maria Sibylla Merian | Convolvulus and Metamorphosis of the Convolvulus Hawk Moth, c. 1670–1683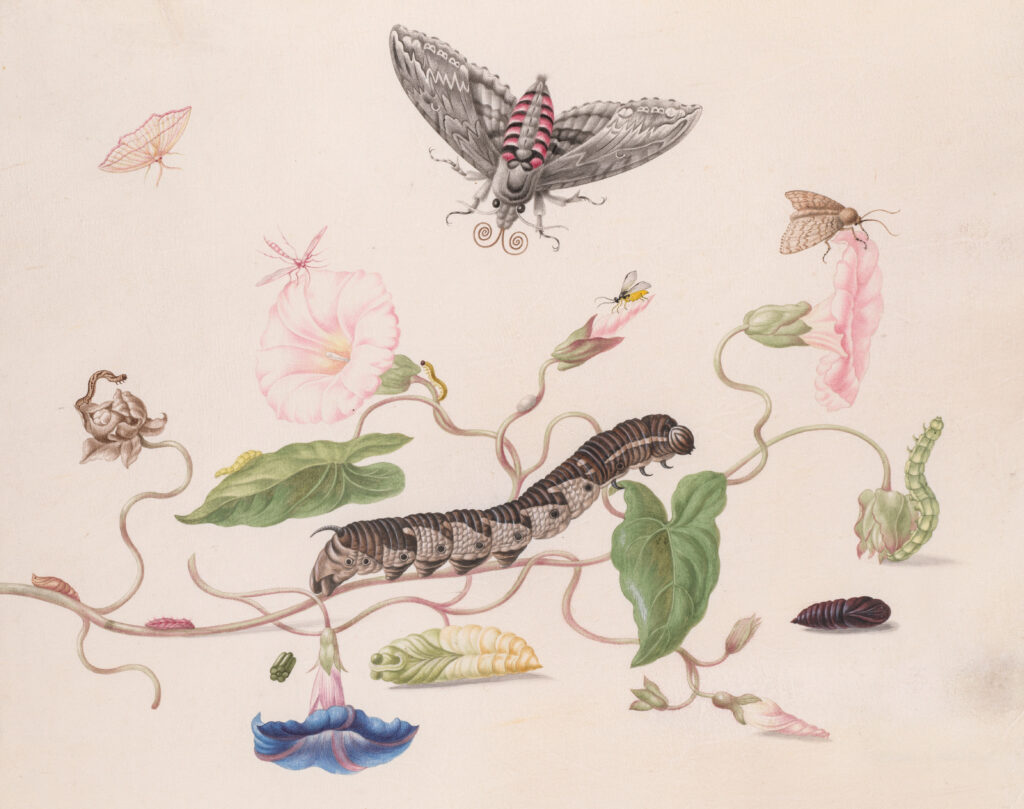 Maria Sibylla Merian (German, 1647–1717) was a leading botanical artist who created one of the most important natural history publications of her time. Her illustrations innovatively presented insects situated within their habitats and the broader ecological dynamic. This engaging illustration of the lifecycle of the convolvulus hawk moth is the result of Merian's sustained observations of caterpillars over a decade. By creating a narrative vignette of insect and plant life as an intertwined phenomenon, she constructed a lifecycle image that became a standard in scientific illustration and shaped the field of entomology.
Marie Victoire Lemoine | Portrait of a Youth in an Embroidered Vest, 1785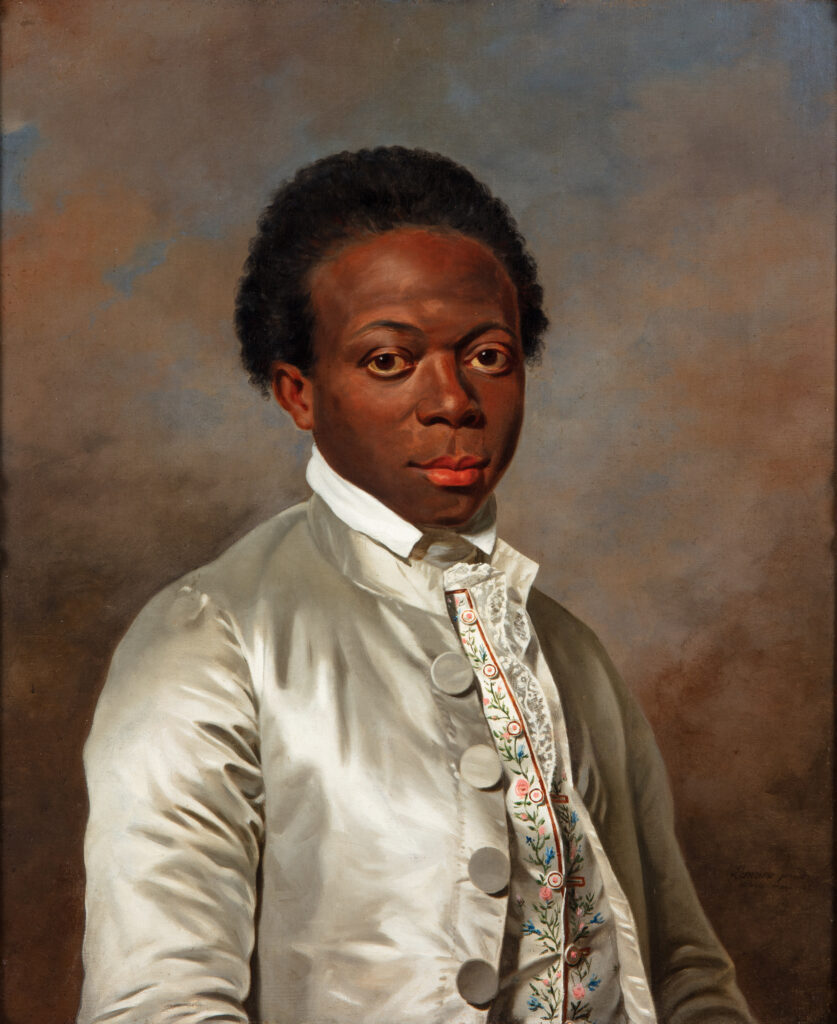 Marie Victoire Lemoine (French, 1754–1820) was known for her skills in portraiture, exhibiting her work in the official Salon, or state-sponsored exhibition of France. She remained unmarried and supported herself through her painting, not an easy status for a woman to maintain at that time. Despite efforts to identify the sitter, his name remains unknown. Proposed identifications have included the Jacobin revolutionary Zamor, trafficked as a child from Bangladesh and enslaved in the household of Comtesse du Barry, the official mistress of King Louis XV (r. 1710–1744), as well as Scipio or Narcisse, enslaved members of the household of the Duchess d'Orleans, who was a patron of Lemoine. During this period, wealthy Europeans commonly dressed their enslaved servants in finery, presenting the wearer and their clothes as indicators of the owner's wealth.
Decorator: Marie-Victoire Jaquotot, Manufacturer: Manufacture Nationale de Sèvres | Tea Service of Famous Women, 1811–1812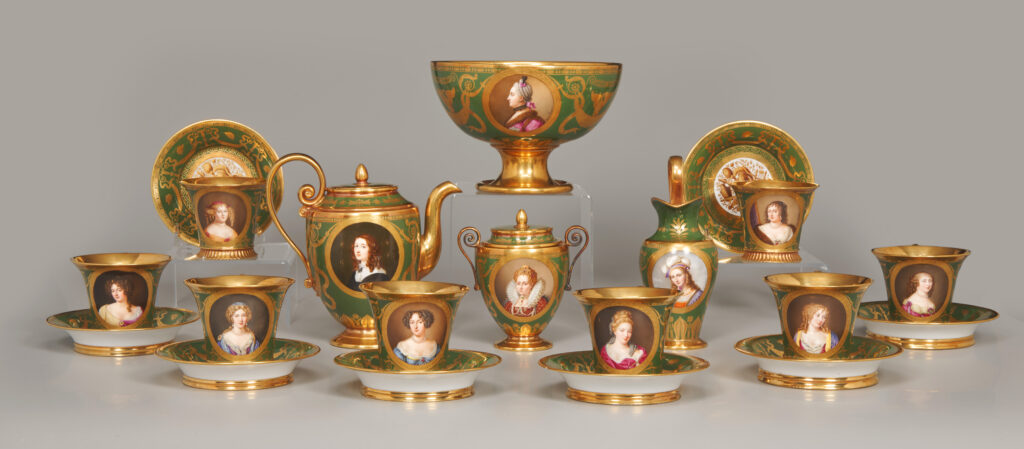 Marie-Victoire Jaquotot (French, 1772–1855) gained prominence as a painter for the Sèvres porcelain manufactory, and educated numerous other artists. After her 1816 appointment as porcelain painter to the French King Louis XVIII (1755–1824), many powerful and influential figures became her patrons. This tea service was purchased by Napoleon Bonaparte (1769–1821) as a gift for his wife Josephine (1763–1814). It presents portraits of prominent female historical figures, including Queen Elizabeth I of England (1533–1603), Queen Christina of Sweden (1626–1689), Catherine the Great, Empress of Russia (1729–1796), Saint Joan of Arc (c. 1412–1431), and the author Madame de Sévigné (1626–1696). The saucers are decorated with trophies and instruments, echoing the portraits' themes of power and talent.
---
Making Her Mark is co-organized by the Baltimore Museum of Art and the Art Gallery of Ontario. Co-curated by Andaleeb Badiee Banta, Senior Curator and Department Head, Prints, Drawings & Photographs at the BMA, and Alexa Greist, Curator and R. Fraser Elliott Chair, Prints & Drawings at the AGO.
This exhibition is generously supported by The Alvin and Fanny B. Thalheimer Exhibition Endowment Fund, Nancy Dorman and Stanley Mazaroff, the Dorothy Wagner Wallis Charitable Trust, the National Endowment for the Humanities, Anne L. Stone, Laura Freedlander, PNC Foundation, The Gladys Krieble Delmas Foundation, Dutch Culture USA program by the Consulate General of the Netherlands in New York, Patricia and Mark Joseph, The Shelter Foundation, The Stoneridge Fund of Amy and Marc Meadows, Samuel H. Kress Foundation, Sheela Murthy/MurthyNAYAK Foundation, Susan B. Katzenberg, the Prints, Drawings & Photographs Society at the BMA, and Joseph and Rachel Rabinowitz.
Any views, findings, conclusions, or recommendations expressed in this project do not necessarily represent those of the National Endowment for the Humanities.
This exhibition is supported by an indemnity from the Federal Council on the Arts and the Humanities.