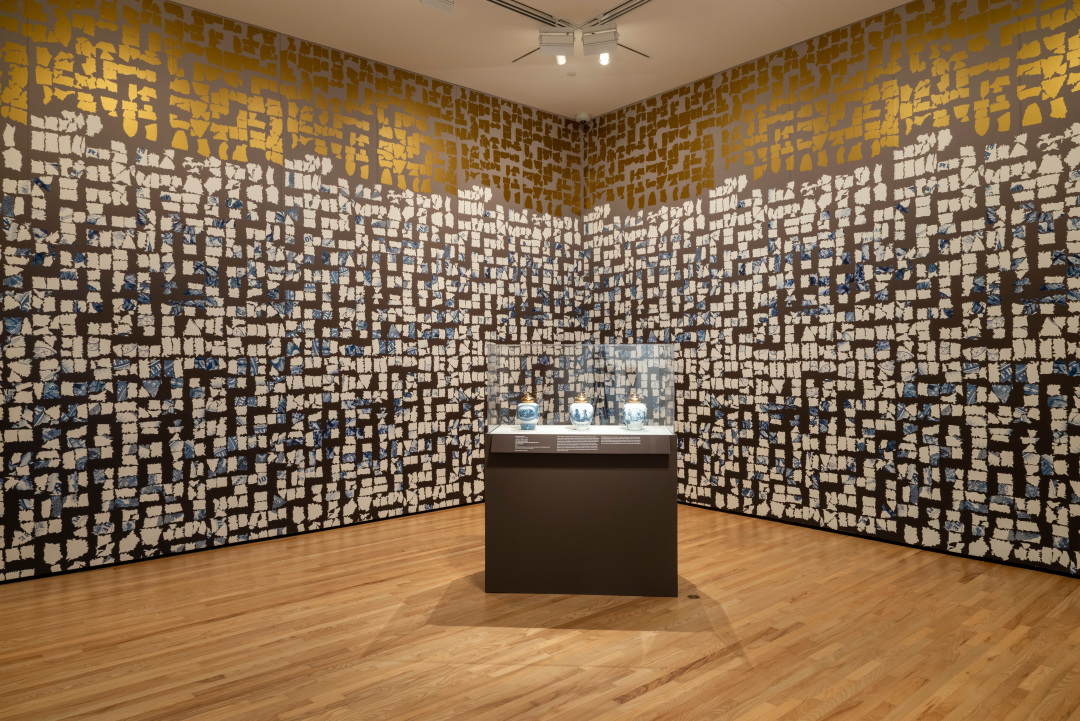 In the BMA exhibition Beatrice Glow: Once the Smoke Clears, multimedia artist Beatrice Glow centers the smell of tobacco, creating artworks across various media that reflect upon the ties between scent, memory, and emotion. Her multisensory works offer aromatic cultural histories of plants, places, and perfumes.
Smell is all but absent in the creation of most art, where vision reigns supreme for the museumgoer, and touch—the molding of clay, the delicate placement of brush to canvas—is one of the key senses for the artist. Our sense of smell involves both the nose and the brain's limbic system, which recognizes and recalls odors, and controls memories and emotions.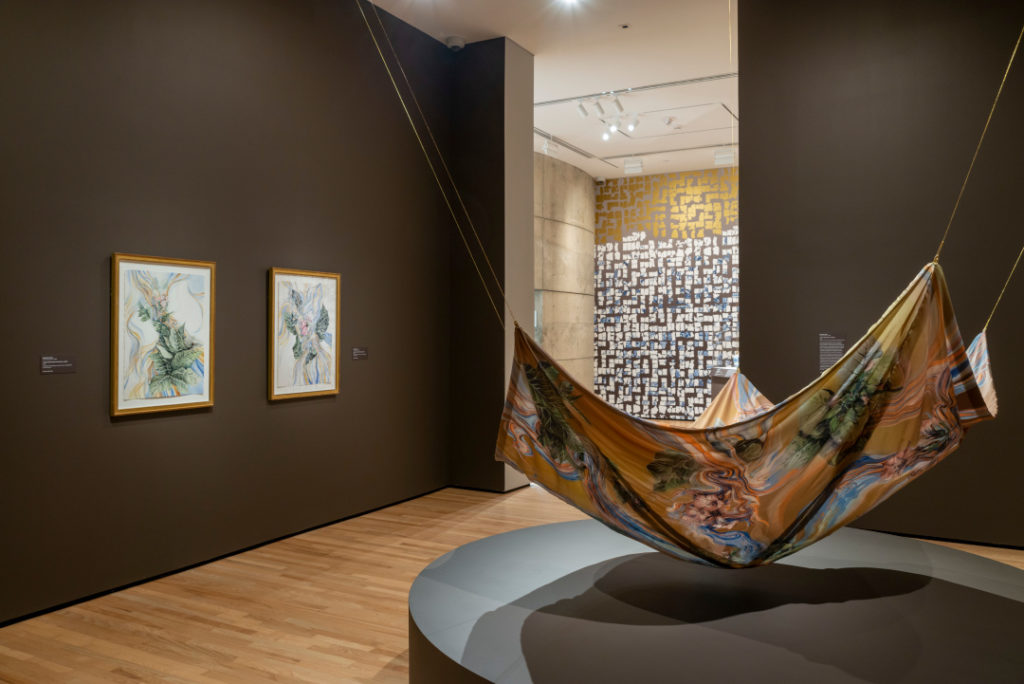 Glow creates a multimedia microhistory exploring the role of tobacco in 18th-century Maryland. Drawing upon her studies as a Smithsonian Artist Research Fellow, Glow pored through the archives to uncover early histories and illustrations related to tobacco as a globally traded, luxury commodity. The sweet aroma of tobacco is a perfume of power and corruption. Wafting through this hyperlocal history are the stenches of slavery, colonization, and exploitation of natural resources.
As you enter the first gallery for Once the Smoke Clears, a trio of 3-D printed recreations of Dutch tobacco jars are displayed serenely in a vitrine. (This also marks the first BMA exhibition of 3-D printed artworks.) The blue and white ceramic-looking ware with golden lids are decorated with Glow's illustrations of tobacco leaves and archival images depicting the cruelties inflicted on both Native Americans and enslaved Africans to ensure the production and trade of tobacco. The walls are colored in the dark brown of dried tobacco, with gilded patches and blue and white; the tobacco jars are fragmented, splintered, and surrounding the walls of this gallery.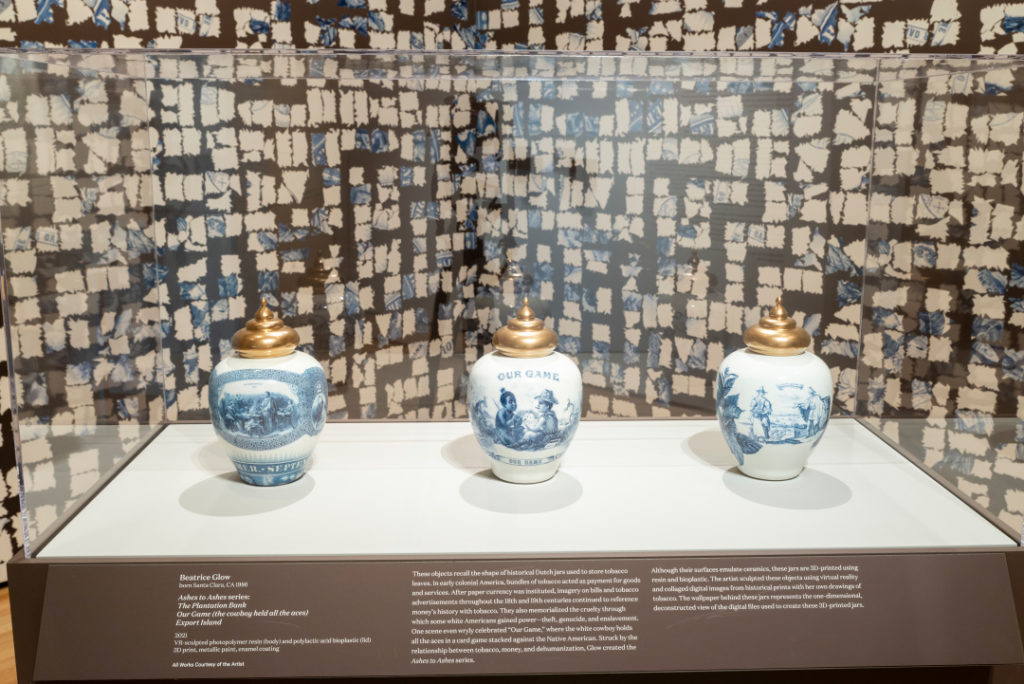 You may also pick up two scented cards designed by Glow to sniff throughout the exhibit, with sweetly scented aromas designed to accompany Glow's deeply researched artworks that depict an unsavory past.
The first scent, a song for mapacho, "commemorates Glow's first experience in Peru with Nicotiana rustica, the indigenous strain of tobacco."[i] The smell of damp earth and the piquancy of the tobacco plant tickles the nose.
The second bespoke scent, Golden Silk Smoke—the literal translation of the Chinese word for tobacco—"weaves together the history of tobacco trade between Asia and the Americas."[ii] Glow creates a warm, spicy bouquet, but there is a smoky darkness, too: "To challenge the perfume industry's conventions of referring to spiced smells as 'oriental,' Glow included hints of burning spices, evoking a social history tainted by colonialism and violence."[iii] In the perfume industry, "oriental" has long been used as one of the major groupings for scents, but unlike "woody," "floral," or "fresh," the term is vague and unhelpful in creating a clear aromatic impression. Worse, it conjures the exoticization of Asian peoples, the exploitation of their labor and creative endeavors, and the appropriation of their cultures. Last year, the Fragrance Foundation declared the term "outdated and offensive," and some perfumers are adopting descriptive alternatives such as "ambery," "spicy," or "resinous."[iv]
The sweet aroma of tobacco is a perfume of power and corruption. Wafting through this hyperlocal history are the stenches of slavery, colonization, and exploitation of natural resources.
While the scent of smoking tobacco may conjure more negative associations now, as originally cultivated and used by many Native American peoples, tobacco had medicinal, ceremonial, religious, and communal uses.[v] White colonizers adopted the herb but not the rituals, turning it into a marketable commodity that became popular in Europe and, through global trade, in Asia beginning in the 17th and 18th centuries.
Once the Smoke Clears incorporates the lineage of global trade by displaying delicate ivory, gilded, and enameled snuff boxes and pipes from both China and Europe from the BMA's own collections. Historically, in addition to smoking tobacco in pipes, finely ground and perfumed tobacco was pinched and then sniffed into the nostrils as "snuff." Snuff could be further perfumed with flowers such as lilies and roses, orange peels, musk, ginger, green tea leaves, and more.[vi]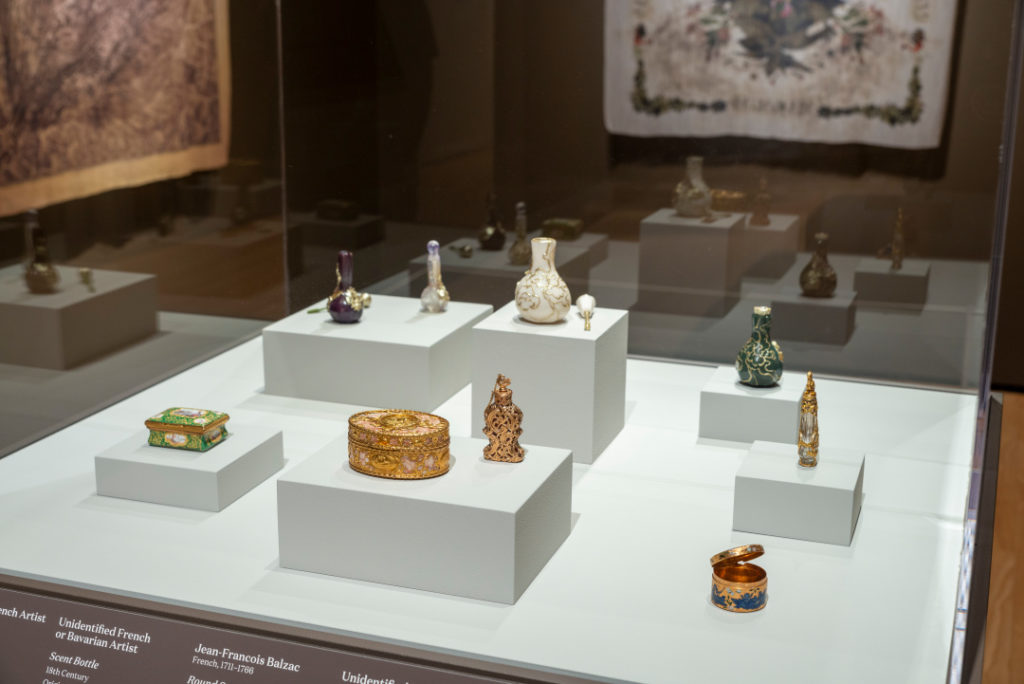 The tobacco is long gone, but these delicate decorative arts hold the memories of the aromatic luxuries once contained within. These are placed alongside Glow's own 3-D printed snuff boxes and bottles emblazoned with dainty golden swirls that have never held tobacco but hearken back to "golden silk smoke" and the "golden leaf" tobacco species of Virginia.
Throughout the exhibition, Glow incorporates recurring motifs–her own illustrations of tobacco leaves, delicate swirls embroidered in golden threads indicating tobacco smoke, the five-sided forts built by colonial military forces, and white illustrators' depictions of Native Americans and enslaved Africans.[vii]
She often overlays these motifs upon reproductions of historical maps of Maryland locales where tobacco was central to the lives of Indigenous peoples and exploited by European colonizers. The land was deforested for planting tobacco crops, and the sensory landscape altered as traditional names in Algonquin and Piscataway languages were all but erased by English renamings that persist to this day. Glow creates maps of Baltimore (founded as a port for the tobacco trade and later a central port for the transatlantic slave trade) and Port Tobacco/Potu Pako printed on polyester yoryu. This fabric appears like raw silk and is so fine that it floats and swirls as museumgoers walk past.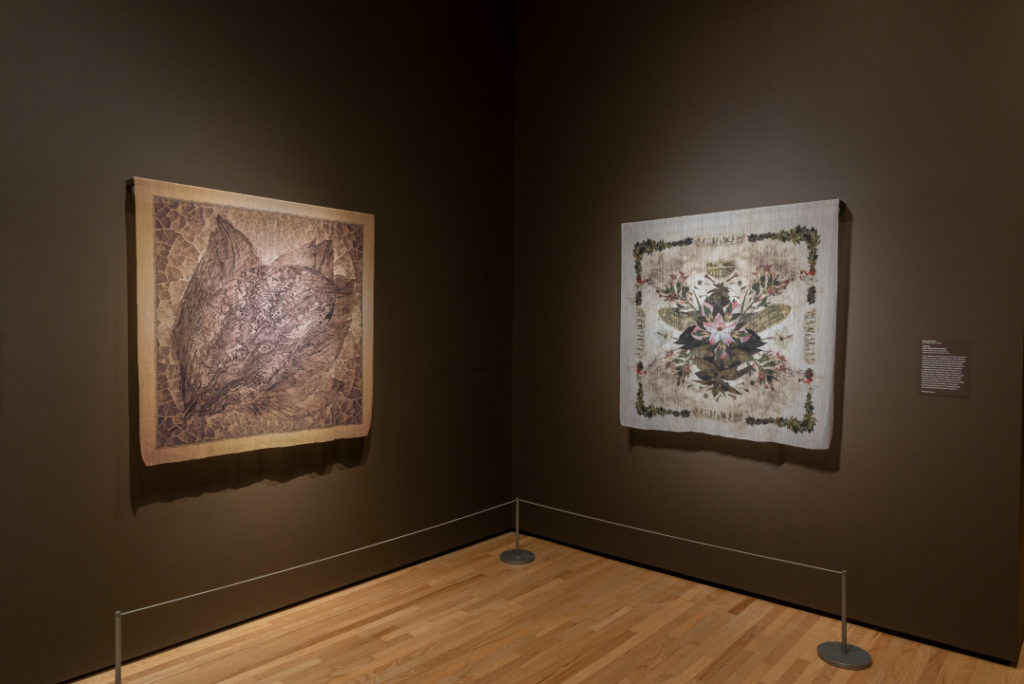 Aromas relate to memory, passion, divinity, and other intangible states of being, but as Glow reminds us, the sweet smells began as a material commodity with unsavory histories of violence, colonization, enslavement, commercialism, and commodification. Glow's artworks visualize the tendrils of ephemeral smoke, and Once the Smoke Clears depicts the lingering consequences of tobacco upon the peoples and places throughout Maryland.
Beatrice Glow: Once the Smoke Clears closes on October 2, 2022.
---
[i] Virginia Anderson and Sarah Cho, Beatrice Glow: Once the Smoke Clears (Baltimore: The Baltimore Museum of Art, 2022), Introductory wall label.
[ii] Ibid.
[iii] Ibid.
[iv] Jessica Matlin, "Why Are We Still Describing Perfumes as Oriental?" Harper's Bazaar, May 26, 2021. https://www.harpersbazaar.com/beauty/a36503673/oriental-perfume-and-fragrance-backlash/.
[v] Iain Gately, Tobacco: A Cultural History of How an Exotic Plant Seduced Civilization (New York: Grove Press, 2001), 16-18.
[vi] Emily Friedman, Reading Smell in Eighteenth-Century Fiction (Lewisburg: Bucknell University Press, 2016), 39-40.
[vii] Sarah Cho, curatorial talk, The Baltimore Museum of Art, June 29, 2022.
---