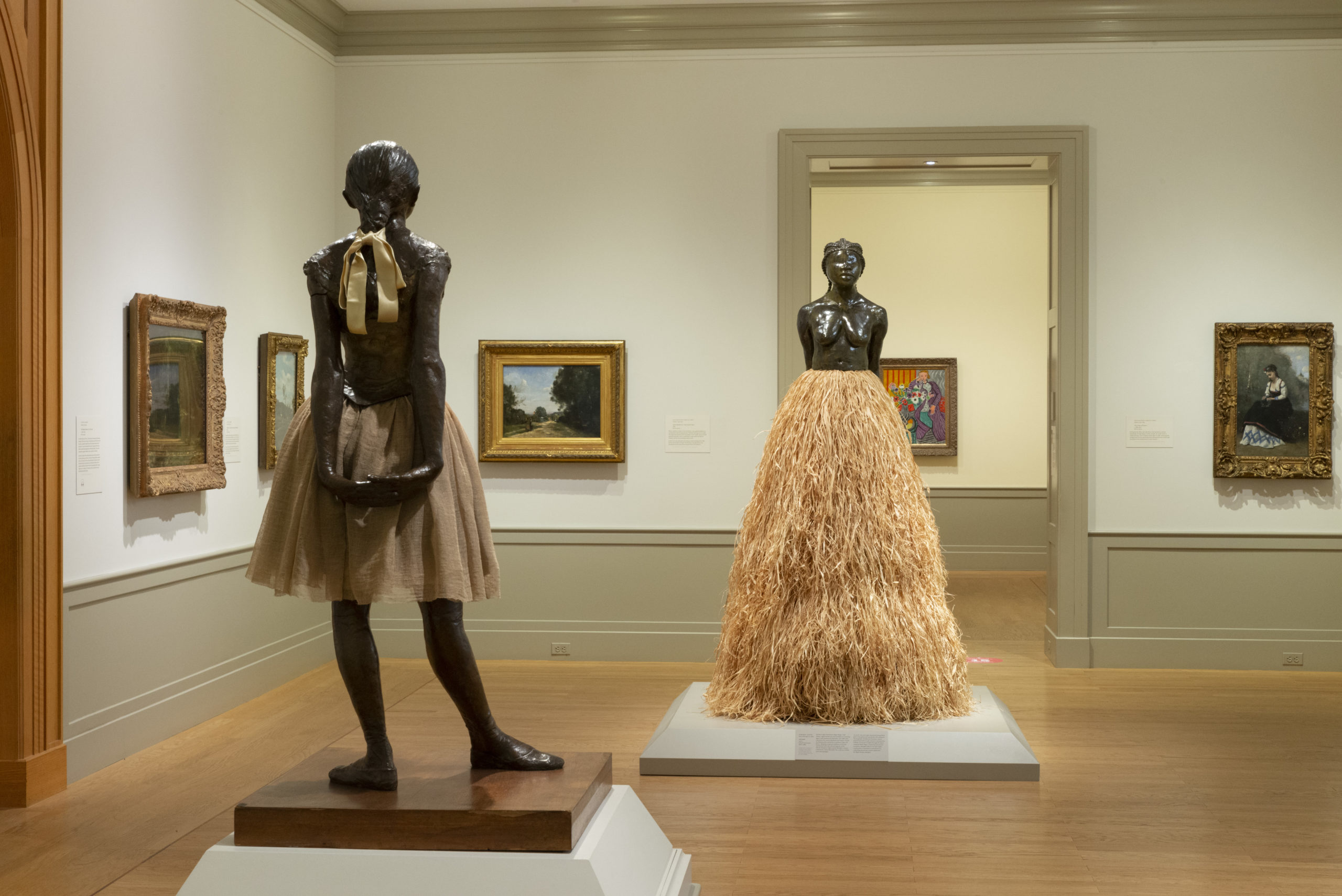 Rich retellings of history
Visitors to the BMA have been stopping in their tracks to take in Simone Leigh's Meredith, a majestic reinterpretation of Edgar Degas' Little Dancer, Aged Fourteen currently on view in the Cone Wing. The sculpture is situated in a gallery surrounded by the works of modern masters like Claude Monet, Jean-Baptiste-Camille Corot, and Camille Pissarro and across the room from the aforementioned Degas sculpture.
"Showing Leigh in context with Degas amplifies the complexities that Leigh was grappling with in her sculpture, which really inhabits the form of Degas's bronzed ballerina to tell a different story altogether of Black diasporic women across generations," explains Curator and Head of Contemporary Art Jessica Bell Brown, who worked with The Anne and Ben Cone Memorial Director of the Ruth R. Marder Center for Matisse Studies and Senior Curator of European Painting and Sculpture Katy Rothkopf to situate the sculpture in the Cone Wing.
Leigh is the first Black woman to represent the United States at the Venice Biennale—often referred to as the Olympics of the art world. An acclaimed and important figure in contemporary art, her work illuminates the hidden and marginalized histories of Black women. The installation of Meredith was born out of conversations with BMA Trustee Michael Sherman, who recognizes how contemporary art allows us all to engage with many histories, and generously offered the work on a long-term loan. The tall, glazed stoneware and steel piece is adorned with a raffia skirt, which references the conical thatched roof houses created by Batammariba architects in northern Togo and Benin. Taken in its entirety, the work merges the sculptural traditions of Europe with the legacies of the African diaspora. According to Brown, situating the work in the BMA's Cone galleries "initiates a whole new conversation about Black women and girls, networks of care, creative collaboration, and knowledge sharing."
The positioning of Leigh's work encapsulates how Interim Co-Director and The Eddie C. and C. Sylvia Brown Chief Curator Asma Naeem would like to see the Museum's collection galleries installed, with Western works of art intermingling with Non-Western works to reflect the porousness of our cultures and the geopolitical boundaries that intersect with our lived experiences.
Striking new perspectives
The recent installation of Queen Dido's Banquet in Honor of Aeneas in the BMA's Jacob Wing of European galleries offers some co-mingling of geographies and ethnologies. The design of the 15-and-a-half-foot-long tapestry dates to 1659-1660, and it was woven in France around 1670. It's a piece that has been in the BMA's collection since 1954, and it has rarely—if ever—been on view to the public. It illustrates the meeting of Queen Dido of Carthage and the mythical warrior of Troy, Aeneas, bringing a depiction of African Royalty and Roman Mythology into a gallery that previously only told foundational stories of Christianity like the three kings venerating the infant Jesus. It's also a work rich in iconography, with a border adorned with crowns and dolphins, suggesting it was made for the court of France, as those were symbols associated with the Dauphin, the French heir apparent.
"It's an incredibly important aspect of our work as stewards of the Museum's collection to surface these hidden gems, to conserve them, and bring them out to share with audiences," Naeem explains. "We are also striving to tell the more hidden and compelling art histories," she said.
To this end, The Anne Stone Assistant Curator of Decorative Arts Brittany Luberda points out how Queen Dido and the representations of Mary, the Virgin mother of Jesus in Christianity—both women of Middle Eastern origin—are portrayed as white and of seeming European descent. According to Luberda, it is important to "recognize that a practice of recasting prestigious people of Middle Eastern or African descent as white was a standard in Renaissance European art. This practice reveals a pervasive Eurocentric worldview and desire to see white Europeans in positions of power throughout history."
This point makes Leigh's sculpture in the Cone Wing all the more poignant. As Brown notes, "Visitors will encounter Meredith through a marvelous combination of juxtaposing views, from Degas's Little Dancer, Aged Fourteen to Matisse's Blue Nude. In many ways, this sculpture in our galleries makes even more salient Leigh's reclamation of the Black female body from a largely male-dominated modernist art history."
---
This article first appeared in the summer 2022 issue of BMA Today, the BMA Members' magazine.