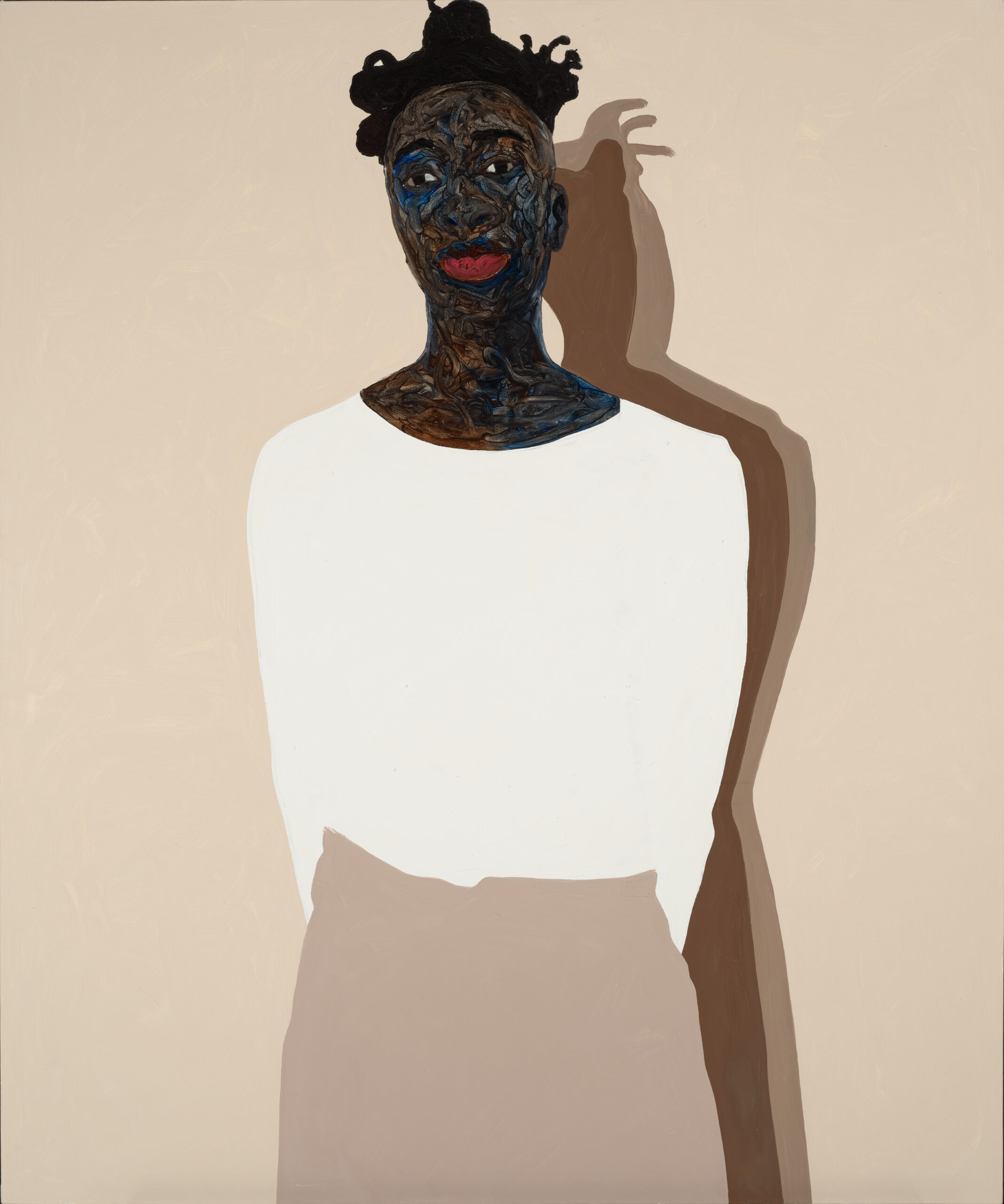 The BMA has a history of collecting art that responds to the present moment, including pivotal gifts from Baltimore's Cone sisters, whose acquisitions from living artists encouraged the Museum's commitment to contemporary art. Our curatorial team continues this longstanding tradition, creating new ways to interpret art history and acquiring artworks that tell the rich and varied stories of our community.
This summer, sixteen new acquisitions make their BMA debut. Below, read about three of these recent additions and plan your next visit with a comprehensive list of new works on view and a map of where to find all sixteen.
---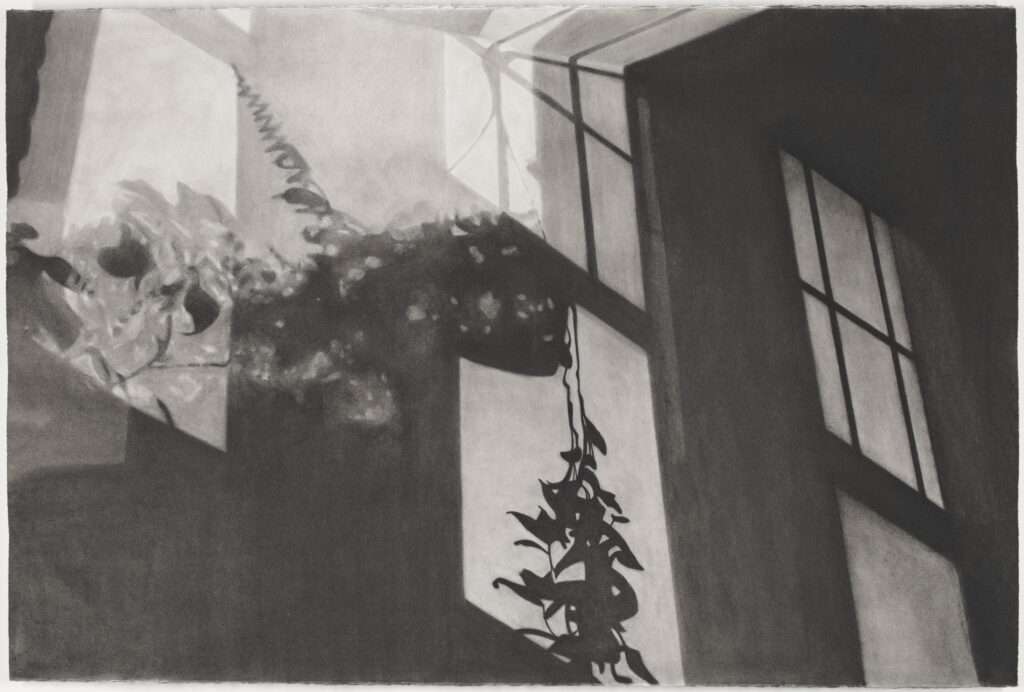 Living room (night)
The shadows of window blinds, an extravagant fern, and a windowpane—all in shades of gray—span a bare white wall. Baltimore-based artistErin Fostel created this image while grieving a miscarriage; the living room becomes uncanny and imbued with nocturnal mystery. This study of space, of absence and presence, is strikingly rendered in charcoal and graphite on paper. A graduate of MICA, Fostel regularly addresses healing through grief and follows in her late father's footsteps: he was an architect, and she portrays urban landscapes and empty domestic interiors in her architecturally detailed drawings. This work and the others in her Shadow Series, were made during the pandemic when Fostel was quarantined and inspired to follow the movement of light over her home throughout the day and evening, creating both a sense of peace and of loneliness.
---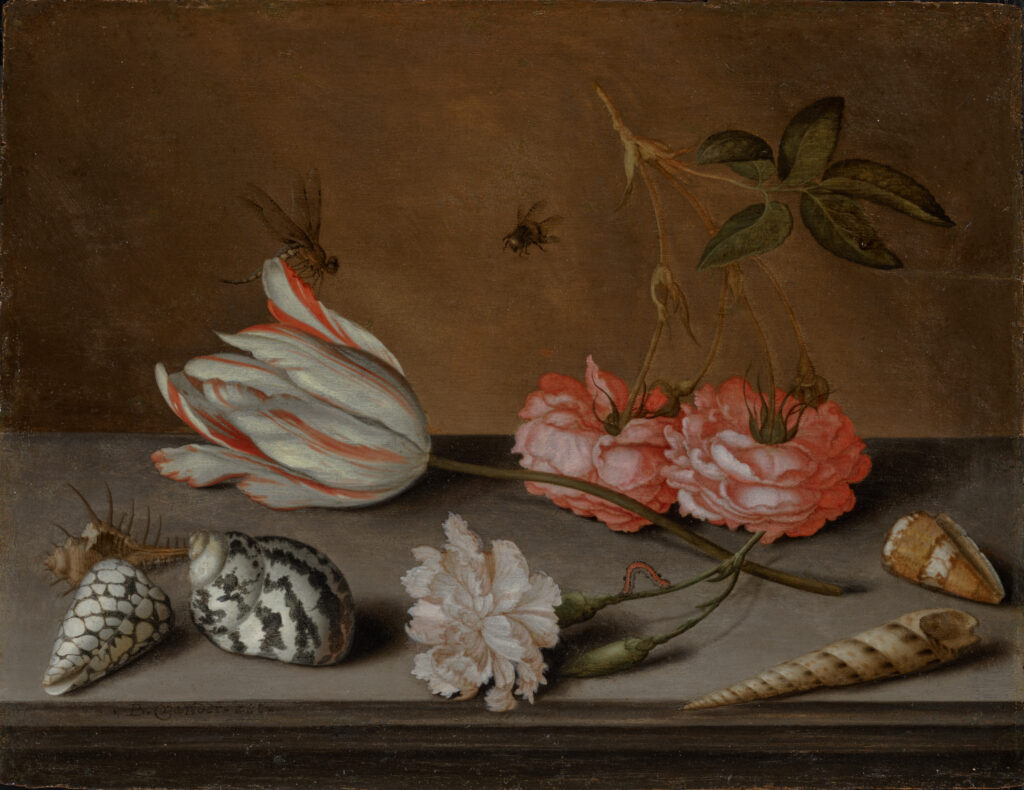 A Tulip, a Carnation and Roses, with Shells and Insects, on a Ledge
One of the premier still life painters in 17th-century Netherlands, Balthasar van der Ast captures the exquisiteness of a red and white striped tulip, a carnation, pink roses, and various seashells in this sensitively rendered composition. The expensive and rare tulip led to one of the first speculative market crashes in the Dutch Republic in the 1630s, while also becoming a subject of botanical fascination and study. At the same time, van der Ast's delicate still life displays the commodities of Dutch global trade, particularly through the activities of the Dutch East India Company. The shells pictured here come from the Indian and Pacific Oceans, as well as the Caribbean Sea. They not only serve as reminders of Europeans' rapidly expanding knowledge of the world, but also the exploitation of people and places that came through colonialism.
---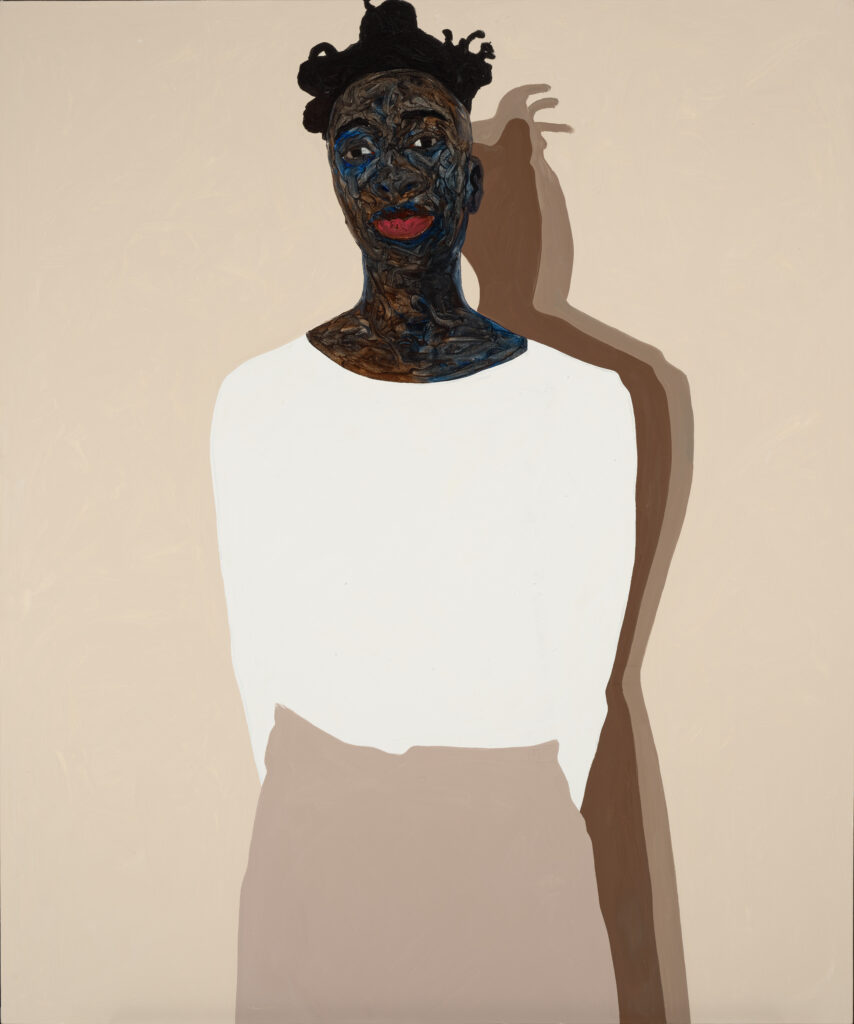 Tonica's Locks
The large size of Amoako Boafo's oil painting (72 1/4 × 60 in.) makes this contemporary portrait feel monumental and grand. Standing nonchalantly but confidently against a beige wall, Tonica wears a casual white top and khaki bottoms. The hues of her clothing contrast with her skin and the shadow cast behind her shows off her short locks. The Ghanian painter studied at the Ghanatta College of Art and Design as well as the Academy of Fine Arts Vienna, and his works depict contemporary Black subjects from Africa and the African Diaspora in all their individuality, complexity, and beauty. Boafo often works in deliberately flat and bold monochromatic color palettes while creating backgrounds and clothing. He then finger paints his sitters' skin, literally and figuratively offering a personal touch in his portraiture.
---
Where to Find the Works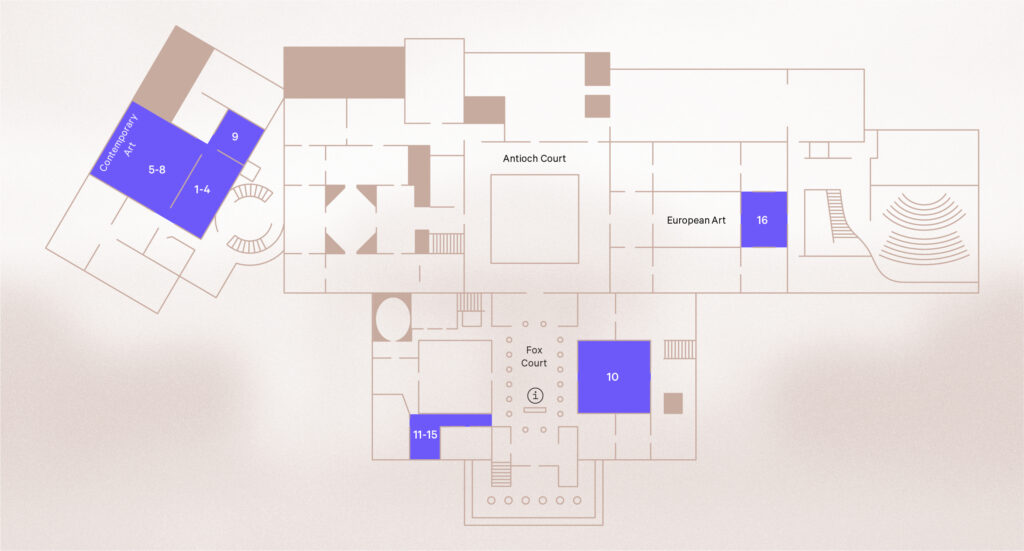 Contemporary Wing, Gallery 1
Erin Fostel. Living room (night). 2021. The Baltimore Museum of Art: Purchased as the gift of the Print, Drawing & Photograph Society in honor of Dr. Alfred Kronthal, BMA 2022.202. © Erin Fostel
Charles Mason III. three the long way (every shot, every failure, still leading with love). 2022. The Baltimore Museum of Art: Partial gift of the Artist in Honor of Lois Martha Lewis; with funds from Michael Sherman and Carrie Tivador, Los Angeles; and Art Fund established with exchange funds from gifts of Dr. and Mrs. Edgar F. Berman, Equitable Bank, N.A., Geoffrey Gates, Sandra O. Moose, National Endowment for the Arts, Lawrence Rubin, Philip M. Stern, and Alan J. Zakon, BMA 2023.5
Lavar Munroe. You People with Hearts. 2022. The Baltimore Museum of Art: Art Fund established with exchange funds from gifts of Dr. and Mrs. Edgar F. Berman, Equitable Bank, N.A., Geoffrey Gates, Sandra O. Moose, National Endowment for the Arts, Lawrence Rubin, Philip M. Stern, and Alan J. Zakon, BMA 2023.90
Jackie Milad. Daughter of Shu and Tefnut (Dedicated to Amira). 2022. The Baltimore Museum of Art: Art Fund established with exchange funds from gifts of Dr. and Mrs. Edgar F. Berman, Equitable Bank, N.A., Geoffrey Gates, Sandra O. Moose, National Endowment for the Arts, Lawrence Rubin, Philip M. Stern, and Alan J. Zakon, BMA 2022.143
Contemporary Wing, Caswell J. Caplan Memorial Gallery
Amoako Boafo. Tonica's Locks. 2021. The Baltimore Museum of Art: Purchased as the gift of Kevin and Lisa Pham, BMA 2022.46. © Amoako Boafo, 2021. Courtesy of the artist and Roberts Projects, Los Angeles
Lucy Bull. 21:13. 2022. The Baltimore Museum of Art: Purchased as the gift of the Sherman Family Foundation, Baltimore; and Art Fund established with exchange funds from gifts of Dr. and Mrs. Edgar F. Berman, Equitable Bank, N.A., Geoffrey Gates, Sandra O. Moose, National Endowment for the Arts, Lawrence Rubin, Philip M. Stern, and Alan J. Zakon, BMA 2022.138. Courtesy the artist and David Kordansky Gallery
Nengi Omuku. Reclining Figures. 2022. The Baltimore Museum of Art: Gift of Jennifer and Jon Weaver, Birmingham, Michigan, BMA 2022.220
Shikeith. Visiting Hours. 2022. The Baltimore Museum of Art: Art Fund established with exchange funds from gifts of Dr. and Mrs. Edgar F. Berman, Equitable Bank, N.A., Geoffrey Gates, Sandra O. Moose, National Endowment for the Arts, Lawrence Rubin, Philip M. Stern, and Alan J. Zakon, BMA 2022.217
Contemporary Wing, Walter G. Lohr, Jr. Gallery
Kenny Rivero. Steward (Porter Doll). 2022. The Baltimore Museum of Art: Gift of Rahul M. Sabhnani, New York, BMA 2022.136
American Wing, Second Floor, Peggy Meyerhoff Pearlstone Gallery
Lilla Cabot Perry. Theater Posters, Ikao, Japan. 1900. The Baltimore Museum of Art: Art Fund established with exchange funds from gifts of Dr. and Mrs. Edgar F. Berman, Equitable Bank, N.A., Geoffrey Gates, Sandra O. Moose, National Endowment for the Arts, Lawrence Rubin, Philip M. Stern, and Alan J. Zakon, BMA 2023.3
American Wing, Second Floor, Scott 10
Designer: Theodore Russell Davis. Manufacturer: Haviland & Co.. "Rail, 'Sora'", from The Game Course Series. Designed 1879‑1880; in production 1880‑1886. The Baltimore Museum of Art: Gift of Frederica Kolker Saxon, Baltimore, in Memory of Irving and Rosa Kolker, BMA 2022.178
Designer: Theodore Russell Davis. Manufacturer: Haviland & Co. "The American Soup of the XVth Century" from The Soup Series. Designed 1879‑1880; in production 1880‑1886. The Baltimore Museum of Art: Gift of Frederica Kolker Saxon, Baltimore, in Memory of Irving and Rosa Kolker, BMA 2022.183
Designer: Theodore Russell Davis. Manufacturer: Haviland & Co. "Ohio Golden‑Rod" from the Dessert Series. Designed 1879‑1880; in production 1880‑1886. The Baltimore Museum of Art: Gift of Frederica Kolker Saxon, Baltimore, in Memory of Irving and Rosa Kolker, BMA 2022.184
Designer: Theodore Russell Davis. Manufacturer: Haviland & Co. "The Studio" Serving Bowl. Designed 1879‑1880; in production 1880‑1886. The Baltimore Museum of Art: Gift of Frederica Kolker Saxon, Baltimore, in Memory of Irving and Rosa Kolker, BMA 2022.186
Laura Woodward. Autumn. 1878. The Baltimore Museum of Art: Art Fund established with exchange funds from gifts of Dr. and Mrs. Edgar F. Berman, Equitable Bank, N.A., Geoffrey Gates, Sandra O. Moose, National Endowment for the Arts, Lawrence Rubin, Philip M. Stern, and Alan J. Zakon, BMA 2023.4
Jacobs, Samson Feldman Gallery
Balthasar van der Ast. A Tulip, a Carnation and Roses, with Shells and Insects, on a Ledge. 1630s. The Baltimore Museum of Art: Art Fund established with exchange funds from gifts of Dr. and Mrs. Edgar F. Berman, Equitable Bank, N.A., Geoffrey Gates, Sandra O. Moose, National Endowment for the Arts, Lawrence Rubin, Philip M. Stern, and Alan J. Zakon, BMA 2023.20