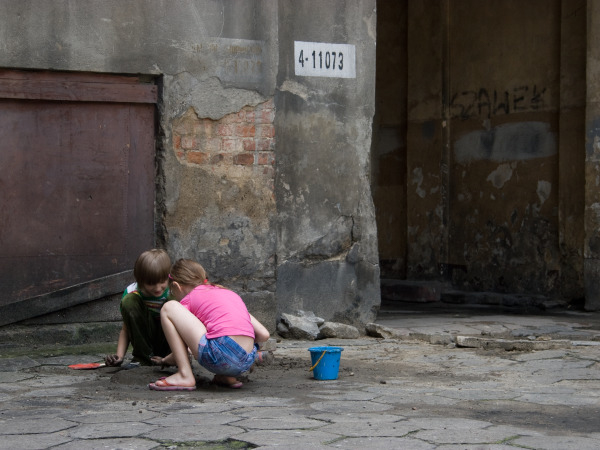 I first met Sharon Lockhart in Israel in 2011. I'd been invited to contribute an essay to the catalog for Lockhart's project on choreographer Noa Eshkol, soon to premiere at the Israel Museum in Jerusalem and the Center for Contemporary Art, Tel Aviv. 1
Lockhart and I talked about her recent time in Poland, where she'd just been. The project she'd embarked on there had resulted in the 2009 film Podwórka, and Lockhart mentioned that she was developing the work further in subsequent visits to Poland.
I remember asking Lockhart, during that first night's encounter in her hotel lobby in Jerusalem, What was her connection to Poland? Did she speak Polish? Did she have Polish heritage?
No, she'd answered. She didn't speak Polish. She'd been asked by a curator to come to Łódź, and had formed a profound attachment to the children she had befriended who had participated in her film, and she was continuing her relationship with them in other ways. This commitment to her subjects, to the point of forming deeply personal bonds with them, is a consistent feature of Lockhart's work: in Israel, with Noa Eshkol's dancers; in her earlier project Pine Flat, with the members of a remote California mountain community; with shipyard workers in her piece Lunch Break; and again with the children in Poland. The depth of those relationships in turn sketch new contours of what the projects can become. In some ways, her subjects become creative collaborators, and the often multiyear arcs of Lockhart's projects demonstrate a nearly unparalleled dedication to the socially transformative aspects of visual art, how nurturing individuals' creative expression can become a twinned process of personal growth and community building.
The scope and complexity of what Lockhart was accomplishing in the Israel arena left me little bandwidth for other complex projects, and I scarcely thought about Poland again in my rush to synthesize the elements of her Eshkol undertaking, hustling as I was to get the 4,000-word commission written by the deadline one short month later.
I'm raising two young girls myself now, and the parental stressors of Covid lockdown have put into sharp focus the great deal of time I have spent in the last year watching children, which is the starting point of much of Lockhart's work, particularly the work in Poland.
I was eight months pregnant with my second child when I saw Lockhart's installation Little Review at the Polish Pavilion in the Venice Biennale in 2017. At that time, its intensity overwhelmed me, for reasons that had mostly to do with being exhausted by Venice Biennale stimuli while having very swollen feet. Seeing the film Little Review again in recent weeks, as well as Podwórka, Rudzienko (2016), and Antoine/Milena (2015), the works that form a pillar of Lockhart's investigations in Poland, as well as delving into the photographic, sculptural, and textual projects that resulted from her more than twelve-year investigation of the lives of children there, particularly adolescent girls, has been revelatory. I'm raising two young girls myself now, and the parental stressors of Covid lockdown have put into sharp focus the great deal of time I have spent in the last year watching children, which is the starting point of much of Lockhart's work, particularly the work in Poland.
Podwórka takes its name from the Polish word for courtyard, and is a half-hour film composed of six vignettes of children at play in urban Łódź, a large city in central Poland. The action unfolds at a slow pace from fixed camera angles. The seemingly repetitive nature of the children's absorption in their tasks reveals, as the film progresses, the subtle dynamics in their activities between attention and distraction, collaboration and solitary exploration. In the second episode of the film, the eldest of among five children, who range in age from about two to seven, lines up his mates by descending height (he goes first, of course) in order to take turns kicking a ball against a corner between two trees. Meanwhile, a rustling in one tree soon reveals a shirtless boy descending. The kickball group's provisional order dissolves—the toddler wanders off, the elder children begin dribbling the ball in an impromptu soccer match—and the boy clambers out of the tree to begin using a set of metal bars in the foreground as an improvised jungle gym, largely ignoring the antics of the other kids. Trying out various stretches and reaches, he continues playing alone as the group departs out of frame, lost in a reverie of self-entertainment.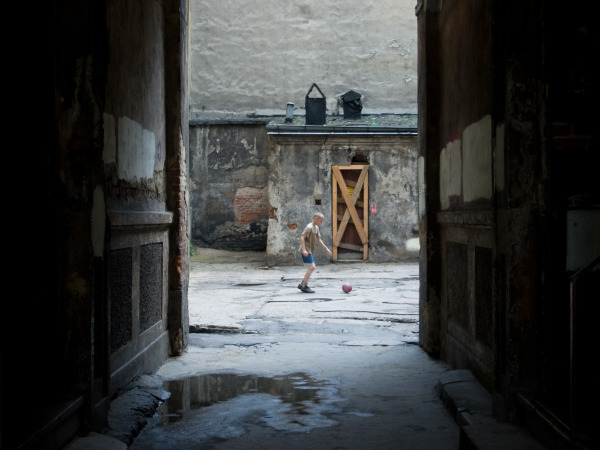 Few adults are shown in Podwórka, and only in one case is anyone depicted as a caretaker. (In a large Brutalist plaza, one patient granny exerts her stocky body in and out of the frame as she steadies a bike for a would-be rider; he soon returns to his smaller balance bike.) The children seem to exist in an unsupervised world of improvised games, their immersion set against the viewer's long visual examinations of the relative cheerlessness of these kids' mostly concrete surroundings. No moving cars are shown in Podwórka, and without that hazard of urban life, the architecture of the semi-private courtyard provides a security that seems almost idyllic in comparison to one (among many) anxious parenting scenarios that involves one's children running out into traffic and getting killed. In the final portion of the film, two tween boys climb up, down, and around a graffitied building, which triggered my "get down from there, you'll break your neck!" parental reflex, but it was only a one-story building, and truth be told I fell out of trees much higher when I was a kid. Podwórka probes the threshold between exploration and safety, investigating how children's autonomy and independent play antagonizes or synchronizes with art audiences' either protective or tolerant parenting values.
Can we imagine instead an art audience composed of children, not adults? Or an artwork made collaboratively with children, rather than one that defaults to traditional adult authorial roles? Though she is not depicted in Podwórka, during the course of filming Lockhart befriended a girl named Milena Slowinska, and Lockhart's next projects in Poland began to explore conditional answers to those questions.
Then nine years old, Milena had helped Lockhart direct the children in Podwórka, and her brother Sebastian was one of the daredevils scaling the abandoned building in the film's concluding scene. Within a few years, Milena and her brother were placed in separate orphanages. Throughout the ensuing years, Lockhart returned to Poland, reuniting the siblings for trips together. Sharon made several photographic portraits and a film of Milena on their travels, including Milena, Debki; Milena, Jarosław; Milena, Radawa; and Antoine/Milena. Lockhart describes Milena as a brilliant spitfire of a girl, charming and energetic, and in part, the artist's investment in returning to Poland stemmed from a desire to nurture Milena's hope to write a book about her life.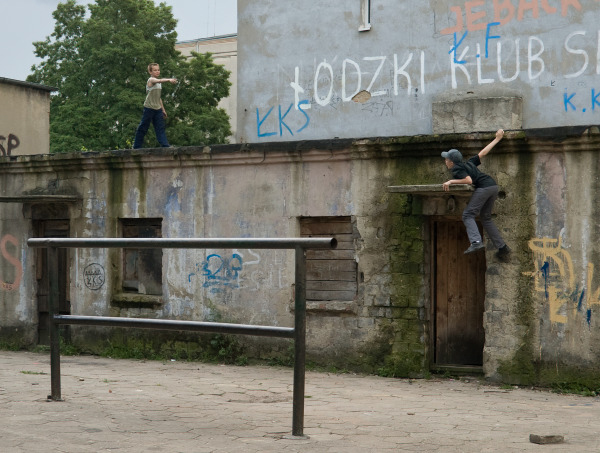 Milena was eventually consigned to a girls' orphanage, the Youth Social-Therapy Center in Rudzienko, and Lockhart continued visiting her and began working with other teenagers in the home. Eventually, Lockhart produced a film titled after the place. Set around the rural grounds of the institution, like Podwórka, the Rudzienko film employs long takes, but sometimes to surprising, dreamlike effect. Beginning at a crossroads in a pasture, over the course of minutes the film shows girls emerging from the branches of a large tree as though from a fable. In the film's final scene, a field of windblown wildflowers suddenly erupts with a near dozen girls springing from hiding places in the meadow, who then race, giggling, towards the camera. Amidst these surreal elements the girls are shown in conversation, discussing their lives—parents' divorces, spaghetti, their relationships with absent family members, birthdays, violence—a mix of the fraught and banal that whiplashes viewers among positions in the fragile states of these girls' psyches. Or rather, whiplashes not viewers but readers, for Lockhart inserts the translation of the girls' words in English as a scrolling typescript separate from the scenes in which the kids confide in one another. This technique lends the words, for those not fluent in Polish, a sense of eavesdropping on a transcript of both intimacy and menace, as the unspooling of the crimes allowed within the capsule of the nuclear family implicates our collective, societal inability to protect or heal those children who suffer the crushing traumas of poverty, neglect, and violence.
Visiting Milena in another orphanage, Lockhart had learned about the work of Janusz Korczak, a pediatrician, childhood educator, and writer who ran a Warsaw orphanage in the interwar years that was liquidated by the Nazis; he and his charges were killed in Treblinka in 1942. One of Korczak's undertakings was the creation of a newspaper run by and for children named Little Review, which ran from 1926 through September 1939. Among his hopes was that children could find a voice in a world that at best patronized them and, too frequently, abused them. Korczak believed that children could be empowered to actively participate in their own destinies by being given the tools for narrating their own experiences. Rather than being considered of minor importance or being dominated by the difficult circumstances that, in his charges' cases, led them to the orphanage, the events and ideas of children would form the backbone of a new form of journalism. Little Review (Mały Przegląd) ran as a weekly included with the Jewish newspaper Our Review. Collaborating with child editors, Korczak encouraged kids to come to their own dedicated office at Little Review and submit or dictate pieces. As Korczak proclaimed in the first issue, "There are many children who have so many good ideas, observations, and comments, but they don't write, because they don't have the courage or because they don't want to. Our paper will encourage young people to write. It will encourage and embolden them." 2
Lockhart's Little Review exhibition in Venice included photographs she took of the girls from Rudzienko in the National Library of Poland reading archival copies of the newspaper, and she reprinted in translation issues they selected, which were available for gallery viewers to peruse. Beginning in 2014, Lockhart initiated, over the five years before and after the Venice exhibition, what amounted to nearly 100 workshops with the girls, on writing, history, dance, virtual reality, philosophy, addiction, photography, mindfulness, sex education, and innumerable other topics. The bulk of the Little Review film involves five of the girls reciting the English words "hope," "trust," "love,"and "hate," accompanied by gestures distinctive to each player that they repeat throughout; in the following scene, a girl plays an improvisation on the piano. All of these actions resulted from the experiments they undertook in the workshops.
The film Little Review concludes with an astonishing scene of three of the teenaged girls from Rudzienko filmed in a slow-motion, exultant dance, brandishing sticks in postures that channel the concentration of battle with the untrammeled, fierce joy of youth. So rarely are girls depicted that way, as powerful. The power has always been there, but too frequently representations of girlhood neglect it.
In Perilous Life at the BMA, Lockhart includes one of her recent bronzed "branch" sculptures, part of a series inspired by the sticks brandished by the teens in Little Review. The sculpture is accompanied by Milena, a color photograph of an ikebana flower arrangement in a ceramic vessel, with a glaze made of ash and dirt that references the colors and materiality of the courtyards of Podwórka. Both works, from 2020, are in part memorials; tragically, Milena passed away in an accident in 2019 at age 20.3 Lockhart included white chrysanthemums and dried heliconia in the photograph; placed slightly off-center on a grey table before a muted grey stucco wall the twenty puffy heads of chrysanthemum burst out of their squat vessel, the rust-colored heliconia tucked like a withered reminder of mortality behind the ear of their exuberance. The bronze sculpture, Untitled (Siblings), contains two forms cast from pieces of wood that Lockhart found months apart, and believes came from a single Manzanita branch. One standing, the other resting on its side, they are situated on a plinth the same size and color as the photograph; the pairing implying the siblings Sebastian and Milena, and its placement with Podwórka bookending Lockhart's years in Poland, closing her time spent there.4 In her more than decade-long involvement with Polish youth, Lockhart empowered girls from backgrounds that offered few resources, other than those Lockhart provided, with techniques to therapeutically address their suffering and construct hopeful futures for themselves. These 2020 works commemorate the immense love Lockhart shared with her girls, and her grief at the passing of the catalytic, remarkable one, Milena.

---
Eva Díaz is an art historian and critic living in Rockaway Beach, New York. She is an associate professor in the History of Art and Design department at Pratt Institute in Brooklyn. Her book, After Spaceship Earth: The Critique of Total Design in Contemporary Art, is forthcoming.
Sharon Lockhart: Perilous Life is on view at the BMA from March 28 through September 19, 2021. Reservations are required. Plan your visit here.
References
1. Co-organized by the Los Angeles County Museum of Art, the show would travel there and to the Jewish Museum in New York City. Following her years of research in the Eshkol archives in Holon, Israel. Lockhart was restaging Eshkol's dances with the now elderly members of the original dance company while also excavating the history of and displaying the stunning, largely forgotten abstract fabric works Eshkol had undertaken during the company's hiatus when her dancers were conscripted into the Israeli Army. In addition, Lockhart was exploring the seminal dance notation method Eshkol had developed with architect Avraham Wachman and showed photographs of the delicate mobile sculptures used in the Eshkol-Wachman Movement Notation system.
2. Korczak, "To My Future Readers!," The Little Review, October 7, 1926, Year 1, No. 1; https://labiennale.art.pl/wp-content/uploads/2017/02/1-MP-1348-1926-ENG.pdf
3. Ikebana, a practice Lockhart researched when visiting Japan, is a part of daily life that is also sometimes employed as a tribute to a deceased person. The asymmetrical vessel was made by Los Angeles ceramicist Adam Silverman, who uses unconventional throwing, firing, and glazing techniques.
4. A branch split from the same tree: the siblings were separated first as children and again by Milena's death.