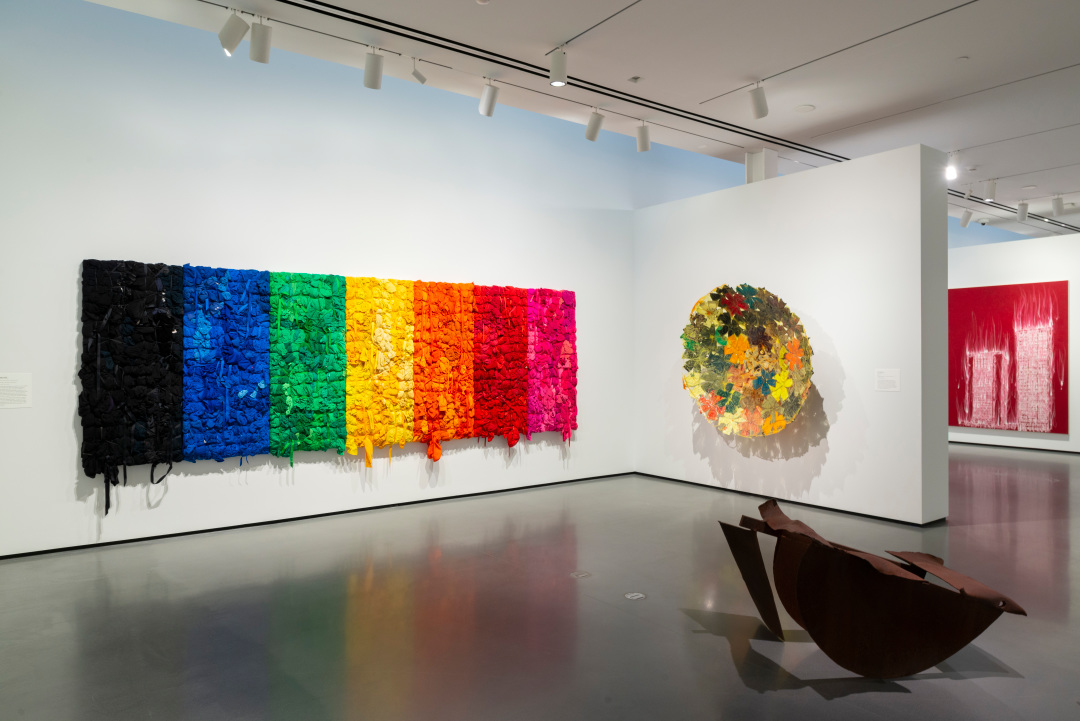 Editor's Note: This essay was originally written for a guidebook that accompanies Generations: A History of Black Abstract Art. The book is available for free to all exhibition visitors. You can read more from Bridget R. Cooks in her award-winning book Exhibiting Blackness.
With the occasion of Generations: A History of Black Abstract Art comes the opportunity to consider the state of Black artists' exhibitions now. This exhibition brings together artworks from the Joyner/Giuffrida Collection and the permanent collection of The Baltimore Museum of Art as a thematic showcase of the best of American abstraction. Combining collections shows the dedication of informed collectors and the commitment of a museum to bring exquisite and relevant art to its constituents. Generations models an exhibition project that fulfills "the exciting potential to offer visitors a look at the diversity and compelling creativity from a range of artists—desirable elements in any innovative group show."1 This kind of collaboration is critical to a sustainable exhibition program.
Beginning with the Abstract Expressionist paintings of Norman Lewis in the 1940s, through the perceptual gardens of Alma Thomas, the sonic minimalism of Jennie C. Jones, the conceptual revelations of Charles Gaines and Gary Simmons, to the world-making environments of Jack Whitten, Julie Mehretu, Mark Bradford, and others, Generations presents formulations and ideas that cannot be fully accounted for by the term "abstraction." It is a presentation of art from a set of perspectives and styles (abstract, conceptual, minimalist, and more) that demonstrates the ways in which art by African Americans is a connection to our pasts and futures.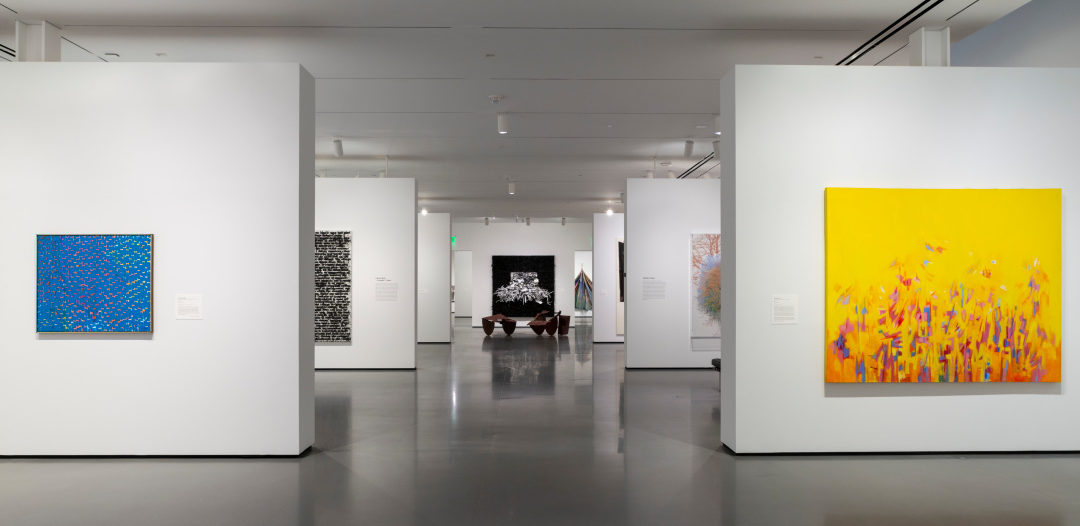 But why have an exhibition of abstract art by Black artists now? Black artists working in abstraction—an approach to vision that engages intellectual thought and radical imagination—have historically been discounted from successful participation in the art world. The practice of formal and informal traditions of racial and gender exclusion left most Black artists outside of gallery representation, museum collections, and art history. The exhibition of their art now helps museums and their visitors from falling further behind.2 Although African American artists exhibited their work in private homes, businesses, churches, and the occasional world's fair since the mid-nineteenth century, they did not exhibit their art in a mainstream museum until 1927.3 With this new opportunity for visibility came racial restrictions that required them to submit art that appeared to be made by white artists, and to be relegated to galleries segregated from art made by white artists. In the 1930s and 1940s, there were only a few museums willing to show art by African Americans, and when they did, the practice of separate exhibitions for African American artists was the norm. African American artists were expected to create art that only depicted Black figures—a limitation that constrained their artistic freedom and ignored abstraction. Further, this exclusion dismissed the full array of speculative ideas, meditations, and futures that are central to Black visual production.
Generations proves that to ignore the work of Black artists is to accept an anemic version of American art history.
The artists in Generations prove that the mine of Black abstraction is both deep and rich. Black artists are creating meaning and reflecting questions and truths back to us. If vision is meaning, and meaning is historical, Generations offers a set of purposeful artworks that contain a history of vision across five generations. It showcases what is possible in solos and duets: a creative world projected through an intellectual lineage of artists whose work is in conversation with one another. Riffing and creating new compositions, it creates an archive of Black thought.
Filmmaker Arthur Jafa locates the roots of abstraction in Blackness, saying, "Our notion of the 'abstract' arises from a simple refusal of, or resistance to, the ontological fact of black being (and its material dimension, the black body)."4 Indeed, it was through the bold visual language of Abstract Expressionism, a style greatly influenced by African sculpture and jazz music, that New York became the center of the art world after World War II. However, Abstract Expressionism rose to prominence without the acknowledgment of Black people and at the expense of the full participation of Black American artists.
In that postwar moment, abstraction became a visual and stylistic symbol for American innovation, nationalism, power, and masculinity. It signified a shift in visuality, the interpretation of materials, the confident movement of the American male body, and the independent vision and voice of the American artist. As art historian Ann Gibson explains, "The heroism of the most vaunted abstract art was equated with the identity of its maker. In a society in which African Americans were discounted socially and intellectually, individual black artists were by definition precluded from being celebrated, let alone regarded as 'heroic.'"5 The answers to why abstract art by African American artists has been ignored lie within questions that our nation is still grappling with: Who has the right to freedom and equality in America? Who belongs in America and can speak for the nation? Who has the right to see and express what is seen? We may have two sets of answers to these questions. One that professes our national ideals, and the other that testifies to our national reality. Realizing this doubleness informs our answers to the question of why we need Black abstraction now.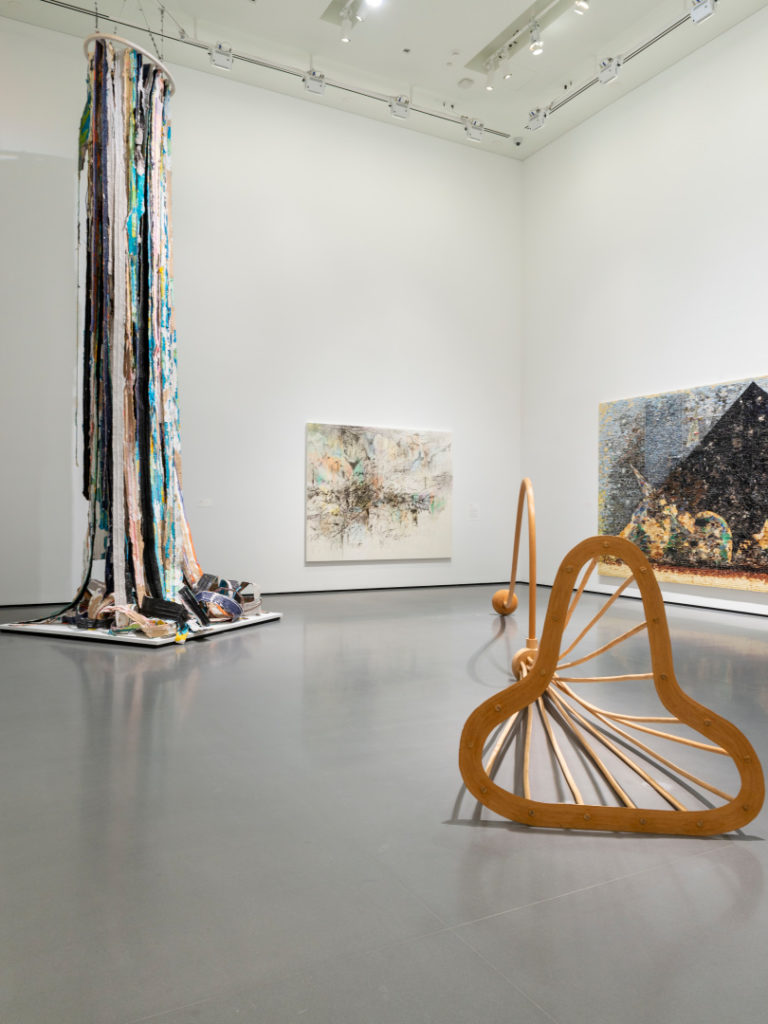 Co-determinant with managing the freedom of Black artists by blocking abstraction as a viable option has been the expectation of the kind of art that would be acceptable—in limited numbers. Julie Mehretu has commented that for some people in the American art world, Blackness is considered a stigma. She says, "In Europe or in other places . . . it's more about what the work is and what the work is doing than who the artist is. That's always, I think, where the conversation should be."6 The problem of racism in the U.S. has hindered the exhibition of Black American artists for generations.
The need to exhibit art by Black artists is the need for knowing American art history. Black artists are leaders of American art. Their abstractions express the illogic of our condition. They work within modes of synthesis and communication in our perpetual time of uncertainty. They express the beauty, humor, and ugliness of now.
As Black people, we are still positioned at the edge of cultural life and social death as a duality: we are treated as the most disposable and avant garde, at the same time, all the time. We are an abstraction. Generations proves that to ignore the work of Black artists is to accept an anemic version of American art history. Without engagement with this work, any version of American art would be a fallacy.
---
Generations: A History of Black Abstract Art is on view September 29, 2019 – January 19, 2020.
1 Bridget R. Cooks, Exhibiting Blackness: African Americans and the American Art Museum (Amherst: University of Massachusetts Press, 2011), 159.
2 I borrow this metaphor from curator Naima Keith in her keynote address at the symposium "Engage: Black Refractions Symposium" at the Museum of the African Diaspora, San Francisco, February 23, 2019.
3 For an analysis of the history of African American participation in art museum exhibitions, see Cooks, Exhibiting Blackness.
4 Arthur Jafa, "My Black Death," in Everything But the Burden: What White People Are Taking From Black Culture, ed. Greg Tate (New York: Broadway Books, 2003), 246.
5 Ann Gibson, "Chapter 6: Painting Through Primitivism," in Abstract Expressionism: Other Politics (New Haven: Yale University Press, 1997), 121.
6 Julie Cerullo, "Julie Mehretu: An Abstract Artist Absorbing Multiple Identities," NBC News, May 4, 2015, https://www.nbcnews.com/news/nbcblk/julie-mehretu-abstract-artist-absorbing-multiple-identities-n346436.