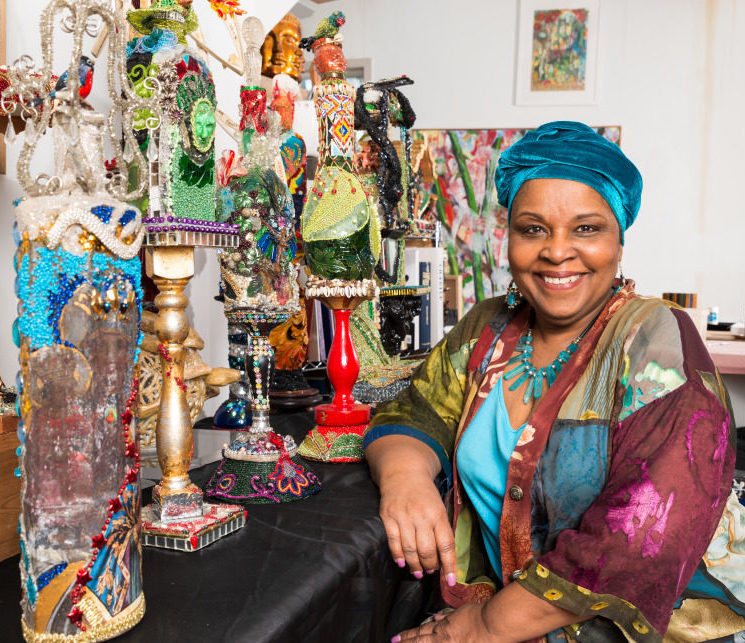 The Baltimore-based artist's sculptures embody spirits and call for social justice
Every material carries a meaning. No one visually or verbally articulates this with greater eloquence than Oletha DeVane, a matriarch in Baltimore's arts community. The artist's practice over the past several decades as an artist, educator, curator, and arts advocate is central to a younger generation of artists' understanding of contemporary craft practice.
For her first exhibition at the BMA, DeVane presents a selection of her spirit sculptures series in an altar-like setting. Projected lights, sounds, and reflective surfaces convey a sense of flowing water and reference the building's complex past as a dairy and place where enslaved people were forced to labor.
DeVane's spirit sculptures are hollow glass vessels with found objects from the artist's collection of beads, mirrors, figurines, and even bullet casings. These elements are applied in conjunction, at times, with small, expressive clay heads shaped by the artist, giving voice and life to the sculptures. DeVane references spiritual and African diasporic stories, prayers, and myths. The resulting works evoke the possibilities of spiritual communication and transformation.
BMA Curator of American Art Virginia Anderson spoke with DeVane in December 2018 while organizing the artist's exhibition. An excerpt of their conversation is below. The complete interview is available in the exhibition catalog available at the BMA Shop.
Virginia Anderson: One of the things I really appreciate about the spirit sculptures is the juxtaposition of materials: you use glass, fabric, wood, clay, beads, sequins, and small found objects. What can you tell me about where the materials come from, where you find them, what they mean to you? You've talked about collecting.
Oletha DeVane: Well, all my friends give me bottles … Leslie [King-Hammond] gives me bottles every time I see her. Joyce [J. Scott] gives me beads … I find materials everywhere … embellished fabric, things that people have given me, or my own collection … For instance, I love crystals, mirrors. The beads come from everywhere, like [the] Czech Republic, South Africa, Mexico, and Thailand. A lot of the materials that I find attractive and usable might come from thrift stores. The materials, I put together for their language. They speak to each other.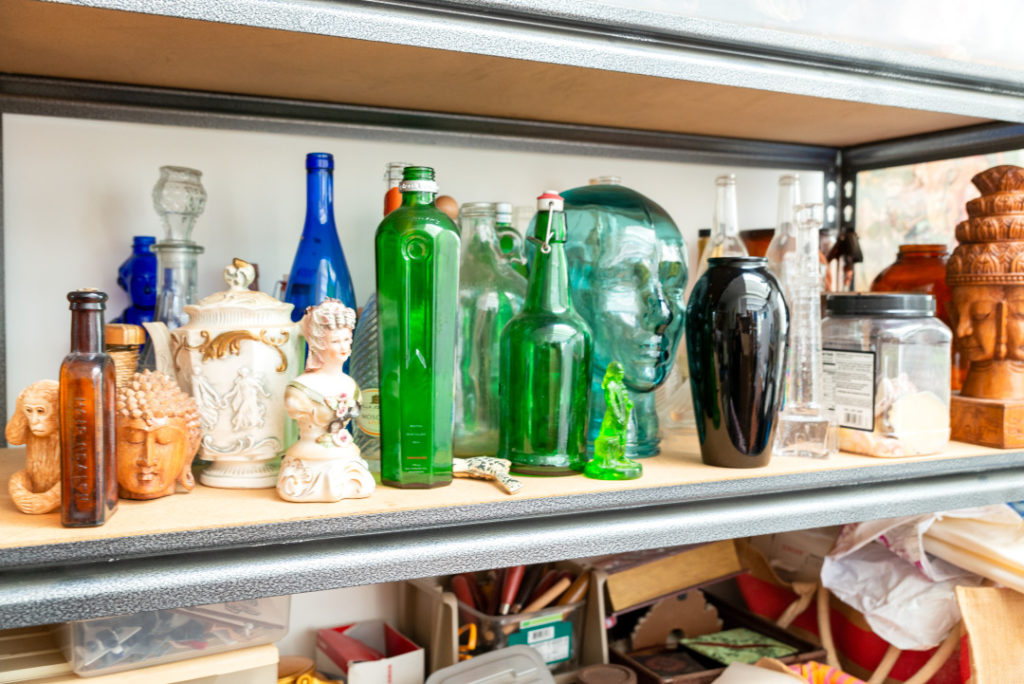 VA: What makes a particular material or object jump out for you? What makes it attractive? What makes it say, "Take me home and use me"?
OD: I have a teapot on the shelf and I'm still thinking about how to use it, so it hasn't jumped out at me yet. The faces, I create myself. They are the personalities of the pieces. For instance, Gemini (2018) is this two-faced person that I made using my cousin's dreadlocks … I had that piece around for a long time before I used it. The crow in Gemini is there because it reminded me of my father, who used to talk about crows, and he was a Gemini. To me, the crow is a symbol of intelligence and gives voice to many of my pieces.
VA: How did you end up becoming a multimedia artist? Can you talk a little bit about what that avenue offers you in your work?
OD: Painting got to be very restrictive for me. The flat surface was very difficult in many ways, so I became interested in what I could add into the process … Once I painted something, I'd always want to add materials or more paint. I also made African character dolls, which I still have, out of fabric and clay. Because of how I grew up, I never felt restricted to a particular discipline …
VA: Can you talk about the video installation, Witness, that you created in 2005 for the Reginald F. Lewis Museum?
OD: That was a yearlong project … [that documented Maryland's history of lynching]. My goal was to convey loss. The idea of losing someone through lynching was just horrendous. My father used to talk about it. He was from North Carolina, and because he was such a loudmouth, his adoptive mother thought he'd probably be lynched if he stayed. He left when he was 16. I knew, historically, how devastating it was for families, and especially to think about where it happened, who it happened to. The idea that there was that oppressive lack of voice in one's life, and the fact that my father would have to leave home for his own safety, was real. In some ways, Witness harked back to conversations with him about what it meant to be a black man coming from the South. He was intensely expressive about those concerns and ideas.
The lynching piece … was a commission from the [Lewis]museum that began in 2004. I went to the National Archives in D.C., The Afro American Newspaper, Maryland Public Television—where some of the images I used came from—and I talked to civil rights attorney and Maryland author Sherrilyn Ifill. Using images that were in the public sphere, and are even now more visible, was important. I wanted it to not only look at men but also acknowledge women who were lynched for their defiance. It's about voice in many ways, and the recognition of loss.

Having to look at the images was very hard, so I felt the best way I could deal with it from a spiritual point of view was to pray and ask their forgiveness for using their most painful moment on earth.
VA: How do you think Witness has impacted your work since then, in terms of the issues you address?
OD: I prayed to those men and women every night because I felt like they were close. Having to look at the images was very hard, so I felt the best way I could deal with it from a spiritual point of view was to pray and ask their forgiveness for using their most painful moment on earth. I wanted to look for ways to think about the spirit in a different way that allowed healing. I saw the piece as a healing piece and wanted to continue that process of healing by making art. Other pieces came out of those concerns. Saint for My City (2007–10) is a healing piece in that way.
VA: You've mentioned Haitian Vodou traditions and Thai spirit houses as among some of the many sources of spiritual iconography in this series. Can you talk about that?
OD: Going to Thailand was a major experience, and so was my trip to South Africa … In Thailand, it was wonderful to see all the Buddhist temples and to walk inside and really get a sense of the richness of the materials that were used. All the temple surfaces reflected light. The ornate spirit houses next to people's homes were altars.
The universal notion of the altar between cultures is interesting and important, because [altars] are about conveying a kind of relationship to a spiritual world. We only have the physical world to understand what that's about, and for many people, it's using these elements as a conveyor.
What really fascinated me in Thailand was that when I wanted to salvage a spirit house from the spirit house graveyard, I was told that I could not do that because I'd be bringing the spirits with me of the person who died. I'm not superstitious, but I do think materials hold meaning, and I wasn't going to bring one home if it held bad memories for someone. I think thoughts behind pieces can have an effect. I think about this notion of what the cross means in Christianity. It conveys a thought. And whether we believe in it or not, it's there as a representation of an idea. So the spirit houses really were conveying someone's idea of what it meant to give back their prayers or spirit.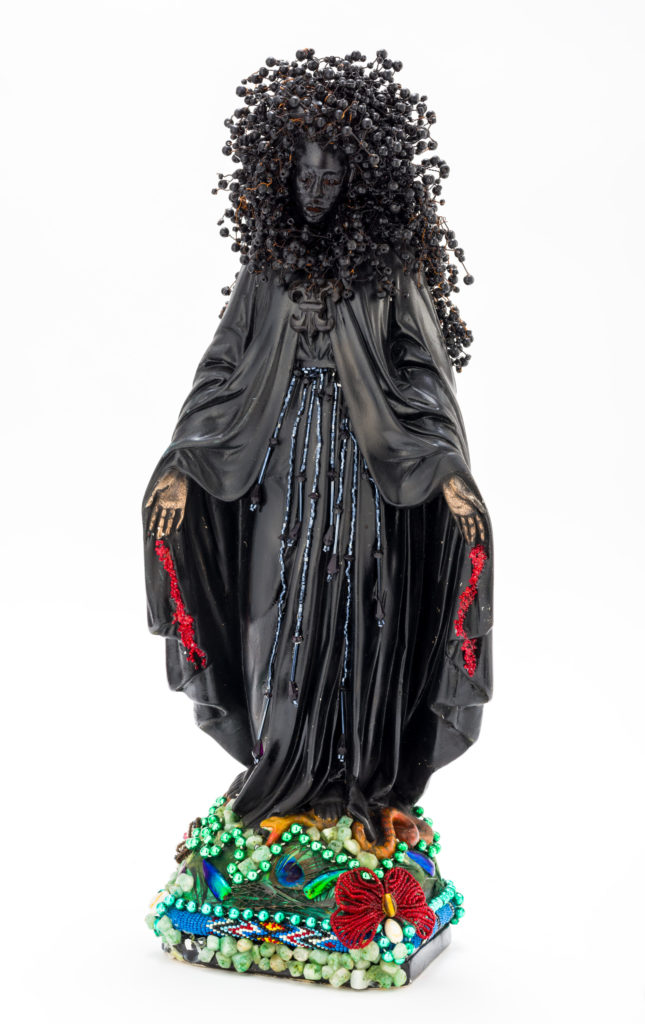 VA: You've said that Saint for My City came out of your sadness around gun violence in the city of Baltimore. How do you think your work has been shaped by the history and culture of this community?
OD: Well, as much as I try to get away from Maryland, Baltimore is probably the most important place in my life. When my parents moved from Baltimore, they were moving because they saw a lot of violence at the time. This was around 1962–63. The reason I did Saint for My City was focused on the notion that from so many different cultures, we call on our names for God, and it's the same God, as far as I'm concerned. We get stuck on these names for whatever reason. The bullets are for each person who was killed at that time. I also wanted to reference Maryland being the first Catholic state. And I made the Madonna figure black because I felt Baltimore needed a black saint. That was its evolution. It's one of my favorite pieces.
VA: Are there other ways that Baltimore has really influenced you?
OD: I have lived in the area most of my life. I lived in California and Massachusetts during the '70s, but I came back to Maryland because it was home. I feel blessed in many ways that I live in a community of artists that are incredibly supportive. Baltimore has lots of creative energy, and my friends and family are here. That has always been the reason for staying.
---
Oletha DeVane: Traces of the Spirit is on view June 19 – October 20, 2019.