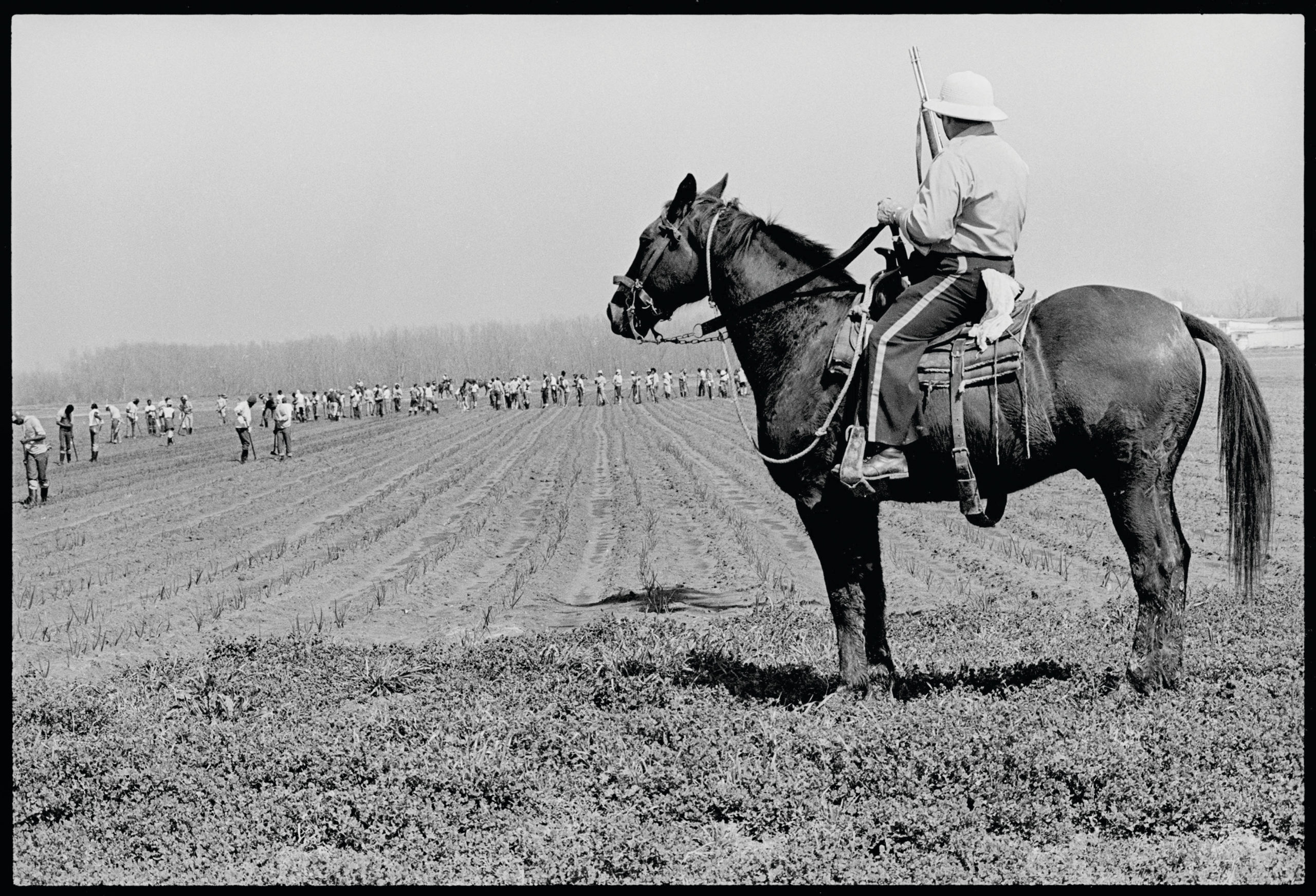 "The minute you step into Angola, you step back in time," photographer Keith Calhoun recounted for an audience gathered at the BMA, where photography and video of the prison by Calhoun and Chandra McCormick is on view through October 27.
For more than 30 years, New Orleans natives Calhoun and McCormick, married since 1988, have documented daily operations reminiscent of slavery at Angola, an 18,000-acre, maximum-security prison farm founded on cotton and sugarcane plantations. Joining the artists for the September 5 conversation were Annie Anderson of the Eastern State Penitentiary Historic Site, Norris Henderson, founder of Voice of the Experienced, and Baltimore-native Monica Cooper of the Maryland Justice Project.
Click play icon to listen // Recorded on September 5, 2019
TRANSCRIPT
Leslie Cozzi: Welcome and thank you all for being here tonight. My name is Leslie Cozzi and I had the great privilege of organizing The Baltimore Museum of Art's, presentation of Slavery, The Prison Industrial Complex: Photographs by Keith Calhoun and Chandra McCormick. The exhibition, which originated at the Frist Art Museum in Nashville, Tennessee, will be on view here at the BMA until October 27th, so I sincerely hope that you have a chance to spend some time with this incredible body of work. Information about this and other upcoming programs is available on our website, artbma.org. This exhibition confronts one of the most pressing civil rights struggles of the modern age. The battle against mass incarceration in America. Central to the exhibition are the voices of those who have first-hand experience of incarceration, and we have two such voices with us here today. Monica Cooper, at the end, is the cofounder of the Maryland Justice Project, which seeks to reduce recidivism and support successful reentry for those who have been in contact with the criminal justice system, particularly women and girls who, as it happens, are the fastest growing segment of the incarcerated population. The Maryland Justice Project's successful "Ban the Box" initiative has made Baltimore the only city in the state of Maryland that no longer allows questions regarding past criminal convictions to appear on private employment applications. Also here with us today is Norris Henderson, a New Orleans-based activist who features prominently in the exhibition itself. Thanks to the efforts of Norris' nonprofit, VOTE–always a good thing to do–in this case, stands for Voice of the Experienced, 43,000 previously disenfranchised Louisiana residents who are currently on probation or parole have had their voting rights restored.
Leslie Cozzi: Monica and Norris are proof that change is not only possible, it is urgently necessary. Joining them in conversation are Keith Calhoun and Chandra McCormick, a New Orleans-based husband and wife team who have reinvigorated contemporary documentary photography. As artists and as activists, they have brought the central role of African American labor within southern culture to national attention. They are the first and only New Orleans-based artists who appear in the Venice Biennial. Their ongoing work at the Louisiana State Penitentiary, known as Angola, continues to raise awareness about mass incarceration in the United States and beyond. Moderating tonight's discussion is Annie Anderson, manager of research and public programming at Philadelphia's Eastern State Penitentiary, once the most famous prison in the world, the historic site offers a glimpse into the evolving nature of the justice system. And we will provide some necessary context for the pressing contemporary issues being discussed here today. I'm thrilled that we were able to bring this amazing group of individuals together and we are so grateful for their participation. Monica Norris, Keith, Chandra, Annie, thank you so, so much for being here.
Leslie Cozzi: This exhibition and today's panel were made possible by Ellen and Ed Bernard and the Open Society Institute Baltimore in honor of our, of our late friend, advocate, and honorary trustee Sue Cohen. To kick off the discussion, I'd like to introduce Tara Huffman, director of the criminal and juvenile justice program at OSI who will say a few words about OSI's efforts to stem mass incarceration across America, and particularly here in Maryland. Thank you.
Michelle Alexander: Good evening. Call and response. Good evening. In 2010, Michelle Alexander published "The New Jim Crow," which made the case that the system of Jim Crow never died, but evolved to become mass incarceration. In 2015, Brian Stevenson, founder and director of the Equal Justice Initiative in Montgomery, Alabama released a documentary titled Slavery to Mass Incarceration to argue that slavery did not end in 1865, but evolved to become mass incarceration and the prison industrial complex. While each of these works are seminal in their own right and have been widely consumed and serve the purpose of educating Americans across every creed and color, it is important for us to know that Keith Calhoun and Chandra McCormick started using their art to connect slavery and the prison industrial complex more than 30 years ago. Thus, when the BMA approached Open Society Institute Baltimore about co-sponsoring this exhibit and the event tonight, our response was an immediate and enthusiastic. Yes. Politically, Maryland may be a reliably democratic state, but Maryland's prisons embody the evolution of slavery, Jim Crow, and redlining blacks are 28% of the state's population, but nearly 70% of those incarcerated in Maryland's jails and prisons. As recently as 2003, nine out of 10 people serving time in Maryland's prison for a drug offense was African American. And while this has improved somewhat, African Americans are still grossly overrepresented at every single point of Maryland's criminal justice system. Nowhere is the evolution of the slave trade into the prison industrial complex more present and sharply felt, than right here in Baltimore. One out of three Maryland residents in prison is from Baltimore, making Baltimore the epicenter for mass incarceration and the prison industrial complex. That is one of the reasons why, for the last 20 years, the Open Society Foundations and Open Society Institute Baltimore have invested our time and our resources to dismantle this complex and end mass incarceration in Baltimore, and Maryland. This exhibit and tonight's conversation is more than 30 years in the making. It is necessarily having its moment and I hope that you are as excited as I am to participate in tonight's conversation. Thank you.
Annie Anderson: Good evening. Good evening. Thank you so much for joining us tonight. I wanna thank the BMA for inviting me, especially Gamynne and Emily and Leslie for making this event happen. As Tara and Leslie mentioned I'm Annie Anderson. I work at Eastern State Penitentiary. I'm a public historian. I work in this really strange and unique prison state penitentiary turned museum in Philadelphia. So I just want to say a few words about the work that I do and Eastern States interpretive ethos before kicking it over to our panelists for a dialog tonight. So, Eastern State Penitentiary, has anybody been to Eastern State? I can sort of see you in the audience. Okay. Yeah, maybe like a third of folks in the room. Eastern State Penitentiary was the world's first true penitentiary. A prison designed to inspire penitence in the hearts of its inhabitants.
Annie Anderson: It was also the first prison to practice solitary confinement on a large scale. It's radio plan architecture influenced the design of 300 prisons around the world. So it was both philosophically and also architecturally significant to criminal justice practices and also to carceral spaces. The prison was an active state prison from 1829 until 1970 when it closed and sat abandoned for two decades before becoming a museum and historic site. So this is what the penitentiary looks like today. It's a stabilized ruin. So the empty, abandoned nature of the building can make it hard to actually populate the cells and cell blocks. And remember that there were 80,000 men and women and children who were incarcerated in the building, including all of the people on this slide here. So today my colleagues and I, Eastern State, we are the custodians of these people's stories. Of this rich and complex history.
Annie Anderson: And every day our staff is engaging a mainstream, mostly white tourist audience with issues of mass incarceration and racial justice. And we're pretty sure that no other museum or historic site in America is having the kinds of conversations on the scale that we're having them. And it's fitting that these conversations are happening in Philadelphia, which is the highest incarcerated large city in America. So today our staff are the stewards of a very complex history that raises difficult questions and sparks reflection on some of the most crucial issues facing our nation as Tara mentioned. So with this in mind, two years ago, we adopted a new mission statement to reflect our increased focus on criminal justice reform. And in recent years we've been increasingly taken on the topic of mass incarceration and the massive growth of the US prison population. This is our big graph exhibit.
Annie Anderson: It's built to spark dialogue. It shows the massive growth of the US incarceration rate over the past 50 years in particular. So we're inviting our visitors into a dialogue and critical reflection about the past, present, and future of criminal justice in America. And in 2016, we opened a companion exhibit called Prisons Today. We explicitly say that mass incarceration isn't working the public safety that these policies promised us have not come to pass and actually the policies have been really damaging to many communities, including low income communities and communities of color. The exhibit explores the consequences of a criminal conviction, the communities impacted by prisons. And we also highlight reform efforts. And this is a key component of the exhibit. We ask our visitors, have you ever broken the law? And also we ask why are there so many Americans in prison?
Annie Anderson: Our goal is to get folks thinking about their personal relationship to the criminal justice system and to interrogate the advantages or disadvantages that have kept them proximate to the system or far away from that system. We also have a program of hiring formerly incarcerated folks to give tours to discuss the complexities of the criminal justice system through their own lived experience. So hopefully that gives you a sense of who I am, the kind of work that Eastern State is doing and the kinds of things I'm thinking about in my museum work. So I also think that with our work at Eastern State and this exhibition at the BMA, we can see the potential for museums to engage in complex issues around justice with visitors. And if our experience is anything to go on, visitors really want to be having these conversations.
Annie Anderson: They're challenged by these conversations, but they stay engaged and they want to talk about it. So with that, I'd like to pivot over to our panelists Chandra and Keith. The connections between the past and the present are strikingly evident in your work. Your images of men, specifically black men, shackled and laboring under the watchful eyes of corrections officers wielding shotguns on horseback is reminiscent of images of enslaved laborers of the civil war south and convict leasing regimes of the Jim Crow era. These photographs almost seem staged to reinforce American racial hierarchies, and yet these are actual scenes playing out in our contemporary moment in the United States of America. So my question to you, just to kick us off is why choose Angola as a subject for our photographic series? And what can these photos teach us about our history and our present?
Chandra McCormick: Well, the way we came about documenting Angola is because we photographed the labor force in Louisiana. So we photographed a lot of people that worked in sugarcane fields and the last people that were doing cotton, the cotton gins because this was the resources that Louisiana had. And our work was called The Demise of Labor. And it was a lot of African Americans who did the labor. So through going down the River Road and documenting all of that stuff Keith said 'Angola has sugar cane, cotton has cotton,' you know, and they have all of this farming stuff and he's like, 'We should go to Angola.' Well, we used to frequent a camera store in New Orleans [KNB] camera center and we were in the camera center one day and Keith and I needed a box of paper. And so Keith spotted the box and he was like, shit, there's only one left. And he ran to get the box and there was another photographer there. He grabbed that box of paper. And so Keith was like, Oh man, it's the last one. So that photographer happened to be a French photographer named Bernard Herman, and we became friends with Bernard Herman after that day. He was a lot older than us. I was probably 18, 17 or something like that. Keith was 19.
Chandra McCormick: Well, well, well, no, no, I'm, he's, he's correct. I was 19. He was 23. That's how it, yeah.
Keith Calhoun: I don't want no trouble.
Chandra McCormick: Okay. Yeah. We were very young though. And Bernard was probably maybe 40. Yeah, thirties something 37 or something like that. And so we became friends. He, he's a documentary photographer and we met a lot of times just having discussions. So he was doing a book on New Orleans and he had done several books. And so, you know, he was interested in photographing the black community and Keith said, you know, we'd like to go to Angola. I want to go to Angola. Why don't you try to get us in Angola? Cause he could write a letter and…
Keith Calhoun: By him being a French photographer, I'm sorry. Bernard was a French photographer. He had a lot of respect cause he had did these big books on New Orleans. So I said when, let's go to Angola and he was willing to go. You see, let's go and group through that. We were able to go to Angola and start photographing and from that moment, going to Angola, cause we live on both sides of the lens, meaning, when I went to Angola, there was a lot of guys I grew up with. So it wasn't like I was threatened to you know, to go among the inmates. It was like guys I played marbles with. So it was really a different feeling and through, that involvement, I was able to meet guys like Norris and [inaudible name], you know, guys who were working inside the prison, but were activists in the prison, and it had a lot to do with me seeing the vision, cause there's a tourist part of the prison that they normally would just give you, like, you know, take more than one time to really get the feeling of it, you know? But when you got strong subject matter, it's not hard to go wrong because the minute you step in Angola, you step back in time, you know? So it was like, for me, to establish a relationship to continue to go to Angola, and that's how we was able to meet guys like Norris. A lot of activists was in Angola. It wasn't just… It was deadly at that time. Angola was bloody. It was like the most bloodiest prison in America at that time. But for me it was challenging because, you know, we knew, Chandra knew a lot of guys up there and they was all writing letters to her. But it was…
Chandra McCormick: A few of my classmates were incarcerated. And I remember once we went with the Neville Brothers and somebody was trying to come from like it's like a stadium area, but they have all these benches and somebody was calling down. But it was a person that I had gone to high school with and the warden let him come down and talk to all of us. But so that was like he's saying, you know, sometimes I was telling Annie it seems like people in our community were targeted or in our communities. A lot of people went to jail that shouldn't have been in jail and a lot of people were incarcerated that necessarily didn't do the crime. So some of those people in those pictures, we do know them, we know them very personally because I've gone to school with their sisters or something, you know. It's just a real thing in our community.
Annie Anderson: How do the incarcerated men feel about having their pictures taken?
Keith Calhoun: We didn't pose no threat. I mean, cause like I said, we live on both sides of the lens. There was people that we know that, hey, tell my mom or family, you know. When I went to CCR and they was having problems with, which is the cell block, telling me I couldn't be careful, you know, you don't wanna go back there. But when I went back there was guys like Glenn [inaudible name] that I grew up with. You know, those people, you know, when you go to Angola, it's like families of people that you grew up with and it's not. And I mean, a lot of them was amazed to see me coming in there with a camera because I would think I was probably one of the first, me and Chandra at that time, first African Americans, to document, a maximum security prison, you know.
Annie Anderson: Did you ever face any censorship or pushback from the administration?
Keith Calhoun: No, because we knew Norris.
Annie Anderson: Norris got you in.
Chandra McCormick: But you know, when, when, when we first, when we first you know, like after Bernard, we established our own relationship because Bernard went back to France and so there was an assistant warden to Warden Blackburn, and her name was Cathy Jed. And so we established a relationship with her. She was like, our contact person if we wanted to go, I had to call her or write her, email her, and then we would go. And Cathy Jed is no longer there. And we've dealt with Gary Young. And so, you really do have to get permission from the prison in order to go there. You can't just, you know, you have to do that. A lot of people have asked, well, how do you get in? Or you know, other artists that want to go and I say, you have to contact the prison facility, you know.
Keith Calhoun: But to have the vision to get in, you can document Angola and never get to see cell blocks. You know, some of these pictures, I'm honored that I was able to get it in because I don't know if they let people get to those spots of the prison. So, you know, but if you look at some of our work, you can't put no time on them. You know, like the picture I took in 1980, the same date, you can go there today and see that same man on that horse, you know? So that's why I'm calling it Slavery because when you come from the inner city and you wind up in a field, never did any work like that, you know, it could be pretty devastating, you know?
Annie Anderson: I want to get Norris and Monica in the mix too. As many of you know, our country recently marked the 400 year anniversary of Africans in the land that would become United States of America and writing about mass incarceration in a special issue of the New York Times magazine, the civil rights attorney and advocate Bryan Stevenson, discussed the connections between slavery, Jim Crow, lynchings, and the excessive punishments of our modern tough on crime era. And he wrote, "It's not just that this history, a history of racialized violence and retribution fostered a view of black people as presumptively criminal, it also cultivated a tolerance for employing any level of brutality in response." So I'm curious, this is kind of a big question, but where do you think this desire for retribution and a tolerance for all sorts of brutality comes from and how do you think we can move our justice system away from one that is really focused on retribution and incapacitation?
Norris Henderson: I think the retribution side of it let me back up. I was at [inaudible] The Legacy Museum, and going through The Legacy Museum, it was like just an eye opener because going through the museum, I looked at all the stuff related to Louisiana and of the 64 parishes, or counties in Louisiana, 58 of them were represented by legends. And so we have this ugly history of this is how they rolled and you know, this is kind of like this mentality that the folks had. And so this thing of punishment is like, we were considered less than human beings. And so it made it easier for people to treat us that way. And so when I look at this, you know, this, and one of the things about that, that Legacy Museum is that there's a replica of everything that they got hanging, there is a replica outside and the replica outside is asking these communities, come and take your stuff.
Norris Henderson: You want to have all these civil rights monuments and stuff. We'll come and own this too because this is the only way you're going to be able to deal with it is you reconcile with it. I tell people every day that you don't leave away from the mirror until you're comfortable with what you see. I mean, we're in the mirror all day long trying to get the mustache together. Y'all in there try and get your hair together. I don't have that problem. But but you don't walk away from that mirror until you reconcile with what you see. And I think Brian is kind of like with that Legacy Museum is kind of like up close and personal. We have to reckon with this, we have to reconcile with the ugly history of this country in order for us to move forward. So it's going to be, but the same thing is like Brian also said, you've got to be proximate.
Norris Henderson: You can't do this from afar. You got to be up close and personal. And so, you know, Keith and them's work took them in places that, and they're kinda like shy about the access, but you don't get access like that inside of a maximum security prison. Nowhere in this country. And that came from trust. One, that they wouldn't abuse the pictures that they took wasn't exploiting the people that's in them. But it goes back to how we show up in the stories that we tell. Because just like you say, you can look at that picture, any one of those pictures today, and I guarantee I can take you to Angola tomorrow and you will see the very same thing. The only thing would have changed in those pictures is that the security people are not wearing the same type of uniform. But they're still riding those horses. They still have them shotguns in their hand.
Norris Henderson: And those form lines go out every morning at seven o'clock without fail. So how we get around that is, one, we got to acknowledge that, I used to tell people all the time, me being here is my punishment. It's not your job to punish me. My physical presence in this environment was my punishment from the court. And I think we have gotten in a space where it's okay to harm and abuse certain people. And I think the only way we're going to get past that, we start reconciling with that and there's some reciprocity in a sense of how that healing happens. It doesn't happen unless you, you know, I tell people all the time, you can say you sorry all day long, but if you don't tell it to the person you offended. You haven't done anything. And I think that's where this healing is. Reconciliation actually has to start in order for us to start moving forward.
Annie Anderson: What do you think Monica?
Monica Cooper: I guess what I would say is that when it comes to people being able to accept the brutality of another people, the first thing that you would do is to create the birth of a nation. You have to first paint these people as monsters, as invaders, as people that's coming over our borders. That's the first setup. And then once you put that in society's mind, then they don't feel anything when you shoot them and kill them in the street, or when you lynch them and hang them from the tree. And that propaganda has been going on for 400 years since we've been here. It's always been an effort to try to paint people of color and former slaves as the less desirables as the people who we don't want here. So in, yes, in order to accept that brutality and unless we get to a point where we see people as human beings and treat them the way that we want to be treated, we will always accept that. And the narrative always changes. So when the police force asks for more money, we give it to them. So now Baltimore City police, you know they're making $500,000 or $500 million a year. So you take the resources and you give it to them because they got to chase these people down to the street. These people are monsters and we never look at the root cause of it. When you have Jawanza Kunjufu, he made a book, and my father used to share this book with me when I was 12, I was like, dad, I don't know about this stuff I really just want to play basketball, but I was fortunate that I had a father that kind of prepared me for some of the psychological trauma that I would face growing up in Sandtown. So I was kind of fully aware of what it's like to condition a human being to act and respond in a certain way.
Monica Cooper: So if you take this rap and you give them a shot, a shot every day before he get his cheese, eventually he'll just get this shot. So people sometimes in communities are conditioned to behave and act in way, but it's systemic. So there's a root to it. But rather than, you know, blame the victim and a mother for being poor and not being able to raise her children and then it's, they just set them up for the attack. So I just think that if we get to a place where we see people as human beings and you want for your brother what you want for yourself, then it would alleviate all of that stuff. And we'll have people to say, hey, you can't just kill innocent people. I mean, right now in Washington DC, it's so many young black girls that are missing. Nobody knows where they are. And it seemed like nobody cares enough to try to put the resources into finding them because again, they paint black women as all prostitutes. They're all on drugs, they all here. So once the narrative continues to be that way and nobody besides people of color stand up, then it just kind of becomes acceptable. So we've gotten to a point where these things are acceptable and we become numb to it.
Annie Anderson: I want to pivot off of your comment, Terry, about where we allocate resources. So as I mentioned, Eastern State Penitentiary historic site, where I work, recently shifted its mission to focus on shedding a light on contemporary criminal justice reform. But sometimes when we talk about the need for reform with our visitors or with the wide world, we are met with resistance. Prisons provide jobs. Some people say they're often the sole economic engines in rural communities, which used to have a stronger agricultural or industrial labor base. So when met with this resistance, I often think about the complexities of the criminal justice system and all of the jobs and administrators needed to make the system function. And I think, couldn't we just create a different system, equally resource intensive but instead focused on education or restorative justice, something that would bring true restoration to people who are harmed and who commit harm. So I originally had this question directed at you Norris, but anybody can chime in. How would you re-envision our criminal justice system?
Norris Henderson: Well, it's kind of like Monica said. I believe in wanting from my brother what I want for myself. And I think to revision what that system looks like, we have to start with educating people. Cause one of the things that I found to really be true, that the folks were in prison actually being captive, were more educated than the people who were watching them. And that caused a problem every day. Because the problem was that it used to really urk me because I was almost like, how did I get myself in this predicament that somebody that can't out-think me, has all the control over me. And so I think the biggest thing is that because even when they tried to, our efforts to close prisons and stuff like that, it's hard to transition those people into the workforce because they haven't done anything but watch people. And I don't know nowhere with the exception of being a hospice volunteer or something like that where you can make a living watching people. And so I think that's where the greatest challenge is at, is that people, every opportunity we've had to downsize a facility and offer an alternative. It's like, you know, it's like Chrysler remade itself, you know, when they were no longer making automobiles, they got a contract, the government started making tanks, they retooled. Well, the criminal system needs to be retooled in the same way. But the tragedy around it is that they take folks who the minimum just have a high school education. And most of them, if they're coming from rural areas, Angola, you know, it's like this small community where 1500 people, Angola is a city in and of itself. And if 1500 people it's 700 families that lived inside of the prison.
Norris Henderson: So generation after generation after generation, all they aspire to be is like my daddy or my big brother or my uncle. I want to work in corrections. And they don't have no overhead. So they don't know what real life like is on outside because they don't pay utilities, you know, they live there rent free and they eat off the fat of the land. Angola is an 18,000 acre plantation. It's a farm. They grow everything. It'll grow dirt if somebody tried to plant it. No, I'm serious. That's how rich the soil is. But, and so coming from, what do you do with folks? I remember in the mid-eighties we were under a flood watch that the prison was going to be overrun by the Mississippi River, which is surrounded, three-quarters of the prison is surrounded by the river. And you would think that the people in the prison were panicking about what's going to happen to them. We realized all you're going to do just move us to another prison. But the folks who worked there, it was real pandemonium because it's like, oh, I got to go and find a real job. If this prison floods, it's gone forever. If the river take back its space, it's gone. And so it's how do we start preparing people in these communities for other professions, you know, for other livelihoods because that was the greatest challenge that people come to that place to work because your criteria to work in that place, you just need to be drug free for 90 days and have a high school equivalent. Not even a diploma, just an equivalent. And So for the life of me, I couldn't understand where the pay now, even the pay right now is like $11 an hour. That's no money for a person to work in especially in that hostile environment that it used to be when it was the bloodiest prison in America.
Norris Henderson: They were making like five, six dollars an hour, but they're risking life and limb, and you have to ask yourself, what is the mentality of a person just wanting to be there because of the power that was associated with it. And so it's kinda like, how do you kinda like decompress people to figure out what's in these kinds of jobs that excites you? Cause folks who are really about humanity, they don't stay in these kinds of jobs long, but you got some other people make careers out of it. And I mean generation, they got like a four and five generations of people that work in that prison even today. And so it's just this combination of how do we retool this industry because that's what it is now. I mean, everybody is making money and before we got started, my brother called me. My brother has been in prison 44 years, so my family has been paying the phone company for 44 years. For the 20 something, 20 almost 28 years I was in prison with him, and for the 16 years I've been out, we'd been tethered to the phone company just to stay in touch. Well somebody is making big bucks on that. That's not going away tomorrow, you know. We was just talking, I had to send him some money so people charge you to send money. I had to give him 8 dollars to send him some money, you know? And so it has become this growth industry where the retooling is going to be confronted with a lot of challenges because too many people are making money off this commodity. You know, prison is just a growth industry. It ain't about somebody done something to be there in like Keith.
Norris Henderson: And Chandra were saying, folks they went to school with. Folks I played music with in high school and played football with. Folks who mama wouldn't let them off the porch. When that street light came on, they was on their porch, or they was inside. And when I woke up and start seeing these people in the prison, I was like, I didn't know what the phenomenon was, but I knew something was wrong. I didn't know. They hadn't coined the term mass incarceration. They had just started this war on drugs. But I knew something was wrong and just couldn't put my finger on it until years later, when you look back and then you see, oh no, this was something systemic that's happening in our communities that folks were being scooped up because we were the new commodity, you know? And so I think until we have really found a way to retool, and I mean retool in a way where it's still not causing harm, cause all of this stuff about putting an ankle bracelets on people, yeah they're not in the cage, but they still confined. The cage is just a little bigger. It's just kinda like, you know, they do animals now. You put them in the zoo, but you put them in their so-called natural habitat. So you can roam around about 20 yards, but if you go 21, [buzzer sound] that buzzer gonna go off and you're going to have to get back in line. So I think we just need to figure out what that looks like and not just automatically just say, well, they're not in prison, we can put an ankle bracelet on them or we can, you know, do this or we can do that. No, I think if we're looking at trying to remove those harms we got to ask ourselves, why did we put people in cages to start with?
Annie Anderson: And that segues really nicely into my next question, which is about prison abolition. So a lot of folks in the criminal justice policy reform world are talking about prison abolition. There's a lot of energy behind this idea. And advocates of abolition say that the criminal justice system is inherently racist and based on retribution and should be replaced altogether. And even a lot of mainstream criminal justice experts are grappling with this issue. And Jeremy Travis, who's the former president of John Jay College of Criminal Justice in New York, wrote recently, "I don't think that in my lifetime we'll ever abolish prisons, but it's a really important question, why we put people in prisons. The abolition debate opens up a healthy tension that is really challenging the pace of reform and the status quo." So Monica, what are your thoughts on the idea of prison reform versus prison abolition?
Monica Cooper: Well, I guess in terms of, and I can speak from my experience from being incarcerated, formerly incarcerated, I guess in terms of reforming prisons I think about the women and the lack of services that they have, the lack of mental health treatment that they have, and the rate of suicides that's happening behind the bars. Like, these guys had superior access. One thing that the prison system does here in Maryland is they keep you locked out so you don't know what's going on. You usually have to listen, somebody to call you on the phone and they'll say, well, you know, this happened or that happened. And then they listen in on your phone calls. So a lot of the women are afraid to actually tell you over the phone that my next door neighbor committed suicide because they failed to make sure that she had her medication or somebody might die in there because they didn't give them their asthma medication and they're afraid to actually share that. So in terms of reform, those things kind of have to change. You have to change the way that people see residents that are like 70% of them are going to be your neighbor. So we look for the correctional facilities to heal. The women that are there, they've been raped, they've been abused, they've been traumatized. So the expectation is that they will hire more mental health staff. The expectation is they will have more case managers that specialize in women's needs because the system was created for males. So now that we have a seven to 800% increase in women, they, the system still does not know how to deal with that population. And in Baltimore alone, 70% of those women are head of households. They're single moms and they have children. So they still don't know how to make sure that the kids are reunified with the mother. They still don't give them the proper access to their children so that we can break that cycle. So that the reform definitely would start with the budget and amount of money that they actually spend on resources. Instead of spending money to build more prisons, take the prison that you do have and give the women the resources and the tools that they need to make sure that we can kind of break that cycle.
Annie Anderson: So before I turn it over to the audience Q & A, I just have one quick parting question. In the essay that I mentioned earlier by Brian Stevenson, he wrote, "Hopelessness is the enemy of justice." But he also writes, "I'm also worried because we are at one of those critical moments in American history when we will either double down on romanticizing our past or accept that there is something better waiting for us." So in 30 seconds or less, I'm wondering how you each feel? Chandra, I'll start with you. How hopeful are you in this current historic moment?
Chandra McCormick: I'm pretty hopeful just because this work is more than 30 years old and it took a long time for it to get here. But it's, opening eyes and people are becoming more and more aware. There are other exhibitions on the prison, industrial complex and talks and all that about this type of thing. I just think that the work that we're doing, you know, the people up here, it's making the audience, you guys and everyone more informed, which helps you all get involved in some way, you know. And that way I, I feel the change will have to come from people. People's help.
Annie Anderson: Keith, how hopeful are you?
Keith Calhoun: To piggyback off… I think I see a lot of changes come about. After documenting Angola, knowing Norris when he was incarcerated. To see the changes that this man did in Angola, to me, was a great change because some of the people I photograph, I watch Norris personally go to Angola and bring Gary Tyler home who was 16 years old when he went to death row. And watched the love that these men have to see Norris who spent 21 years in the law library. He didn't play checkers all day. He was sending guys home. He's being modest but to this day, Norris was the cause for a lot of people like Gary Tyler, [inaudible name], and these will people in the prison I met that were doing things. If you check Gary Tyler, he ran the theater. Norris friend Calvin Dunkin. So it's a lot of heroes that, that are changing the prison. We just don't hear about them. But this is the beginning. Look at what Baltimore doing here. This is a great beginning I think.
Chandra McCormick: And just, just to say one thing, Norris Henderson did 27 years in Angola. He now sits on the Louisiana Pardon Board. That's very much hopeful for a lot of those guys that are in prison.
Norris Henderson: Well, I, I'm hopeful probably because I'm here. If I didn't have hope, I wouldn't be here. I had a life sentence for a crime I didn't do, and I stayed in prison 27 years, 10 months and 18 days. But I kept hope alive and I kinda like kept hope alive, through gaining a lot of I became the biggest joke in the prison because everybody would say you can get everybody out of prison but yourself. And I will always say not until it's time, you know? And, but when that time come, I will be prepared. Cause you know, my faith teaches me to live each day as if I'm a die tomorrow, but prepare for if I'm gonna live forever. And I'm prepared as if I'm gonna live forever. So this work that I do now, it was because of that bad experience is that we get these good results. And so the hope that I see is that 35 years ago reading a law book, I realized that formerly incarcerated people in Louisiana had the right to vote. It took me 35 years to make it happen. But it happened, you know, 135 years ago, the state of Louisiana created non-unanimous jury verdicts where 10 people could send you to prison for the rest of your life. Last year we put Jim Crow to bed. So we changed that law through a ballot initiative. And so this little guy who you know, come out of prison and kind of like been blessed to do some remarkable work is that, that's the thing that keeps me hopeful. That if somebody like me, just a regular ol' guy, a poor boy a long way from home can do this, I'm hopeful that with the help and the system of all the allies that I have across this country, that we can change the face of criminal justice in America once and for all.
Monica Cooper: I am pretty hopeful for, for several reasons. For one is because once a month we go into the Maryland Correctional Institution for Women and we meet with women that's about to exit and we give them resources for housing and things they need, but I see that these women have changed. I see the eagerness in them and I see that they desire to leave there and have a different life and live a different life. Sometimes when it get on this side, the resources are not there. The support is not there, but they continue to work. I'm one of them. I'm a graduate of the University of Baltimore, my bachelor's degree. I'm getting ready to go back and get a degree of cyber security, but you know, what I do is I immerse myself with education and knowledge so that I can pass that on to somebody else. So that I can reach back and help somebody else because the thing that the system fails us because it's people in a court system now who don't know how to navigate through the court system. They had a judge that was getting money for juveniles. His butt doing time, but he was getting money. And that's because the parents and the caregivers didn't know how to navigate that system. The system continues to victimize people. Some, you know, some one person could do one offense and his counterpart, a Caucasian person, gets no time. So what I do is I just learn as much as I can. I'm always in the community. I'm always doing, you know, everything that I can. So when God calls me home, Peter and Gabriel be at the gate and say, welcome home. So that's what I do. And until I leave this planet, every ounce of me, every dime I have, and every minute that God give me, that's what I'm going to do. So I'm encouraged by that cause I know it's gotta be some more like me.
Annie Anderson: Thank you. Well said. Thank you. We'd love to hear from our audience here to engage in this dialogue with us. So Emily has a microphone and if anybody has any questions, we'd love to chat with you. Any questions in the audience?
Audience Member: I wanted to thank you all for coming. Norris, you've been a hero of mine for a long time. I'm a educator. I teach at Maryland Law School and I teach a course called Race and Criminal Justice. And what I have found is that the students who take this course, almost go through a transition where the truth has been withheld from them for so long. And when they finally read the Dred Scott decision, when they finally read, you know, the, the racism and for how long it's lasted and they make those connections to what's happening today. It's really remarkable in terms of where they're gonna be able to do justice for other people. So my question to you is is it just fanciful thinking for me to believe that if we used our public spaces, just like we're doing today, if we, if we actually had classes where people who were interested in becoming better informed and knowing their history, that actually can be a real transformative act. And if that's true, then why aren't we using and making use of our libraries, our museums, our law schools so that people in the evenings could come and actually participate in the transformative process?
Norris Henderson: I agree with you 100 that the more people are educated about things, the better. One of my mentors had this saying, Mwalimu Johnson, he said truth has a way of finding favor or disfavor. And I think when we put people in spaces, like here's an opportunity, and I tell people this all the time, this may be the closest you ever get to talking to somebody in prison. Talking to somebody who's been to prison. Because I understand the wants, needs, and desires of somebody who's been there. People used to come to the prison, like Keith and them. I used to tell them all the time. Anything you need to find out, you need to ask right now because you will never get this opportunity again. And so we have a that, that, that, that, that people transform. I was telling Keith. One of the people inside that exhibit, who contributed to the exhibit, was one of my interns who showed up from UC Berkeley, didn't have a clue about criminal justice, came back the following year and when she left the second year she said, I'm on my way to law school. Went to law school and now she's working for the Prison Policy Initiative, creating policies about all this stuff she learned. I say the education she got from working with folks who were directly impacted about how these systems actually worry. And so I think, you know, like in a situation like this, we kind of like a rock's throw from a university. Several of them. Teachers just could've gave students credits for coming and go and sit down and figure out what these folks are talking about to kind of like, like Brian Stevens said, you got to get proximate. You ain't go get this from down the street, being down the street around the corner. You got to be up close and personal. So the more opportunity that we get to share our message with people, to kind of like help change this narrative. The better it's going to be for all of us. Cause I tell people all the time when news reporters say, Hey, can I interview you? I say yes you can because your newspaper gonna go somewhere I can never go. I can't get behind somebody's door, but my story will if you publish it. And so the more we can get out in the community, the more we can kind of like help people hear what Monica is doing right here in Baltimore, you know, helping these women. I'm pretty sure it's a lot of people, not just in this audience, in this city who feels the very same way, but they're just not connected. And the only way you're going to get connected is they got to put their face in the place. They got to show up. They got to be in the same space. So I think the biggest thing is you're correct about the most students start learning and people feel betrayed when they find out what the real truth is. They really feel betrayed. And in organizing you tell is always an ask on the end. Well what should you do with them? Because when they get excited, like I want to do something, okay, cool. Go and volunteer for somebody or working with folks like that. And I think that's where this thing changes. The more this message can get out to people about, we've been kind of like hoodwinked and bamboozled, there never was a war on drugs. I mean the Nixon people come back and admitted it. And we, if we just look at right now what's going on with the analogy between the crack epidemic and the opioid crisis. The narrative has completed changed. We put those people in jail and we're trying to find bed space for these folks and we're going to sue all the pharmaceutical companies.
Audience: True.
Norris Henderson: The truth again has a way of finding favor or disfavor.
Audience: Norris, thanks for making that connection. I hadn't thought of that before, so I appreciate that. And thank you all so much for your art. A young artist, who, justice seeking artists, so it was really inspiring to walk through the exhibit. My question, and you all briefly hit on it earlier, but I wanted to go a little bit deeper into it. Another thing that I thought was really interesting about the exhibit in particular was the Louisiana prison industry because I'm very familiar with the part of the prison industrial complex that is for-profit prisons, but my understanding is that Angola is not, as a prison owned privately by a for-profit company. So what's the difference in a state penitentiary and a penitentiary owned by a for-profit company and why does state penitentiaries still have an economic benefit? Or how do they still have industry I guess is the question?
Chandra McCormick: I was gonna say, you could probably answer it. My thought would be, it is state ran, but they are making profit. Who does the profit go to? How is that dispersed and how is it legal? I don't really know that, Norris may know more about that than me. But yeah, the produce goes out every day and tractor trailers.
Norris Henderson: The other thing about that prison, that's what I try to tell people about knowing history. The history of that prison came from convict leasings. And so it's always had this ugly history. The challenge now is that you're not leasing people out because all the work is being done within. And one of the fancy things they'd done that, because it's a state run facility, and you can't really, you know, a sell the label. But what they did was they created the concept whereas you can waive your incentive wages, you know, and they'd give you a few pennies for good time. And so you got people serving 40 years who waived their incentive wages, meaning they don't get paid for the next 30 years working in this prison for good time that they may never get an opportunity to take advantage of. And so people just found a different way of doing this. Very same thing. We had two private, actually had two private prisons in Louisiana. And when the state realized that, not necessarily that they wasn't profitable to the state, but when people, when it came time to renew the contracts and folks on the ground start telling the story about don't sign this contract because you had to guarantee a contract for 20 years and then you had to guarantee capacity at 90%. So how are you going to do that unless you go into the legislature and you criminalize everything that everybody does. That's the only guarantee. And so the for-profit thing when people, I stopped, and one of the biggest things was our greatest ally in that fight to get rid of the private prison became the folks who worked in corrections. Because the ones who worked in those little communities that there was no civil service protection for them. And so, you know, we found ourself on the same side of the fence fighting with people trying to get rid of these places cause they realized in that moment that they were the new commodity. They were employees who could be hired and fired for cheap, had no civil service protections. So that private prison industry, it has turned from having the bricks and mortar to they run the canteen, they sell all the food products. I mentioned the telephone, they sell all the clothing. You can't send clothes until you [inaudible]. And so they've just found a different way to take money. You know this company out of no where named JP, you can send an email, but you have to pay for it. We don't pay for sending emails. So little things like that and exorbitant costs of a phone call. I can stand outside the gate of Angola and call China. I got unlimited minutes. Probably ain't gonna hit me up. If I called from inside the prison to New Orleans just to hook up, it's $4.35.
Chandra McCormick: And that used to happen every weekend.
Norris Henderson: Yes.
Chandra McCormick: They just randomly call. And you think, you know, oh, well this call is coming from a maximum security prison. You know, I know people in there. I'm like, wow, who might be calling us Keith, you know. You answer the phone and it's somebody just talking, the prison put them up to doing that. And Norris sued them for that because you would get a phone call and, and talk less than two minutes or two minutes you might have a $10, $10 already it's two minutes. I don't know.
Norris Henderson: Even the answering machine they were charging us for the answering machine. If machine picked up, you got charged. And so, you know, it's different ways our people profit off people who are not in a position to fend for themselves. And so that's why I always ask folks that if you have a skillset, public interest, lawyers, or just civil lawyers I believe in revenue generating litigation. So, you know, we just have to sue people and just make them behave the way they need to behave. Because sometimes the corrective behavior conversation just don't work.
Annie Anderson: Monica, did you want to say…
Monica Cooper: Just piggy back just a little bit. Right here in Maryland you have it used to be called State Use Industries. They changed the name to the Maryland Correctional Enterprise. And the Maryland Correctional Enterprise, they make furniture, they may have made those chairs, I don't know, but they make furniture for state office buildings for the Highway Administration. They used to make the jackets, those yellow, those bright yellow jackets you see the workers on it. They made those. So they are making an awful lot of money and the wages that they pay you, they had a new shop that I actually used to work in. It was called a design shop and they brought that to the women's institution. What they would do is they would do autoCAD and we would do 3D printing for new state facilities that they were building. It could have been a juvenile a center. It could've been any anywhere. Now if I was out here, I might've made maybe $70 an hour, but they paid me $2.50. That was big bucks in there though. That was big money cause the average salary in there is $.95 a day. So if you making $2.50, you're living high on a hog. But they do make a lot of money and that's one of the ways that state facilities make a lot of money with those contracts. And the funds go into what they call a general inmate fund. And the money is usually not used for the residents. It's used to buy correctional staff uniforms. It's used to buy all these things. It never goes to the inmates. And I've been thinking about a way to sue them for that anyway, so somebody call me.
Annie Anderson: That's, that's really wild that they would make you do autoCAD drawing prisons that they wanted to build. I've never heard of that. I think we have time for one more question. I see you have the microphone. Go for it.
Audience: Yes. Oh, it's on. I would like to hear your thoughts on recidivism. The problem of recidivism.
Annie Anderson: Recidivism is people returning to prison after they get out.
Norris Henderson: Yes. Yes. The biggest problem with recidivism is that people try to use this cookie cutter approach. Everybody gets out of prison, has different wants, needs, and desires. I'm almost embarrassed to tell people about how I reentered. And I say that primarily because one, I had a job waiting on me for 10 years in a law firm. My lawyer said, look, whenever I get you out, you come to work for me. I had food, clothing, shelter. I had a wife with a house. And so my transition was smooth. And one day a friend of mine come to see me at work and we was talking and said, come on, let's go get breakfast. So we walked to Mickey D's and while we talking, I asked him, where are you at? You know, and this is street lingo. He said I'm on the street. And I'm like, no, serious bro, where you stay at? He said, Bro, I've been homeless since I've been home. And so the biggest challenge with recidivism is that we quick to put people out. We said, yeah, we are past first step back, put people out. People get out and then you only have a pot or a window because in most cases they can't go back home to mom, they, the relationship they may have had with their counterpart is been destroyed. And so even with trying to, I, there's a story in the New York Times was yesterday, day before yesterday and we're capturing the story cause we have a campaign about housing for formerly incarcerated people. And the biggest challenge is that when you get ready to apply for an apartment, you know, when people went to prison, housing was cheap. You come back home, you need the first, last month, and a deposit.
Keith Calhoun: And a credit check.
Norris Henderson: If I got that, I wouldn't actually need your house. I can go and do what I want, I can go buy a house. And so the recidivism is boosted primarily because people come out and these opportunities for them to excel are not there. You know, the challenges of getting a job, you know, I mean, you've got the, we've been fighting all across this country about Ban the Box. You know, we, during the last administration, we actually got the president to actually ban the box on national hiring around asking that question, have you ever been convicted of a crime? And Housing, HUD for years, we're letting the local housing authorities implement their policies and using discretion. Discretion for us always meant never. And so when you looked at the housing policy with HUD, the only reason somebody can turn you down for housing was that one, you had to manufacture methamphetamine on the premises of a federal housing program or you as a lifetime sex offender registrant. When 90% of the people coming out of prison are none of the above and but it goes back again of how people see people who are reentering into the community. People are not welcoming people the way they say. I should tell people, especially in the faith community you want to come to the prison and fellowship with people, but the very same people when they come out and they come to your church, you ostracize them, you know? And so the recidivism is the way it is now because when people get out, they're challenged to try to find food, clothing, and shelter, the basic necessity. And then if you're on supervision, well that's in Louisiana, you got to pay $63 a month to be on supervision and depending on who is supervising you, you can wind up right back in jail.
Norris Henderson: We were able to kinda like change it, year before last, where you know you have to, it can't be a technical violation that sends you back to prison for, you know, living with my grandmother or somebody like that. But no, the, the, the challenges with recidivism is that we are not preparing people to stay out. We're preparing people to get out. But staying out is the thing because we are not creating opportunities. People tell me all the time, well we wanna put them in a job training program. Everybody in that prison has a job. I worked in the Prison Law Library for 21 years. I had a job. I would compare my skills to any by working in a law firm. I had a job. So I wasn't going to look for a job at Mickey D's because I had a skill. Folks coming out with real skills. But people won't give them an opportunity to apply their trade. And so that's where the real challenge, with recidivism at and nobody's talking about it. The first thing somebody say, oh, you got out, you didn't do well. Well how could I? How could I? I didn't have a pot or a window, you know. In New Orleans where even if you got a job, New Orleans is a tourist town. Just, you know, it's like the tale of two cities. Just like Baltimore. We both sit on the river and all that stuff, but it's a service industry town. People work in hotel, motel industries. No factories there where people making real money, it's is a right to work place where people hire and fire at will. There's no real unions there. And so the kind of money, the livable wage that people need, people coming out of the prison don't get the opportunity to get those kinds of jobs. I don't care what kind of skills they got. You know, we got folks coming out of prison that were certified sign language interpreters. That probably anywhere else in the world can go get $25 an hour just like that. But when people ask them, well where you went to school at, where you learned your skill? Learning while I was in prison. Well you know, I don't know if I want to use you. You know, so no recidivism is really challenging for folks because folks don't want give them the hand up. You know, they don't want the hand out. People just want to hand up. Just help me help myself. You know? And I think when we see people own businesses or we have friends that own businesses, it's like the best employee you can have is somebody who's been to prison.
Norris Henderson: And the reason I say that is because if somebody has been to prison, who's working in Mickey D's, and somebody with ill intentions is walking in the door, and they see you working in there, it's like well damn Keith's working in that shit, I might get a job here too. So he becomes a defacto security guard for you right off the top. Just cause he's working in there. Cause if somebody gave him a chance, I know he was in prison with me, I might can get a job here too. But if we're not kinda like asking our neighbors and our friends and our business partners that hey, we need to take on one or two of these people, well those one or two of those people. Trust me. There's people in that underground economy waiting on them. And it ain't but two criteria. Ain't but two criteria. One, you keep your mouth shut and you don't mess up my money. That's it. And you got a job. People don't want to go back to that. People want to come in from the rain, but people got to get them an umbrella. People have to provide them an umbrella. So this just don't happen. But the burden has been shifted to that individual who's been in prison for 20 years to come out and go find a job. I would venture to say of the thousands of kids that are going across the street to school, the whole bunch of them gonna have a problem finding a job. So that put an added burden on a person who's been removed from society for 20, 25, 30 years and saying, you got to go out here and eek out a living. It's going to be a challenge. It's going to be a real challenge.
Annie Anderson: I think that's a great note to end on. That's our challenge and our ask. That's our, when you have a community organizing one-to-one, you ask someone that. So I think that's our challenge. To work for policies and to offer people a hand up. And with that, I want to thank our panelists today. Thank you so much too, for joining us.
Annie Anderson: Lester Holt is airing a documentary. He spent two nights, I think at Angola and they also went to Sing Sing prison in New York. So check out Lester Holt's new week long series.
Norris Henderson: Yeah, it's entitled Justice for All. NBC, MSNBC, all the affiliates is doing this whole week, starting off in Angola, then they're going to a Crime Survivors, the court, everybody who plays a role. The last segment is going to be in Sing Sing and Brian Stevenson, John Legend, Loretta Lynch, some other folks who participated in their last series in that. But it's kinda like trying to wake people up and open their eyes up to what this criminal justice system in this country have morphed into.
---
Slavery, The Prison Industrial Complex: Photographs by Keith Calhoun and Chandra McCormick is on view through October 27, 2019.
Slavery, the Prison Industrial Complex: Photographs by Keith Calhoun and Chandra McCormick is organized by the Frist Art Museum in Nashville, Tennessee, and is curated by Katie Delmez and Susan H. Edwards, Ph.D. The Baltimore Museum of Art's presentation is organized by Leslie Cozzi, Associate Curator of Prints, Drawings & Photographs. The exhibition is made possible by Ellen and Ed Bernard and the Open Society Institute-Baltimore, in honor of Sue Cohen.