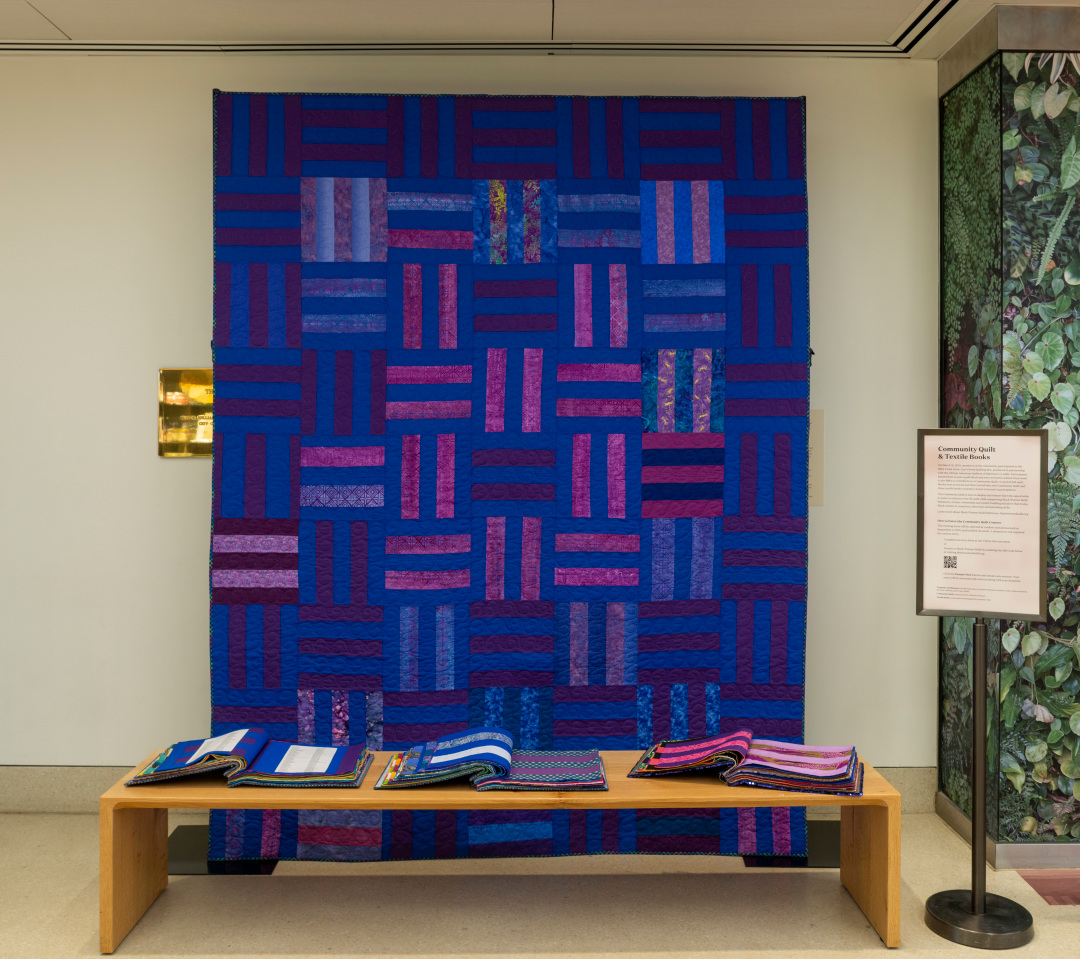 The foundation of quilt-making is love—it is this love that allows quilts to reflect a range of humanity. Historian and artist Suzanne Coley's words were met with nods of agreement and smiles from more than 200 faces in gallery view during a virtual quilting bee held this past March. One year into the pandemic, the event brought together quilters and novices across the country to learn from members of the African American Quilters of Baltimore (AAQB), a dedicated group of textile artists who have made quilts of extraordinary craftsmanship and beauty over the years.
In the spirit of community and artistic innovation, attendees were invited to create a block for a community quilt with free materials available at the BMA. On September 7, one lucky person will be selected to take home the community quilt, now on display in the East Lobby.
Inspired by the exhibition, She Knew Where She Was Going: Gee's Bend Quilts and Civil Rights, the event kicked off with introductions from BMA Manager of Public Programs Tracey Beale and AAQB president Glenda Richardson, who later spoke on the organization's founding. The night featured step-by-step sewing and quilt-making instructions from Rosalind Robinson, AAQB Educator; a stirring presentation on the culture and history of quilting by Coley; an overview of Gee's Bend quilting community's involvement in the civil rights movement by Stella Hendricks, Souls Grown Deep and BMA Curatorial Intern; and a reflection on the history and current practice of the famed Gee's Bend quilters from Boykin, Alabama by Brittany Luberda, BMA Assistant Curator of Decorative Arts.
The camaraderie and enthusiasm of the participants were constant throughout the evening, culminating in several unmuted voices of approval. This positive energy was clearly sustained as the BMA received 228 quilt blocks—more than needed for one quilt. Master quilter Catherine Wooten constructed the community quilt from participants' blocks. Coley designed and created three textile books to honor everyone's participation with the additional pieces received.
To enter to win the quilt, complete an entry form or donate any amount to Black Women Build Baltimore, a home-ownership and wealth-building initiative that trains Black women in carpentry, electrical, and plumbing by restoring vacant and deteriorated houses in West Baltimore. Donate at blackwomenbuild.org or text GIVE to 410-639-3633.
A donation is not required for entry. The winner will be selected at random and notified via email on September 7.