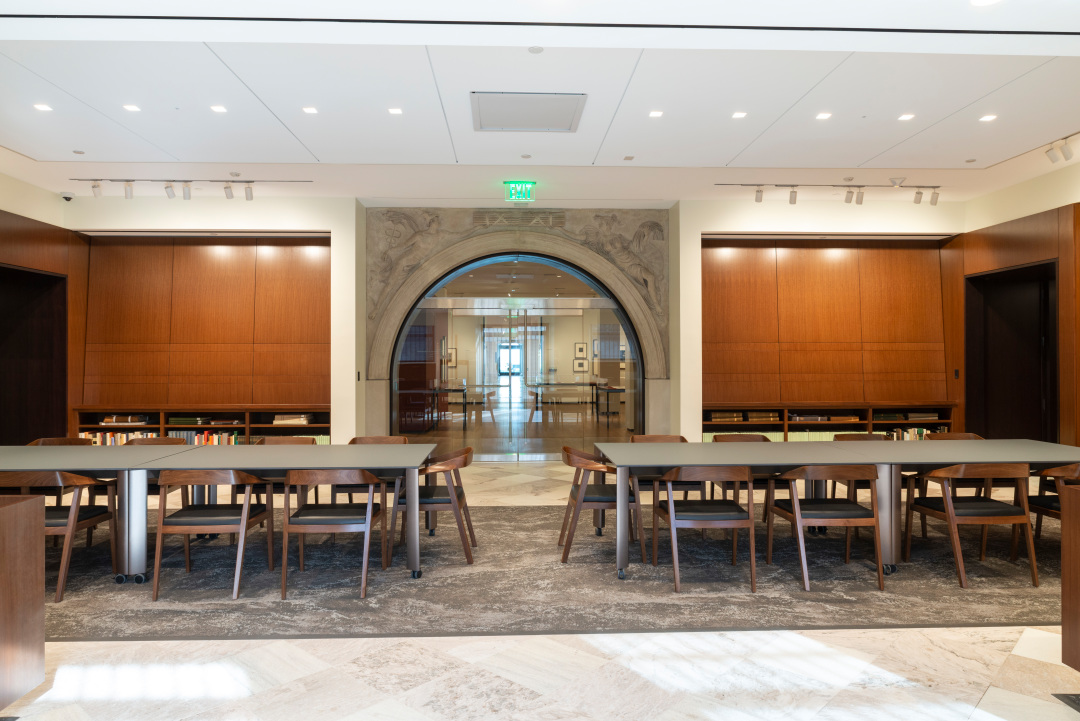 When the Nancy Dorman and Stanley Mazaroff Center for the Study of Prints, Drawings and Photographs opened last December, its relocation from the third floor to the first granted the PDP Department more space and flexibility. The PDP Department's work strategically centers access—both digital and physical—to the BMA's collection of more than 67,000 prints, drawings, and photographs. At 7,000 square feet, the Dorman-Mazaroff PDP Center more than doubles the size of the original study center. The additional space—featuring a gallery and interactive study room—affords the Museum new ways to present its collection of works on paper, while allowing visitors a glimpse of BMA staff at work.
With the larger space, the PDP Department can better host appointments during which visitors can closely examine the Museum's works on paper, including prominent 19th-century French prints from the George A. Lucas Collection; modernist drawings by Pablo Picasso, Joan Miro, and Henri Matisse; contemporary works by Samuel Fosso, Toyin Ojih Odutola, and Wangechi Mutu, among others.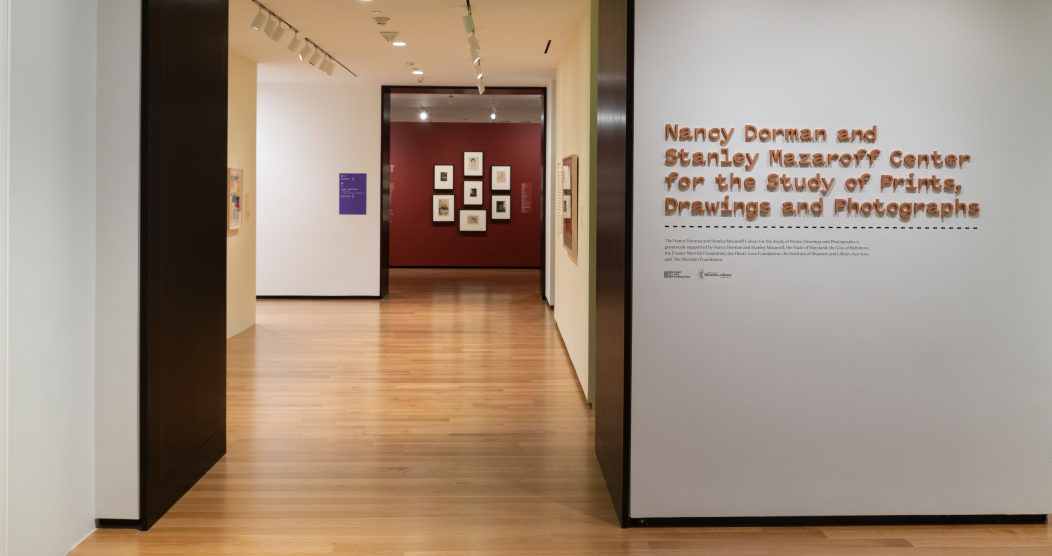 Curatorial Assistant Hannah Ziesmann manages visitor requests to the area. Once she receives a request, (e.g., "Can I see some pieces by female 18th-century artists?") she compiles a preliminary list and shares it with curators, who may offer further suggestions. Then, PDP staff find and pull the pieces via their accession number. "It's a team effort always. It takes a lot of work to pull the objects for a visit," Ziesmann says.
Designed by Quinn Evans Architects, the new center is sleek and modern, featuring library reference shelves stacked with catalogs, and two long study tables that seat up to twenty. Shade-filtered light imbues the space with warmth, and Giuseppe Franzoni's Spandrel Arch with its depictions of Roman gods flank the entrance, offering a sense of gravitas. Outfitted with fold-down art rails built into the custom walnut veneer walls, the study room transforms into an immersive gallery.
… we have a fantastic document reader that allows us to get up close to works and project the image on large screens for classes—a vital tool when viewing small works with a lot of detail
"It's also incredibly high tech—we have a fantastic document reader that allows us to get up close to works and project the image on large screens for classes—a vital tool when viewing small works with a lot of detail," Ziesmann says. Since large groups may not touch art, the document reader promotes close looking and object preservation. She also supplies scholars with magnifying glasses, paperweights, and other aids for consulting these archival materials. Many of these objects hold watermarks, gallery stamps, or collector's marks, revealing provenance, so access to this information is invaluable. During a tour of the Dorman-Mazaroff PDP Center in early August, Curatorial Research Associate Joanna Karlgaard turned over Hendrick Goltzius' late 16th-century engraving The Holy Child with a small spatula to show signatures from owners.
PDP staff understand the critical role digital access plays in addition to physically experiencing the works. Valentina Soto, who served as the Rapid Capture Photographer and Temporary Assistant in the PDP Department for nineteen months, photographed almost 80 percent of its collection. Soto's work provides easily accessible digital reference photos for curators, researchers, and educators alike, which she says, "connects us to the rest of the world."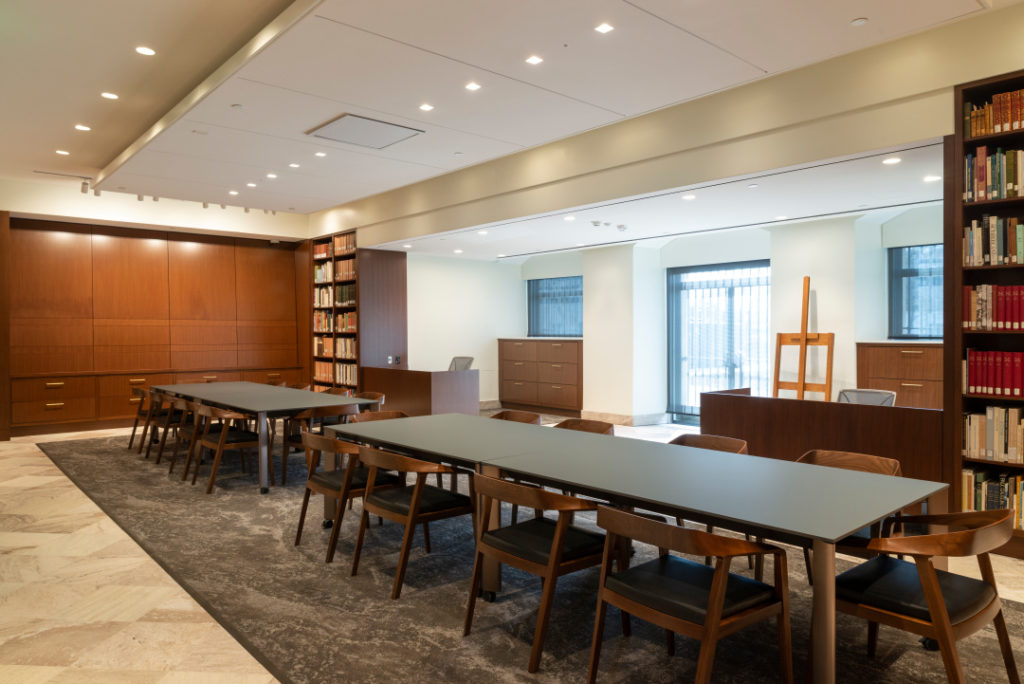 Andaleeb Banta, Senior Curator and Department Head of Prints, Drawings, and Photographs manages and facilitates the department's goals to research, share, and interpret the BMA's collection of works on paper. Since 2018, she has pursued mission-aligned goals in the acquisition of works on paper that contribute to diversifying the Museum's holdings and enrich its ability to tell stories with art. Collaborating with Associate Curator Leslie Cozzi, Banta mounted Shapeshifting: Transformations on Paper which recently closed in the PDP gallery. The newly expanded study room creates opportunities to "share and teach with the collection in a dynamic interactive setting," says Banta.
New vaults and safe storage solutions, like the colossal 8.5 x 6.3 feet flat-file unit PDP staff aptly dubbed "Godzilla," offer significant improvements. Karlgaard mentions specifically "custom cabinets and fixed screens for pastels, as well as cool and cold vaults for photographs" allowing space for the collection to grow. This past summer, the Dorman-Mazaroff PDP Center welcomed curators, scholars, and print-making students, but more groups are visiting with university courses resuming, says Ziesmann.
---
To request an appointment, email pdp@artbma.org at least two weeks prior to your visit. This allows time for additional conservation needs. Visitors are asked to thoroughly wash and dry their hands before handling any materials (and wear provided gloves as requested). Following Museum policy, food, drinks, and pens cannot enter the study room; there are lockers available to store personal items. Laptops, phones (no flash photography), and pencils are allowed in the Dorman-Mazaroff PDP Center.